NEW CROSSFIT FACILITY TO OPEN AT ASHLEY RIDGE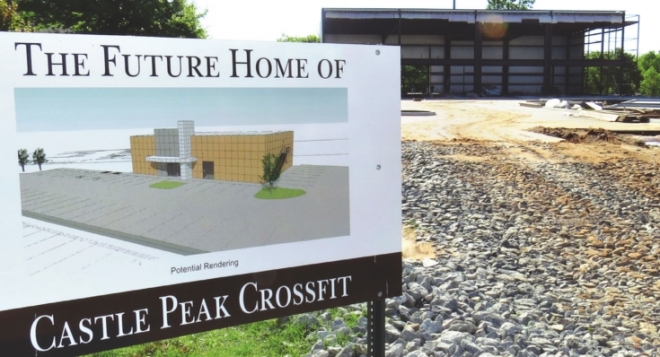 Burpees and chin-ups and sprints, oh, my!
Another fitness option will be soon be available in South Shreveport: Castle Peak CrossFit.
"CrossFit workouts incorporate elements from high-intensity interval training, Olympic weightlifting, plyometrics (jump training), powerlifting, gymnastics, girevoy sport (the Russian sport of kettlebell lifting), calisthenics, strongman and other exercises," according to the Web site Wikipedia. It has steadily grown in popularity and is sometimes used as a training program for police and military personnel.
Ryan Day, spokesperson for the new facility and a CrossFit enthusiast for six years, says Castle Peak CrossFit will open later this year in Ashley Ridge.
"We are currently still working on the building. The frame is up, and they are working on the inside of the building now. The weather and other unforeseen events has delayed construction," Day said. Lennard Construction and Remodeling, LLC is the contractor on the approximately 6,400-square-foot CrossFit facility, said Day.
"At Castle Peak CrossFit, we believe that anyone who is willing to put in work and dedication can train using CrossFit. I have personally seen great results from all ages, genders and athletic backgrounds," Day said.
"The primary benefits that we see are improved stamina, strength and the feeling of accomplishment. Also, CrossFit builds a great community in the gym that helps people stay motivated, and they are held accountable," he said.
"One more benefit I see with people that might be unfamiliar with exercise or CrossFit is that they will have a formulated workout and coach/trainer that will help ensure movement quality and safety," Day said.
The facility will use Rogue Fitness equipment, and Day said they will tailor their classes and programs as the business grows. Some women-only classes will be scheduled, and child care will be available at no additional charge for participants.
"We plan to offer a CrossFit class, an all-ladies CrossFit class, a CrossFit competitors' class and a few more that we are currently working out the details. If the demand is warranted, we would like to offer a CrossFit for kids and CrossFit yoga class at some point in the future," Day said.
– Kathleen Ward