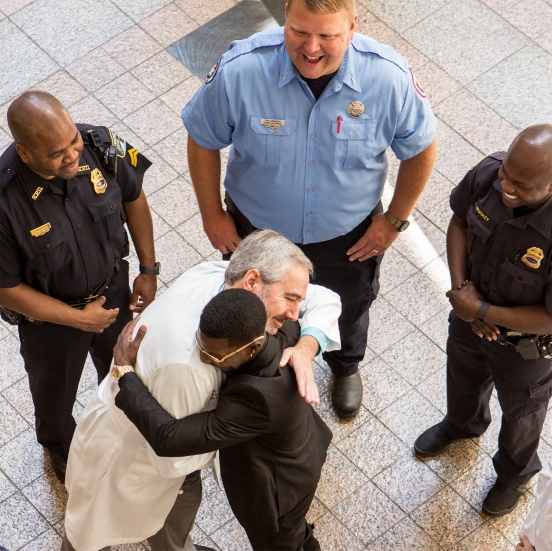 A car accident

leaves a young father on death's doorstep. A sonogram reveals a condition that will make it impossible for a newborn to take his first breath. Both are thriving today against all odds, thanks to the many healers whose care meant the difference between life and death. From first responders to physicians at LSU Health Shreveport, those who had a hand in these patients' remarkable recoveries will be honored at the seventh annual Evening for Healers on May 4.
Hosted by the LSU Health Sciences Foundation, this night of celebration will be held at the Shreveport Convention Center, with a cocktail reception at 5:30 p.m. and dinner at 7 p.m. In addition to highlighting the mission of LSU Health Shreveport, including research advancements and specialized care made available to the region, the evening also raises funds for the health sciences center.
"State funding continues to decrease, and that means external funding from community support is vital to the future of LSU Health. With more than 70 percent of our region's practicing physicians either studying or training at LSU Health, supporting the health sciences center truly strengthens health care in the entire area," said event chair Susan Moffitt, who experienced the importance of the institution firsthand when her father was diagnosed with cancer in 1998. Fred Moffitt and his family turned to LSU Health physicians for his treatment. While her father could have sought treatment anywhere, like MD Anderson, Susan said they found the best possible care here in their own community. That care inspired Fred to continue to give back to LSU Health Shreveport, serving on the Foundation board for 10 years. Today, Susan carries on her father's commitment to the health sciences center's success.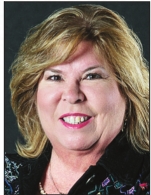 More than 60 doctors, nurses and other health-care professionals, along with first responders, will be recognized at the event for the lifesaving care they provided to Ray Snow following his car accident and in the delivery of Christian Starks.
DeResa Snow vividly remembers Oct. 3, 2015, the day of her husband's wreck. Ray had been out late with friends, and he called DeResa on his way home. Knowing he would be home in minutes, she went back to bed only to wake later in a panic when she realized he hadn't made it home. DeResa grabbed her keys and took the path she knew Ray would have been traveling – and that's when she came upon the wreck. "Traffic was backed up. I could tell there was a bad wreck. I went as far as I could, and I got out and started running." When she got closer to the scene, the Shreveport Fire Department responders were working to extricate Ray, who was pinned in his vehicle, which she said was unrecognizable from the head-on collision.
He was immediately taken to the Level I Trauma Center at University Health, where LSU Health doctors, including Dr. Navdeep Samra and Dr. John Owings, and the medical team worked for hours to stabilize Ray.
"We were told that the next 24 hours would be the biggest battle," DeResa said.
With multiple fractures, a ruptured kidney and spleen, collapsed lungs due to rib fractures on both sides, as well as massive blood loss, Ray experienced multiple cardiac arrests and resuscitations. His care had to be monitored minute to minute in those first several hours.
"If there hadn't been a trauma center here, Ray Snow would not have made it. He would not have survived. There is absolutely no question about that," said Owings, professor of surgery at LSU Health and chief of trauma and critical care. "It's critically important that you have the right people, you have the right equipment, and you have the right facilities at the right time ... With all of those pieces, it's really like an orchestra. If one is out of tune, then the whole piece doesn't work. In this case, everyone was in tune. I do believe there is a higher power who was looking down – I believe God was truly the conductor, and I was merely standing on the podium. " Ray said there were many long nights during his month-and-a-half hospital stay, but he knew he was in the best possible hands. He and DeResa already had a great appreciation for LSU Health doctors before the car accident – their children, now 9 and 12, were both born prematurely and received care at the health sciences center neonatal intensive care unit – but Ray said his treatment reaffirmed his gratitude for the doctors and the teaching hospital. "I believe all things are possible through God, and I wouldn't go anywhere else," Ray said of his miraculous recovery and the care he received.
Like the Snows, Ashanti Burks and Christopher Starks found just the care they needed in the hands of LSU Health physicians. The couple had been together for nine years before they got pregnant with their son, Christian. To them the pregnancy was a blessing, but a routine ultrasound cast a shadow on their joy, revealing the baby had an underdeveloped jawbone. "I cried when Dr. Rose Brouillette told us. I was scared," Burks said.
Christian was diagnosed with Pierre Robin Sequence (PRS), a rare condition that includes an undersized jawbone, cleft palate and a displacement of the tongue that causes airway obstruction. Brouillette, a professor of clinical obstetrics and gynecology at LSU Health, consulted with oral and maxillofacial surgeons Chancellor Dr. G.E. Ghali and Dr. Jennifer Woerner to begin planning for the delivery and subsequent care for Christian. The team planned for an ex utero intrapartum treatment (EXIT) procedure, with a date set for a Caesarean section delivery of the baby up to the shoulders. This specialized surgical procedure would allow the child to remain attached to the umbilical cord in the placenta, keeping oxygen and nutrients flowing through the maternal blood supply and giving the doctors more time to secure an airway.
But even with detailed planning and weekly checkups, Ashanti went into labor before the scheduled procedure, forcing the doctors to perform an emergent delivery. "The EXIT procedure is challenging enough, but when a mother goes into labor and you have an emergent delivery, it really ups the ante. At that moment you know that it's your job to save this child. If I don't get the airway, this baby can't breathe," Woerner said. "When the child is delivered, it takes an entire team. Everyone has to be in sync – it's critical." That team includes anesthesiologists, OB/ GYN doctors, nurses, oral and maxillofacial surgeons, respiratory therapists and more. With the clock ticking, the doctors were able to perform a tracheotomy and secure Christian's airway.
"He was the prettiest baby in the whole unit," Ashanti said of her son, who had his trach tube removed in March at 20 months. "Now he is a bundle of energy – and joy, but mostly energy."
While LSU Health doctors continue to monitor the growth of Christian's jaw and plan ahead to repair his cleft palate, Dr. Woerner calls Christian a real success story who has a normal life ahead of him. She said Christian – like Ray – "is a perfect example of an entire community of health-care providers working together … it's vital to this community and to the people that we serve."
WANT TO GO?
An Evening for Healers will be held May 4 at Shreveport Convention Center, with a reception at 5:30 p.m. and dinner at 7 p.m. Tickets are $150 per person and sponsorships are available from $2,000. For more information, visit www. lsuhsfoundation.org/healers or contact Lindsay Brown at 861-0855 or by e-mail at lbrown@lsuhsfoundation.org.
COMMUNITY HEROES
Dr. Ike Muslow and Mr. Donald Zadeck, dedicated and visionary leaders of LSU Health Sciences Center and the LSU Health Sciences Foundation, will also be honored as this year's community heroes at An Evening for Healers.
Muslow served as dean of LSU Health Shreveport's School of Medicine from 1975 to 1981, from 1990 to 1992, and again from 1996 until his retirement in 2000. Among his significant achievements was the construction of the burn and trauma unit that evolved into today's Level 1 Trauma Center, as well as the establishment of the LSU Health Sciences Foundation. When the Foundation was created in 1997, Muslow asked Zadeck to serve as the first chairman of its board of directors.
Zadeck, who many characterize as a determined and persuasive business man, had two main goals as chairman: to educate the community on the strength of LSU Health faculty in addressing complex illnesses and to secure property that would allow for future expansion of the campus.
"When thinking about whom to honor as this year's community hero, Dr. Muslow and Mr. Zadeck quickly rose to the top," said Kevin Flood, president of the LSU Health Sciences Foundation. "This year marks 20 years since these two visionary leaders came together to form the LSU Health Sciences Foundation. Through hard work and perseverance, they created the vehicle through which our community has been able to actively support the health sciences center for all these years.
We are all truly indebted to these two great men and the excellence they have made possible."