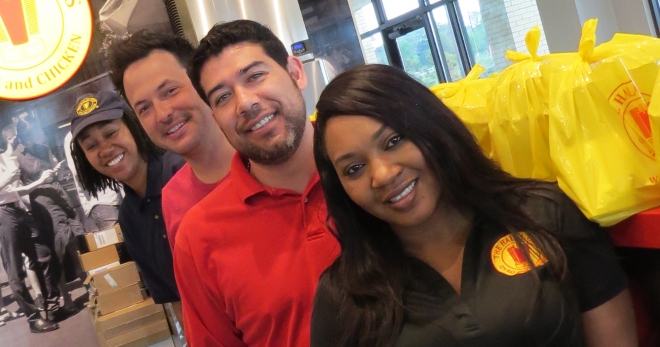 New Middle Eastern café serves fast, healthy, delicious fare
Shreveport's new Middle Eastern restaurant, The Halal Guys, started almost three decades ago when three friends from Egypt living in New York City set up a food cart that became a huge draw.
Three friends from New Orleans, Logan Trotter, Aaron Motwani and Tarun Jolly, are partners in The TMJ Group. The three decided to buy Louisiana franchise rights to The Halal Guys after two of them were on vacation in New York City and stood in line for more than two hours to eat there, Trotter said.
Just across the parking lot from Whole Foods in Fern Marketplace, The Halal Guys' menu of healthful, delicious and fast lunches and dinners are helping Shreveport become a more diverse ethnic food destination.
Middle Eastern food is made with olive oil and lots of meat and vegetables flavored with spices and herbs. The Halal Guys' grilled chicken and/or beef gyro, rice, salad and pita bread platters come with the restaurant's own white and red sauces. The sandwiches are large and fast so, naturally, you can get fries with that.
Vegan and vegetarian options include Baba Ganouj, a smooth and silky mashed eggplant and tahini dish; falafel, a fried vegetable patty made from chickpeas and parsley; and hummus, the chickpea and tahini dip/spread that has become a staple at parties. All are served with pita bread. Baklava, the filo pastry dessert made from honey and nuts, completes the menu.
The Halal Guys Shreveport franchise is the 40th to open thus far out of more than 300 contracted for the future, and the chain is still growing, said Trotter. The restaurant is around 1,700 square feet and employs around 20 who work smoothly and pleasantly in a casual assembly line.
The employees trained for around three weeks, and during that time, The Halal Guys gave away 2,000 to 3,000 meals to local hospitals, health clubs, businesses and the Salvation Army.
It is open from 11 a.m. seven days a week for lunch and dinner. For more information, visit www.thehalalguys.com.
– Kathleen Ward