LSU HEALTH SHREVEPORT BEYOND GIFTED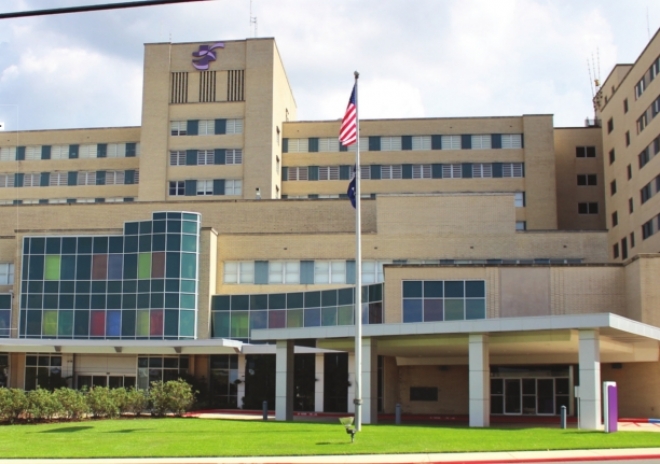 Health leaders join resources to benefi t region, university
CHRISTUS Health Northern Louisiana has donated the CHRISTUS Schumpert Hospital campus to the local non-profit group Margaret Place Properties Inc. (MMP). Margaret Place Properties board members include Bill Comegys, Ray Lasseigne and Matthew St. Amant. This 501(c)(3) was formed to support LSU Health Shreveport (LSUHS) through the management of donated property to provide an efficient, cost-effective and integrated health-care campus for the region.
The donation includes the hospital facility, several adjacent medical office buildings and parking garage. In addition, CHRISTUS has offered a one-time monetary gift of up to $6.5 million over three years to defray the initial operating and renovation costs.
"We are excited about this opportunity to help (LSUHS) and our community, by donating the Schumpert campus so that it can become a vibrant focal point for medical training and health-related services," said Stephen Wright, CHRISTUS senior vice president, group operations. "The repurposing of this campus will contribute to neighborhood revitalization as well as improved health status of the community."
"The board of (MPP) is grateful to CHRISTUS for their generous donation that will tremendously benefit (LSUHS). As a lifelong resident of Shreveport, it is an honor to play a role in seeing that this property continues to play a vital part in our community," said Bill Comegys, president of MMP.
Dr. G.E. Ghali, chancellor of LSU Health Shreveport and dean of the LSU School of Medicine, stated, "This donation represents an important and exciting development for our health sciences center, providing an opportunity to enhance our mission and ultimately increase our impact on the regional economy. On behalf of our faculty and staff, I offer our deepest gratitude to CHRISTUS for their generosity, which allows us to dream bigger about our future."
According to Wright, CHRISTUS is particularly thrilled to contribute to the growth and expansion of medical education in this market. "The donation of this campus will strengthen the School of Medicine, bringing more needed space to their programs and clinics and enhancing its ability to offer more to graduates to stay in our community post-graduation," he said. "Many of our local physicians were trained at LSU School of Medicine, so we know it's a benefit to the community to have access to LSU Health Shreveport."
The donation was completed on June 30 and includes the 18-acre hospital campus, buildings at 1801 Fairfield Ave., 950 Olive St., the parking garage and several other freestanding buildings surrounding the campus.
CHRISTUS had previously sold the building at 865 Olive to the Martin Luther King Health Center at under fair market value and donated a parking lot on Margaret Place to Loyola College Prep. CHRISTUS donated two empty lots of land and the former CHRISTUS Breast Center building on Olive Street to the Diocese of Shreveport.
A large percentage of the CHRISTUS Schumpert equipment, supplies and furnishings has been gifted to over 100 local non-profits including MLK Health Center, Robinson's Rescue, The Northwest Louisiana Interfaith Pharmacy, Shreveport Regional Arts Council, Easter Seals, Renzi Art Center, YWCA, Rutherford House, American Rose Center and The Strand Theater, to name a few.
The granite altar and altar cloths from the Schumpert chapel were sent to St. Jude Catholic Church in Bossier City for their new chapel.
Isaac Palmer, CEO of CHRISTUS Shreveport-Bossier Health System, said the donation is an excellent one for all parties and a continuation of the ministry begun by Dr. T.E. Schumpert, who passed it to the Sisters of Charity of the Incarnate Word over 120 years ago. "This is a win-win," Palmer said. "We wanted the campus to be used in a way that would be constructive for the community at large as well as the Highland neighborhood. That it also contributes to the stabilization and growth of LSU Health Shreveport is even better."