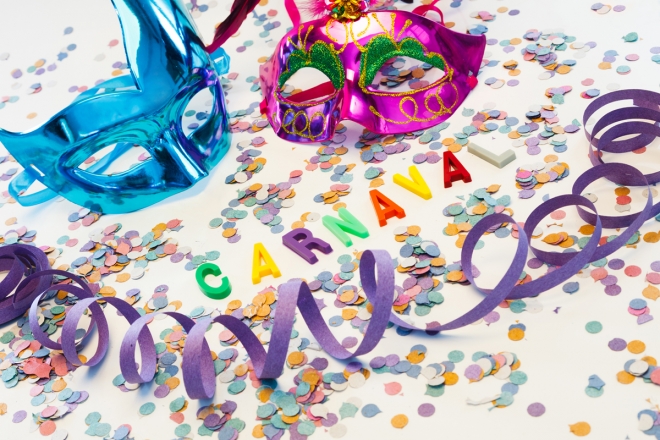 Fais Do-do with Robert Trudeau
MARDI GRAS SEASON 2017 is already in full swing, yet this year seems to bring a bit more reflection as one of its most loved celebrants is transitioning to a new stage in life. Krewe of Highland member Robert Trudeau recently retired from his 35-year gig as a Caddo Magnet High School teacher, but no one really sees him slowing down much.
As an artist, Trudeau is an author, illustrator and musician, having actively purused his love of sketching, such as an album cover and T-shirt for the rock band Romulus Remus. He has won awards for video and music production from the Shreveport Regional Arts Council and projects funded by the National Endowment of the Arts. He received a PRIDE Award from the Shreveport Bossier Convention & Tourism Bureau in 2012 for communication through his Blog Aficionado. He has a long list of juried awards as well. His book "Illustrations for How to Mardi Gras" has sold 5,000 copies.
Perhaps Trudeau's most iconic identity, however, is his place at the head of the deliciously interpretive Blanc et Noir Marching Society, the group in black -and-white dress carrying umbrellas in an authentic Second Line. The idea of Blanc et Noir was conceived by Trudeau and his friends Jerry and Tarama Davenport. In fact, one of Trudeau's most successful videos has been "How To Second Line," which can be viewed at www.youtube. com/watch?v=bpwlPh0k40U.
"Blanc et Noir is the product of watching the late Pete Fountain and his Half-Fast Marching Club ramble downtown on Fat Tuesday, and the Garden District Carnival Club on St. Charles Avenue, too," Trudeau explained. "We hire a brass band, have a brunch at Marion Marks' lovely house, and lead the Krewe of Highland parade. It's a four-mile second line, and it is not easy to keep strutting at mile three. But the band and onlookers provide the necessary energy."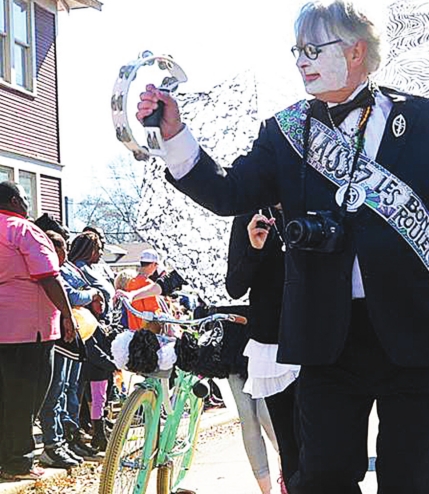 Blanc et Noir is set to unveil a new signature throw this year. Each painted pecan is an individual hand-held work of art and sure to become the most coveted throw in the Krewe of Highland Parade. "The painted pecan was introduced by member JoLinda Redling," Trudeau added, "who created a super-cute, twotoned pecan with googly eyes. Somehow that design morphed into the easier-tomake painted pecan that you see today.
Marion Marks has put pounds of pecans through a wash of white acrylic paint and distributed them to members for the finishing touches. The ones in my photos were decorated by Talbot Hopkins and Madeline Trudeau Kawanaka. But many additional society members have taken markers and made their own. They are not meant to be hurled to the crowd, but handed out individually – like a painted coconut in the Zulu parade."
Trudeau's passion for Carnival theatrics began when he was a boy living in New Orleans. "Growing up with an uncle, my parrain (godfather), who was a member of Rex and other krewes, I absorbed New Orleans Carnival from an early age. He lived on the corner of Milan and Baronne, so the family watched parades on St. Charles at Milan Street, about two blocks from Fat Harry's."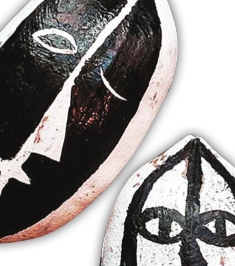 "Part of the fantasy of viewing, dancing and leaping to the parades as a kid was in knowing that someday I would participate by doing much more than catching beads," Trudeau added. "Knowing that one day I would be making the parade music that made me shiver because it was so beautiful and energizing."
"The Benedictine monks who taught me in high school at St. Joseph Seminary enhanced my love for the academic and writing life," Trudeau said. "For me, life in NOLA was like being free to ramble while backstage at the circus. In truth, the Crescent City was costumes, drumming, architecture, red beans and rice, beer, freedom to be an artist … it was and is a romance."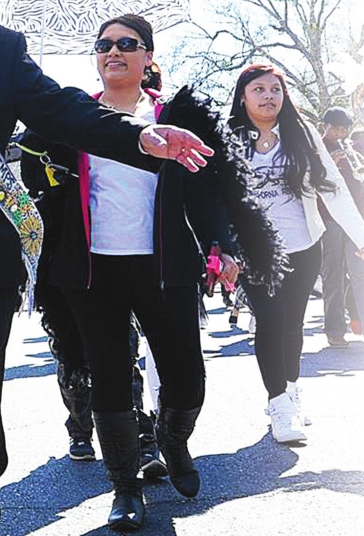 That cultural and educational gumbo that Trudeau experienced growing up led to one of his favorite pastimes. "Sketching people and objects around me has always been a way of reaching out to people," he said. "Students always loved my sketches. Girls and friends and family, too. Sketching has also been a defense, a way to protect myself against painful forms of anxiety."
It was without a doubt Shreveport's gain when Trudeau accepted a teaching position here at Herndon High School after graduating from University of New Orleans. "Soon, I was teaching social studies at Bethune High School in the Mooretown neighborhood of west Shreveport," he said. "My lanky locks and granny glasses earned me the nickname 'Steppenwolf.' Life-long friendships were begun in 'Mo'town,' partly because my after-school student jam session led to a rock band that played talent shows at Booker T. Washington, Southern University and Bethune."
When Huntington High School opened, Trudeau joined the faculty there, where he also sponsored another rock band and gathered students who remain life-long friends. "During that time, I free-lanced as a writer for the Shreveport Journal as well as almost every alternative news rag that appeared, such as the 'Real Paper.'" Of course, not the least of his contri- butions to our area is, as Trudeau refers to it, "the ability to teach English or social stud- ies." "I was chosen for the first faculty at Caddo Mag-net High School. I stayed involved at Magnet for the next 35 years. The school's s philosophy was pian. Students were trusted utoand given freedom of movement and flexibility in regards to classes and off-curriculum activities. Teachers were held in esteem. Campus life was enlivened not by pep rallies but by an abundance of dance, music and drama performances."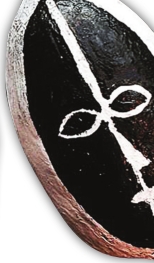 "Perhaps the biggest change that I noticed over the decades was in the attitude of the faculty and administration," Trudeau said. "Once, Magnet was a school where the attention was on the subject matter. Today, Magnet is a school dedicated to teaching individual students, regardless of their academic status. To this day, a visit to Caddo Magnet High School feels like a visit to a college campus. The tone is scholarly, student groupings remain mixed and flexible, and teachers are actively respected. The cafeteria is orderly and joyous, the campus is not littered, and students do their best to make each class on time."
Trudeau has an endless legacy at Caddo Magnet High School, but some of his highlights include a project with fellow teacher Ken Lerchie to promote campus investment by firstyear students. "Once a year, I led the freshman class in raising money and gathering shovels for tree planting," Trudeau said. "As a result, the campus on the Stoner Avenue side is lined with colorful crepe myrtle trees, all planted by 14-year-olds."
The north end of the Coates Bluff Trail adjacent to Magnet called out to Trudeau to enrich the art and education curriculum with a healthy dose of outside. "With the support of parents and principals, hundreds of students have accompanied me on scores of hikes along this forest classroom," he said. "They learn to identify sycamore, cypress and cottonwood trees. They are watching the changes that occur in the Bayou Pierre slough as new housing is built in the Riverscape development."
And then last year, Trudeau's youngest son, Jett, a student at Tulane University, told him that Friday mornings at Tulane included donuts and jazz in the quad before classes. Jett said, "You should do that at Magnet."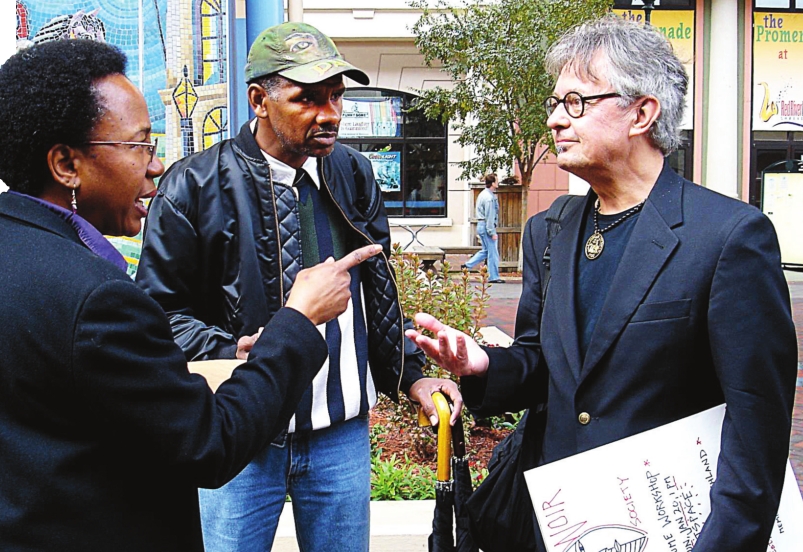 "With the aid of teachers Bill Knox and Ken Lerchie, the Friday morning series of informal performances enlivened Friday mornings at Magnet all last year," Trudeau said, beaming. "Soon, they will resume on a new outdoor stage built by principal Michael Ilgenfritz with such talent development in mind."
While building a full and wonderful life and guiding others to do the same, Trudeau has remained absolutely smitten with Mardi Gras. His 36-page booklet called "How To Mardi Gras" is a perennial seller. "I think the reason it has held up well is because of the research. I spent some 10 years collecting articles from New Orleans magazines and papers and the New York Times and in collecting books on Carnival. It remains in circulation because I publish it. It's for kids, and it's for teachers – a classroom set makes a great couple of days of learning – and for oldsters and for visitors."
Trudeau also spreads the carnival cheer with his interactive lectures on Mardi Gras, called "Fais Do-do with Robert Trudeau," and a New Orleans-style marching band. "Weddings, meetings and such events are given the Louisiana street jazz touch when people hire the Shreveport Second Line Brass Band."
"For me, Mardi Gras is a treasure chest discovered on a sandy beach," Trudeau explained. "Exploding from the trunk are dance and music, historic foods and rituals, costumery and mystery. It represents a blending of African, indigenous, Cajun, Creole and Anglo cultures. It is silly and even absurd. But it is also a long stream of laughter. People pushing ratty lawnmowers as floats, people strolling under a decorated umbrella doing nothing but smiling. No beads, no frenzy … just strolling."