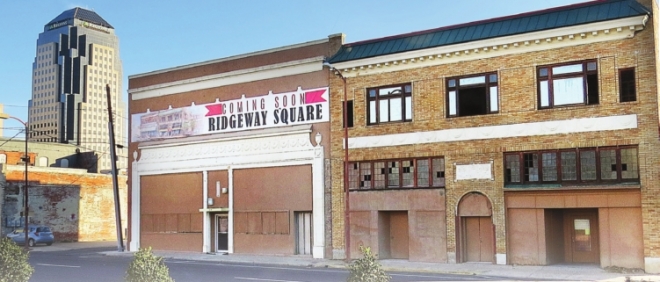 Complex of mixed-use buildings latest downtown development
Ridgeway Square, a three-building restoration and renovation at Marshall and Cotton streets, is the latest project of John Cush, the developer who formerly ran Cushco Inc.
"At Cushco we did light commercial construction, but the focus was on residential, both new construction and restoring older homes," Cush said. "I ran Cushco until 2012; in that time we built or restored/remodeled over 200 homes in all the older neighborhoods and several of the surrounding smaller towns, mostly in Broadmoor and South Highland in Shreveport," Cush said.
The surge in development downtown is bringing Shreveport residents urban retail and residential options, but the Cush project will be unusual, said Liz Swaine of the Downtown Development Authority.
"The great niche for John is that there are very few places to live downtown that you can purchase," Swaine said. Cush plans to live in one of the three buildings he is restoring, which were constructed in 1920.
"About 600 people are living downtown," said Swaine, "but lots more want to. We do not have enough (residential) space available."
"This is my first venture downtown," Cush said. "The buildings on Marshall will be for-sale condominiums in phase one, and a market/deli with some rental units."
Architect Jeff Spikes of iArchitecture said the buildings are "1920s traditional, neo-Classical. We kept all the unique historical elements we could," including pressed tin on the high ceilings. The old brown paint was taken off to expose brick, and the original stucco frieze was retained, Spikes said.
"The total square footage of the three buildings is 19,000 square feet," Cush said. There will be five one-bedroom and two-bedroom condos and a parking lot to accommodate 18 cars, plus nearby street parking, Spike said. DBI Construction of Bossier City is the contractor.
"We are finished with most of the major demolition and rehabilitation of the exterior," said Cush. "We have a new roof and are just about ready to bring in the subcontractors. We anticipate having some units ready for sale in September."
Swaine said renovation of historic buildings requires "new wiring, new systems, a new roof, but you have been able to buy into history."