VETERANS SEEK ANSWERS, OFFER IDEAS
Area VA town hall meetings expose veterans' concerns, invite dialogue
Some came to listen, some came to complain, and some came to simply make suggestions. Around 20 veterans attended the March town hall meeting at the Shreveport VA hospital, one of frequent meetings the VA offers around the area it serves.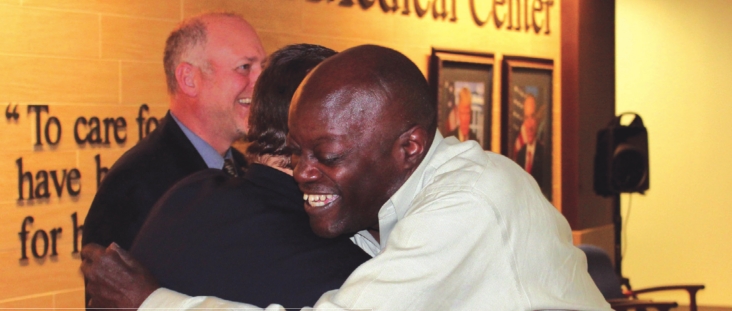 At the town halls, veterans can address the staff without delay, and several people used that advantage well, then were taken aside individually to share their private medical concerns with a VA staff member. The speakers sometimes thanked the staff for their help. All were cordial and polite, but frustrated.
Vietnam veteran William Alexander complained of appointments delayed months or even "falling off the grid."
"If you are sick, you can't wait three or four weeks," said veteran Priscilla Adams. Adams said if a specialist was needed, she saw a different one each time and suggested one be assigned to each patient to conserve doctors' time and for continuity of care.
Veteran Jason Turner recently turned to the local VA hospital when his private health insurance became unaffordable. He said he received good care at the hospital, but complained of problems he encountered through the VA's Choice Program.
"Overton Brooks Veterans Administration Medical Center serves a population of over 131,000 veterans (in) 15 Northeast Texas counties, five southwestern Arkansas counties and 12 Northwest Louisiana parishes," said David Gasperson, the Shreveport hospital's public affairs officer, who moderated the event.
Around 1,570 full-time and part-time employees work at the VA facility and at three outpatient clinics, where two of the next monthly events are scheduled.
"Our next town hall will be held at the Monroe Community Outpatient Clinic on April 27 from 5 to 6 p.m. followed by a town hall at the Texarkana Community Based Outpatient Clinic on May 18 from 5 to 6 p.m.," said Gasperson.
The hospital's Health Promotion Disease Prevention Program Health Fair is set for 11 a.m. to 1 p.m. April 19. Local veterans sell their produce from 8 a.m. to noon Tuesdays at the Veterans Farmers' Market at the VA Hospital on Stoner. Beginning in May, it will also be held on Thursdays.
– Kathleen Ward
MORE INFORMATION:
For upcoming events and information, go to www.shreveport.va.gov, www. facebook.com/VAShreveport and https://twitter.com/VAShreveport.