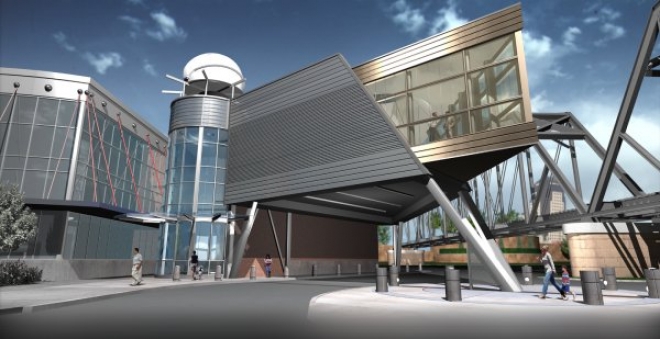 An open letter to the community
Thank you for your support of Sci-Port Discovery Center. You welcomed Sci- Port to the downtown riverfront 18 years ago, and we are grateful to be part of this community. We will continue to serve the area with informal science education.
Sci-Port is not closing. You may have seen reports about our recent audit. Sci-Port struggles as many nonprofits do, and a depleted economy does not help. We rely heavily on grant funding and donations to function. However, nonprofit accounting is complicated, to say the least, and some of the reports you may have read did not show the most accurate financial picture of the organization.
Something to remember: Sci- Port's audit year – our fiscal year – runs from July 1 to June 30, meaning Sci- Port has been open for 10 months since the end of the 2016 auditing period. We knew we had made a mistake in how to account for construction costs for the Power of Play (POP) Children's Museum, and we will have that corrected by the next audit. Since June, we opened POP, offering something new to our community. We reorganized our staff. We cut down liabilities. We made changes.
POP has made us a more diverse attraction, increasing visitors, memberships and sponsorships across the board. While providing fun, hands-on science, technology, engineering, arts and math (STEAM) education for children 8 and under, POP has helped us increase earned revenue by 5 percent over last year as we approach our busiest season.
Though POP has performed well, opening the children's museum meant we had more bills than we've had in previous years. This affected our audit, giving us more liabilities, such as POP construction, than usual. However, opening POP was the right decision for Sci-Port to keep moving forward.
Science is transparent, so we want to be transparent with our supporters. Sci- Port struggles, but we are confident in the management and the efforts undertaken to keep the science center moving forward. An organizational assessment conducted in February 2016 and a separate board assessment in January 2017 both noted there is strong staff leadership, but that fund-raising remains difficult for the board given the local recession. Sci-Port persists in spite of the economy. From requesting donated cardboard boxes for programs to collecting toilet paper rolls and used water bottles to never allowing a piece of paper to go to waste, the staff saves every dollar whenever they can. Our generous sponsors and loyal supporters help as much as they can despite their own shrinking wallets. For this we are so thankful.
Sci-Port is more than just a fun attraction, which it is, and we love that aspect of the science center. We also strive to be an active part of the community that shows us so much appreciation through our outreach programs. We host family events, such as the Bug Bazaar and Shreveport Mini Maker Faire, to stay fresh and relevant. We make sure Sci-Port is available for all through Title I assistance, our library pass partnership with Shreve Memorial Library and discounted admission days made possible by government support.
As we move forward, Sci-Port will continue to grow and adapt for our supporters. We are working with the City to upgrade Louisiana's only IMAX Dome Theatre from filmstrip to digital, which gives us more movie options to offer visitors. We are putting plans in place to grow our endowment to provide a reliable income stream during lean economic times. While we improve, our mission will stay the same. We strive to spark curiosity for all.
This report has caused many of our supporters to ask, "How can we help?" Thank you for your desire to make sure Sci- Port remains a staple in Shreveport-Bossier for many years to come. The best way to help Sci-Port is to continue supporting your science center, whether that's through purchasing a membership, attending our events or by simply sharing your passion about Sci-Port with others. You can always donate directly to Sci-Port, too.
Thank you for exploring stars in the planetarium, discovering the depths of the ocean in the IMAX Theatre and experiencing a miniature Shreveport-Bossier in POP. We are privileged to be your science center; thank you for giving Sci-Port a home.
Here's to the next 18 years and many more.
– Dare Johnson Chairman, Sci-Port Board of Directors