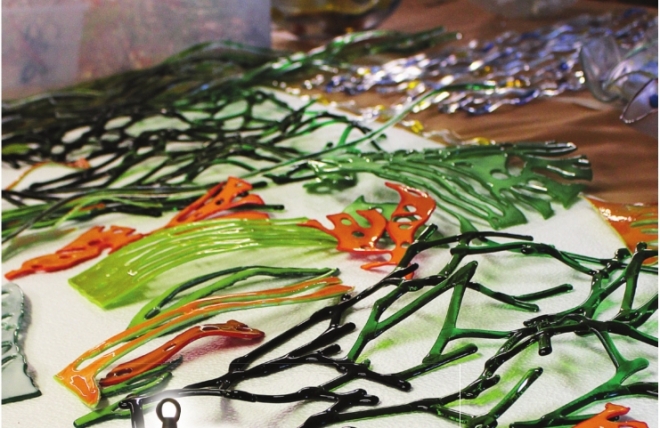 Ed's Emporium engaged to create art pieces for the new Shreveport Aquarium
Working with family to create stunning pieces of art is a work of heart for a pair of local artists.
Brothers Eric and Bruce Allen, and Bruce's design partner, Jim Hayes, have spent the last several months brainstorming, designing and crafting glass pieces for the Shreveport Aquarium. The aquarium is currently under construction and will occupy the former site of the historic Barnwell Center.
Bruce, head of the art and visual culture department at Centenary College of Louisiana and co-director of the Meadows Museum of Art, says it all came about after Planet Aqua Group (PAG) approached Hayes about six months ago. They had heard about the designers from the duo's landlords – the Biomedical Research Foundation. "They mentioned Jim and I as the people (PAG) should contact to help them out with interior design work," said Bruce.
Bruce says that during talks with PAG, it was mentioned that jellyfish are the main attraction at aquariums. The same day, he went to his brother Eric's shop – Ed's Emporium Stained Glass Studio in Bossier City. "(Eric) had a jellyfish that he had just made out of glass hanging there," he said. "It just hit me – right then. That's what we should be doing – using jellyfish as the central part of the lobby area."
A few weeks later, Eric says Bruce suggested creating a jellyfish chandelier for the Shreveport Aquarium.
Eric has been working on the jellyfish pieces for several months, and the process involves multiple steps. Eric took small pieces of cut glass and scrap glass and put them on one large piece of glass. Then he placed it in a kiln until it melted into one big platter. Next he placed the platter on top of a mold (he used some old stainless steel salad bowls) and heated it in the kiln until it took that shape. "It rounds over, but leaves that really organic look of a jellyfish," he said. "When you turn them over, it looks like a giant punchbowl."
Once complete, the jellyfish will be made up of three separate pieces – a 14-inch wide bowl nestled inside a larger 22-inch wide bowl and tentacles hung from a base piece. Eric drilled holes in the pieces – a process he called very stressful – so fiber optics and LED lights can be mounted inside to make to jellyfish pop.
"I'm pretty excited about having something of mine displayed like that. I have a lot of stained glass windows around town, but this is going to be a place where everybody shows up," Eric said. "This will probably be a piece that somebody will look at and think, 'Wow, who made that?'" Bruce also asked Eric to create some glass coral pieces for a display. Eric based the pieces on a coral bowl project customers can make in a class at his shop. "I've made that, and I've made some other stuff, too, that looks like coral – crazy-looking coral," he said. "I can't wait to see what (Bruce) does with it, because it's just a bunch of pieces right now … until it's done it's like having the pieces of a puzzle, but somebody else is going to put the puzzle together."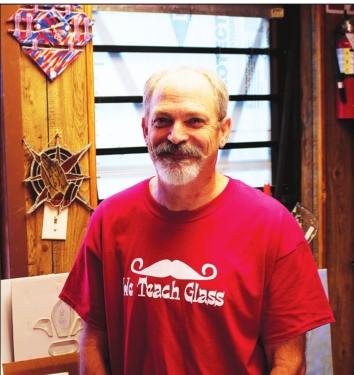 This isn't the first time the brothers have worked together. The first piece the pair orated on is a 60-foot-tall tall art piece located in the collab commerce building at the Port of Shreveport-Bossier. It was one of Eric's first fusion glass projects, and all of the glass is recycled. "My brother and Jim Hayes took some stainless steel scrap and built a bunch of pieces; I took about 1,200 bottles and flattened them. Then we made them into thick, flat circles."
The Allen brothers' parents opened Ed's Emporium 36 years ago, after his father took a class to learn how to make a Tiffany lamp. Eric took over the shop after their parents passed away. "I just want to keep my parents' legacy alive," Eric said. "My dad did it until a month before he passed away, and he was 90 years old. My mom worked up here until she was 87. It's a pretty cool environment to work with your parents."
Bruce also enjoys getting to work on projects with family. "I've helped design glass for (his parents) over the years, and for Eric as well, so I really enjoy working with my family when I can," he said.
The work of the Allen brothers and Jim Hayes can be viewed at the Shreveport Aquarium once it opens to the public. The aquarium is scheduled to open sometime in late summer.
– By Melissa Airhart