Local artist Amy Treme shows off Highland bungalow
For Amy Treme, painting her dining room wall was a must.
"It's the largest wall in the house," she said. "I wanted it to be a focal point."
Well, the focus is on, and after posting a photo of her wall to social media, others begin to inquire about the bright, geometric pattern.
"We had the idea months ago before we moved in here," said the 32-year-old artist/teacher, of her 1938 Highland bungalow.
As a true DIYer, she knew she could handle the project herself but wanted to wait until becoming a homeowner to bring the idea to life. That time came last August when the Tremes purchased their Kirby Place home.
"We've never done anything like this," she said, of painting and buying their first place. "We always wanted to paint and we knew we wanted an accent wall."
In keeping with her personal style, Treme opted to use paint left over from her guest room redo. She said the key to pulling off the geometric style paint job was drawing a 12-foot-by-12-foot grid and then drawing the triangles. She painted the middle first and then the outer spaces. Her color scheme: hues of blue and orange.
"As it goes out it gets brighter," she said. "There's really no rhyme or reason to it."
And that's the theme throughout her home. The Tremes overall design aesthetic is mid-century meets quirky — a style the two have perfected for years.
Treme is a Montessori school teacher and clothing designer. She also sells vintage clothing and is very active within her community. Her husband, Nathan, is an electronic DJ and musicmaker in the local EDM group Blood Punch. The two have been married for more than three years.
Now seven months in as homeowners, Treme shared that they've experienced two roof leaks, a faucet handle breaking and a feral cat sneaking in through an air vent.
"(The house) needs some work," she said, explaining that downstairs has central air but no heat and repairing the roof is a needed investment.
"We wanted a house we could grow into and not out of. We know we want a family," she said.
With eight rooms overall, there's plenty of space to grow.
The more than 2,200-square-foot 1930s home has a master and guest bedroom downstairs along with a full bath, kitchen, dining room and living room.
Upstairs the Tremes rent one of their rooms (with a half bath) and use the other as a workspace.
"I just love these doors," Treme said, pointing to the almost hidden waist-height wooden attic entryway. Her studio space is much larger than in her last Highland home, something important to her when looking to buy.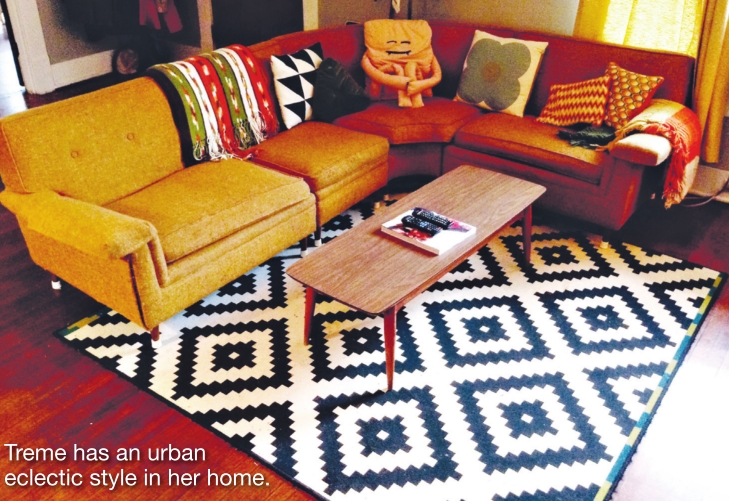 "I knew one would be office," she said. "Having a space for my sewing equipment was a must."
Upon walking into the Tremes' home, guests are greeted with a bright and shiny wreath on the door.
An enclosed patio with ample seating is connected to the porch.
Various pieces of 1960s-styled furniture adorn the home, along with thrifted Polaroid cameras that serve as art installations. There are even pieces of vintage clothing hanging on the wall.
"These bellbottoms were my mom's," Treme said, showing off the flair and brightly colored stitching. "She hand embroidered all of this."
The jeans are located in a hallway directly in the center of her home on the first floor.
This has become one of Treme's favorite places and includes a floating built-in bookcase with their favorite books, photographs and items from their travels.
The entirety of her home doubles as a history lesson with trinkets through time conveniently placed in every corner.
"You have to see the 'Harry Potter' room," she said, showing off a closet under the stairs just off the kitchen.
"We're just using it for storage, but I can see the potential."
Her living room is smattered with streamline pieces and handmade items, such as her one-of-akind orange drapes.
Her home is eclectic and fun, yet cozy and inviting.
"We always shoot for mid-century furniture. That's what we look for. That's what we try to invest in," said Treme, pointing to a sectional sofa in her living room she scored for $35 at an estate sale.
Treme shops for her home and herself at yard sales, thrift stores, vintage shops and other second-hand places. Now that the dining room wall has been painted, Treme said she can move on to her next project, which is helping her father design and create an 8-foot-long dining table that seats eight.