Cypress Bayou Home Builders looks to impress homeowners
Rick Gates, licensed residential builder and general contractor and the owner/CEO of Cypress Bayou Home Builders LLC said it is his attention to detail that defines his company and his homes.
"We really go out of our way to make sure that everything is done correctly and perfectly to the best of our ability," he said. "We ask lots of questions in order to get input from our homeowners. This is probably the biggest investment of their lives, so we want to make sure they get their custom home perfectly the way they want it."
Cypress Bayou Home Builders LLC is located at 2285 Benton Road in Bossier City.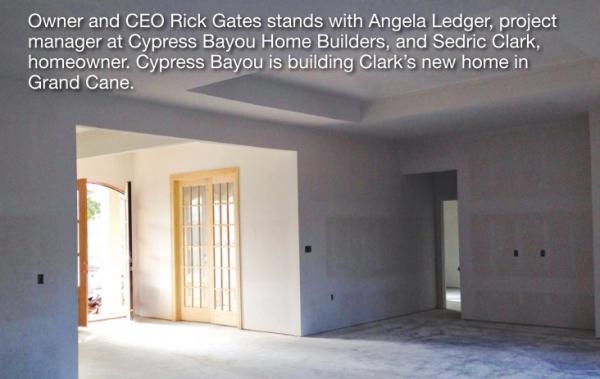 Gates has been working with a land owner and developer in Frierson on a new subdivision called Maple Leaf. "At this point, I'm the sole builder of the subdivision," he said. "We should start building in two to four months, subject to approval by the DeSoto Parish Planning Commission. The lots are all three to five acres and we'll be building 2,000 – 4,000-square-foot homes."
Gates also has a commercial general contractors' license and has just completed a remodel of the Expedia CruiseShipCenters office on Youree Drive.
"We're about to build a wedding and event center in Frierson," he said. "The owner is going to grow lavender and it's going to be a lavender retail center and wedding/event center. We start construction in January."
If accolades are any indication, Gates said the business has a lot of happy clients living in their custom homes. The company was presented with the 2014 Better Business Bureau Torch Award for Integrity and is the No. 1 home builder in "Locals Love Us" for 2015-16.
Those awards are gratifying but Gates said the best part of being a home builder is working with homeowners to get every detail right.
Sedric and Katonya Clark are about to see their dream come to life in a home currently being built by Gates on Silver Spur Lane in Grand Cane.
"We found a piece of property on one of the last streets in our school district and it's closer to where my wife works," Sedric, who is the principal at Mansfield High School, said.
Upon completion, the Clarks' house will be 2,660 square feet with four bedrooms, three and a half baths.
"We weren't trying to build a mansion," Sedric said, "but we needed space to entertain."
The Clarks' home sits well off the road on a large wooded lot. The entryway features tall arch-shaped double doors made of cypress that are scheduled to be stained. Just inside, to the left of the entryway are French doors leading into a study/office, with a formal dining area just across the hall.
The master bedroom has tray ceilings and a bath with double sinks, a Jacuzzi tub and a walk in shower, along with a massive closet. The three other bedrooms are roomy, as well, each with their own closet.
The nicely-scaled living area, however, is the core of the entire house for this family. The living area and the kitchen are combined into one large but comfortable room with a fire place and windows looking out to the pool. The kitchen features a large island, double dishwashers and a large separate pantry. "I cook a lot," Sedric said. "I wanted something updated, where we could move into the living area from the kitchen."
The pool is almost completed and the landscape will soon begin to take shape as the team attempts to turn what had been a large tree-filled lot into one bordered by breathtaking forest, but with defined living and activity spaces.
Cypress Bayou Home Builders' project manager, Angela Ledger, has a Louisiana Horticulture license and is an internationally certified arborist. "We talked with Sedric about getting some low maintenance shrubs out in the front and maybe throwing in some little plants for color, with crepe myrtles on the corner," Ledger said. "He's going to be spending all his time in the back, so we wanted to keep the front low-maintenance."
The Clarks will add a fence about 40 feet back from the house, both for pool regulations and to define the yard. They are also adding what they refer to as "a barn." The metal structure will actually be used as a garden shed/pool house with a bath, with space for video games and a pool table. They want the barn to be a fun hangout for their nieces and nephews. "One has already scheduled a graduation party in the barn," Sedric said as he laughed. "She scheduled it before the barn was even up."
Clark couldn't contain his excitement as he talked about adding fish to the pond. "That has been my life-long ambition," he said, laughing. "With the acreage we have here, that was first on my list. We knew basically what we wanted before we ever started. We are just happy that we had a builder and a group who helped us realize our dream."
"I want our houses to be special for our homeowners," Gates said. "It is such an honor for us. It's a very special feeling to hand the keys to the homeowner and say, 'Here's your new home.'" –Susan Reeks
learn More: For more information, go to www.cypressbayouhomes.com or call 746-5045.