Protect Yourself from Scammers
Never give out personal information
The New Year doesn't just ring in with confetti, noise-makers and hopeful anticipation – it also brings new opportunities for scammers and those looking to take advantage of others. It's important this year to be aware of the top scams, local and national, to protect yourself and your loved ones from falling prey to attempts at stolen identities, financial theft or other crimes.
According to the Better Business Bureau (BBB) and a list compiled by the BBB Institute for Marketplace Trust, the top 10 scams of 2016 were tax scams (IRS and CRA), debt collections, sweepstakes/ prizes/gifts, online purchase, employment, government grant, tech support, advance fee loan, fake check/money order and phishing.
Andy Fisher, president of Better Business Bureau, hopes people will take notice this year and protect themselves by staying informed. "The best advice is 'if it sounds too good to be true, it usually is'," Fisher said.
The top three scams on the 2016 list – tax scams, debt collection scams and sweepstakes/prizes/gifts – were the same leading scams in 2015. New this year to the list are online purchase scams and phishing scams. The tax scams lead the list by a wide margin, with over 7,500 scams reported. This is still the case despite an effective raid last year in Mumbai, India, that led to many arrests.
"This tax scam is when you receive a call from someone that says he is with the IRS and you owe back taxes, and if you don't pay now, he'll send the sheriff out," Fisher said. "The IRS is not going to call you on the telephone – they send first-class mail."
"Second on the list is debt collectors," Fisher said. "That's when they call to tell you that you owe someone from a past due debt. It's better not to accept calls from someone you don't know, and if you do, just hang up."
It's not only the elderly who are falling prey to phone and internet scams. "The BBB has actually found that the millennials are more apt to be scammed rather than the elderly as we first thought," Fisher said.
Fisher advises people of all ages to check their credit card and bank statements regularly, to stay on top of the activity and not be caught off guard by any foreign charges or unusual activity.
The sweepstakes/prizes/gifts scam is another popular one on the list. "These are also usually over the telephone, and you just shouldn't take the calls," Fisher said. "If you do answer, they'll want you to send money in advance for taxes, fees, etc. Never send money in the front! If it's a real award, tell them to take it out of your winnings."
There are other measures you can use to protect yourself online, especially with the increase in popularity of Internet shopping. "Be sure when you use the Internet to purchase, that you're using a secure site with an 's' after the https:," Fisher said.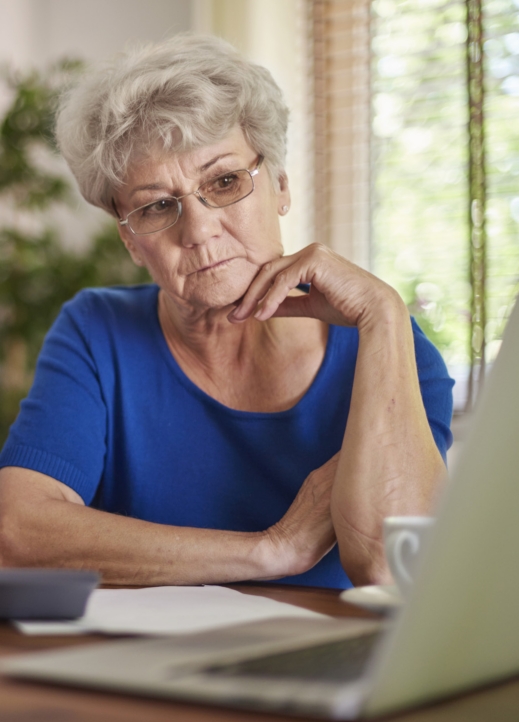 Bobby Herring, Caddo sheriff's sergeant over the Financial Crime Task Force, also advises locals to be wise and aware. "We see the IRS scams the most," Herring said. "Also, more recently, we've seen an increase in people pretending to be law enforcement officers."
Herring and his department worked with the FBI and the Secret Service to stop a scam last year that targeted pressuring people into giving their bank account information over the phone. The criminals would then go and drain the account. "Ironically, we traced the scam to a group already incarcerated in a Georgia prison," Herring said. "They were being snuck cell phones and looking up names of local officers through online department directories and convincing people they had fines or court fees to pay and insisting they wire money."
"It's best to avoid answering calls where you don't recognize the number," Herring said. "Definitely, never give any personal, credit card or bank account information over the phone." He also advised to resist any phone calls that use pressure to make a decision of some sort immediately.
It's imperative to use wisdom when dealing with strangers – even people you think you know. "There's been an increase in relationship scams," Herring said. "This is often by scammers who live out of the country but create online dating profiles and use technology to appear like they are local. They build relationships with people through the computer and even over the phone, using a local number, and gain trust in order to convince that person to wire money or transfer illegal packages."
Another type of scam a few years ago targeted a well-known bank. Herring said when you think there's a chance it could be a legit request from your bank, it's better to make sure. "Hang up with that person immediately, without giving them information, then call your local bank directly to have them confirm. Never use a call back number the scammer gave you over the phone. Look up the number yourself."
"If you're unsure if the call is legit, call us at the sheriff department," Herring said. "We're well versed in the various scams going around and can advise."
While paranoia certainly isn't the goal, it's always better to err on the side of caution. You can learn more and stay informed on scams by visiting bbb.org/ avoidscams.
– Betsy St. Amant