Exhibits pay tribute to shuttle astronauts
Hemphill, Texas – I remember exactly where I was on Feb. 1, 2003, when Columbia disintegrated with its seven astronauts while re-entering Earth's atmosphere. I was driving at E. 70th Street and Dixie Garden, running errands for my Mardi Gras ball that night and hearing the horrible news on the radio.
If you are too young to remember or just interested, you can learn more at the Patricia Huffman Smith NASA Museum, which opened eight years after the disaster on a zero budget but with assistance from Al Smith and named for his late wife, Patricia Huffman Smith.
It's worth the 1.5-hour drive for a family trip to 375 Sabine Street. The tour takes about an hour and a half.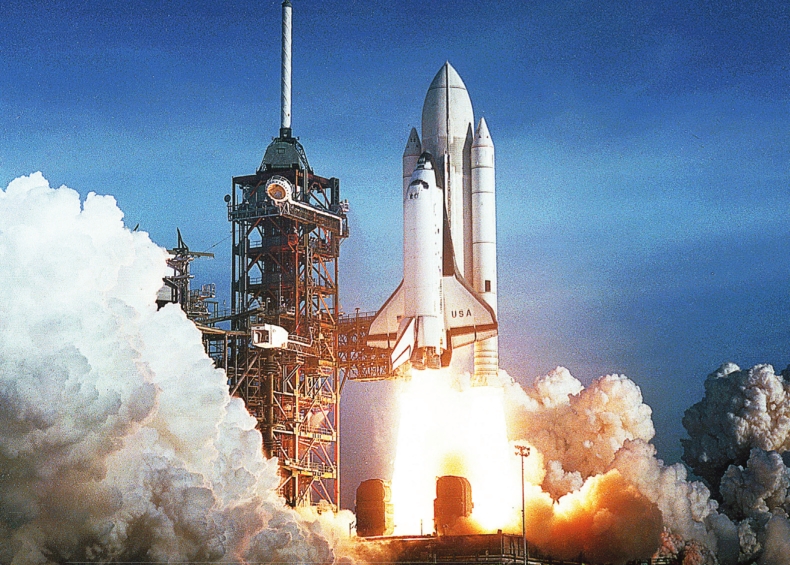 Debris and the astronauts' remains scattered across East Texas. Sabine County was ground zero, and the forest grounds were treated with dignity in the search and rescue. More than 82,000 pieces of material were found.
A helicopter pilot and Texas Forest Service employee who lost their lives in the search are also honored.
The boom and shakes that day had one witness think Jesus was coming.
Visitors watch a video and then receive a guided tour. You learn how the townspeople came together. The funeral home did not charge for picking up the bodies. A Baptist minister had a memorial when each body was found (all but one was burned) and held a "chapel in the forest."
A stray dog put its hands over its nose during certain searches and ended up finding astronaut David Brown. The tour guide told a story that as a youngster Brown saw a white dog reflected in a fishing pond he frequented. His father told him it was a sign from his late grandfather.
Residents served hot meals to the federal workers and volunteers, 3,000 of them, three times a day for 16 days at no charge. Some could just donate an apple or a bag of potatoes. The town's population is a little over 1,000.
Visitors can see food astronauts eat (cornbread dressing, waffles, grits and Mexican scrambled eggs). They create their own menus. You can touch a piece of heat shield (it's lightweight).
I learned that astronauts take a twoweek leadership hike before their mission and design their crew patch.
There is a 1/15 shuttle replica, astronaut suit and quotes from President George W. Bush. Other familiar pictures include Sean O'Keefe, National Aeronautics and Space Administration administrator and former LSU chancellor, and Gov. Rick Perry.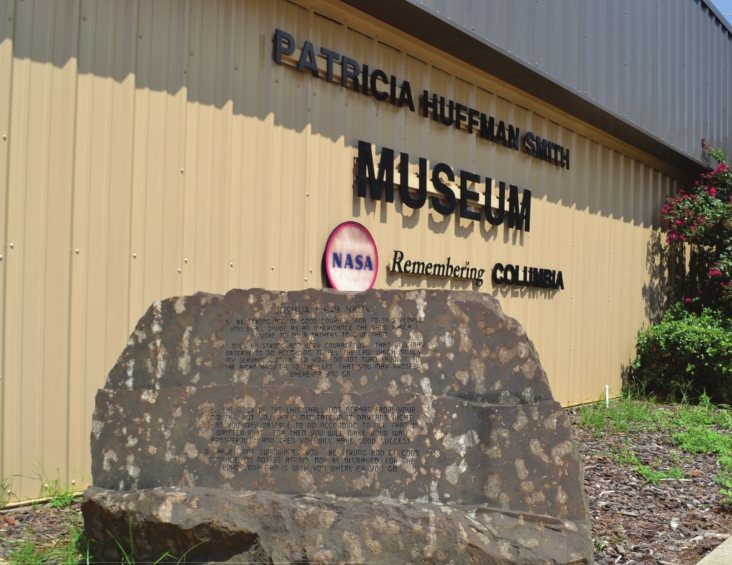 Some of the photos from the crew that were electronically sent to Mission Control are on display. One is called the "money shot," the last of all crew members.
A shuttle simulator is being built in the classroom.
Cases have mementoes from each astronaut. They are specially decorated on their birthdays. Items in Ziploc bags indicate what was recovered.
• Mission Commander Rick Husband — contact lenses case.
• Payload Specialist Michael Anderson — Gloves and glasses he used when he drove his Porsche.
• Mission Specialist David Brown — A portrait and personal poem which details his ambition to fly. He was a gymnast and wanted to be in the circus.
• Mission Specialist Kalpana "KC" Chawla — A beaded gown made for her by a relative.
• Mission Specialist Laurel Clark — Flight suit. Deodorant. Diary. She said her biggest accomplishment was being a mother.
• Pilot William "Willie" McCool — Gold wings from his father. A halfmarathon is held in Lubbock in his honor.
• Payload Specialist Ilan Ramon — Reproduction of a diary written in Hebrew that was recovered.
Just outside the museum entrance is a rock with the words of Joshua 1:6-9. It was the Scripture Husband read at a dinner the night before Columbia left Earth and a devotional he did with his family from space.
The Baptist minister read Joshua 1:6-9 at services conducted and did not know it was Husband's favorite verse until later. He said he had just asked God for the right words to say.
Hours are 10 a.m. to 5 p.m. Tuesday through Saturday and by appointment on Sunday and Monday. Admission is $5, 18 and over; $3, 17 and under; free, 3 and under. Group rates are available.
– Mary Ann Van Osdell
FOR MORE INFORMATION:
Call 409-787 4827, or visit www.nasa.columbiamuseum.com.