Local artist captures wildlife on canvas
Local wildlife photographer and artist Don Edwards continues to bring nature to life in the Ark-La-Tex with his unique talents.
For Edwards, art has truly been a life-long passion. He originally started taking pictures at weddings, but had an allergic reaction to the chemicals in the processing. "It was when I was 30 years old that I began to start painting because of my love for the outdoors," Edwards said. "It took me two years to finally sell something for $20!" Edwards then starting attending art shows and growing more inspired by others who went before him. He started selling his art full-time in 1976 once he realized he was making more money doing so than he was in his day job.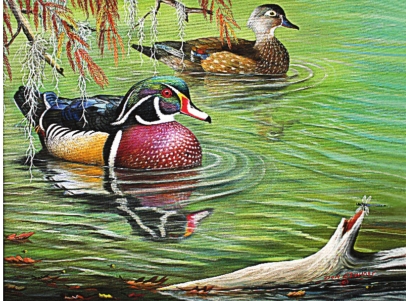 Edwards typically paints as inspired from the many photographs that he takes.
"I love to travel and photograph," Edwards said. "I've been to the Rocky Mountains many times, Alaska, Israel, and I took three trips to Africa. I have an enormous amount of material for composition of my paintings."
His most recent trip involved a visit to New York City for a reception at the Rainforest Museum, where his artwork was hosted.
"I prefer to paint using oil and acrylics," Edwards said. "My passion is to capture wildlife in its natural habitat with detail and accuracy. I like to make the picture 'come to life,' and I always hide a small red-headed woodpecker in each painting – sometimes more than one. I love it when people come to me and recognize me as the artist who puts the woodpecker in the paintings. Sometimes they can't remember my name, but they remember my trademark, and I can't leave it out."
Each of Edwards' projects involves different amounts of time dedicated, based on the size of the work and the amount of detail required. But like many artists, it often takes a long time to truly feel complete. "Even when I think it is finished, I'll go back and see other things I can add to make it better," Edwards said.
Despite his exceptional talent and wholehearted passion for his work, Edwards' life wouldn't be complete without his wife, who often travels with him. "My beautiful wife, Sandy, is an important asset to my achievements," Edwards said. "Without her loving support, I could have never achieved my dreams."
Over the years of his career, Edwards has collected quite a few achievements and awards, including the 1994-95 Duck Stamp Design Contest for Louisiana. "That was a great honor for me," Edwards said. "Another big honor was that a local businessman purchased the original!" Edwards was also Artist of the Year for the Louisiana Wild Turkey Federation Stamp and Print Program in 1981. "I presented a copy of this to President Ronald Reagan in the Oval Office at the White House," Edwards said. "It was unbelievable."
In 1987, Edwards was the Artist of the Year for Ducks Unlimited of Louisiana. That same year, he was commissioned by the Red River Wetlands to paint a commemorative painting to help preserve Bodcau and Loggy Bayou – the last remaining significant wetlands in Northwest Louisiana.
In 1990, he was awarded Artist of the Year for the Louisiana Wild Turkey Federation 10th anniversary edition, and in 2006, he was awarded the same for the 25th anniversary edition.
Edwards was recently invited to display his artwork at the R.W. Norton Art Gallery in Shreveport from August to November of this year. "I'm both humbled and honored by their special invitation," Edwards said.
Today, Edwards teaches art three days a week from his gallery located on Summer Grove Drive in Shreveport. "I also print my own work and usually make my own frames," Edwards said. "It's a busy schedule to keep, but God has blessed me with good health and the desire to keep painting and to help others and encourage them in their work."
– Betsy St. Amant