When the Louisiana State Fair approaches, you can almost feel the excitement in the air.
The season is changing, night comes earlier. The thought of an evening stroll through the arcades and attractions with a nip of something warm to drink or that oh-so-sinful deep-fried item that you must have – and maybe have even anticipated all year.
Well, it's that time, so let's fire up the fall fun and hit the fairgrounds. Sixteen days to get your fill of rides, hanging with friends or perhaps taking your children for the first time and watching their faces as they are enthralled with simply everything. There might even be an engagement proposal in the plans ... Many first dates and memorable moments have occurred. Make your plans. Gather your posse, it's fair time!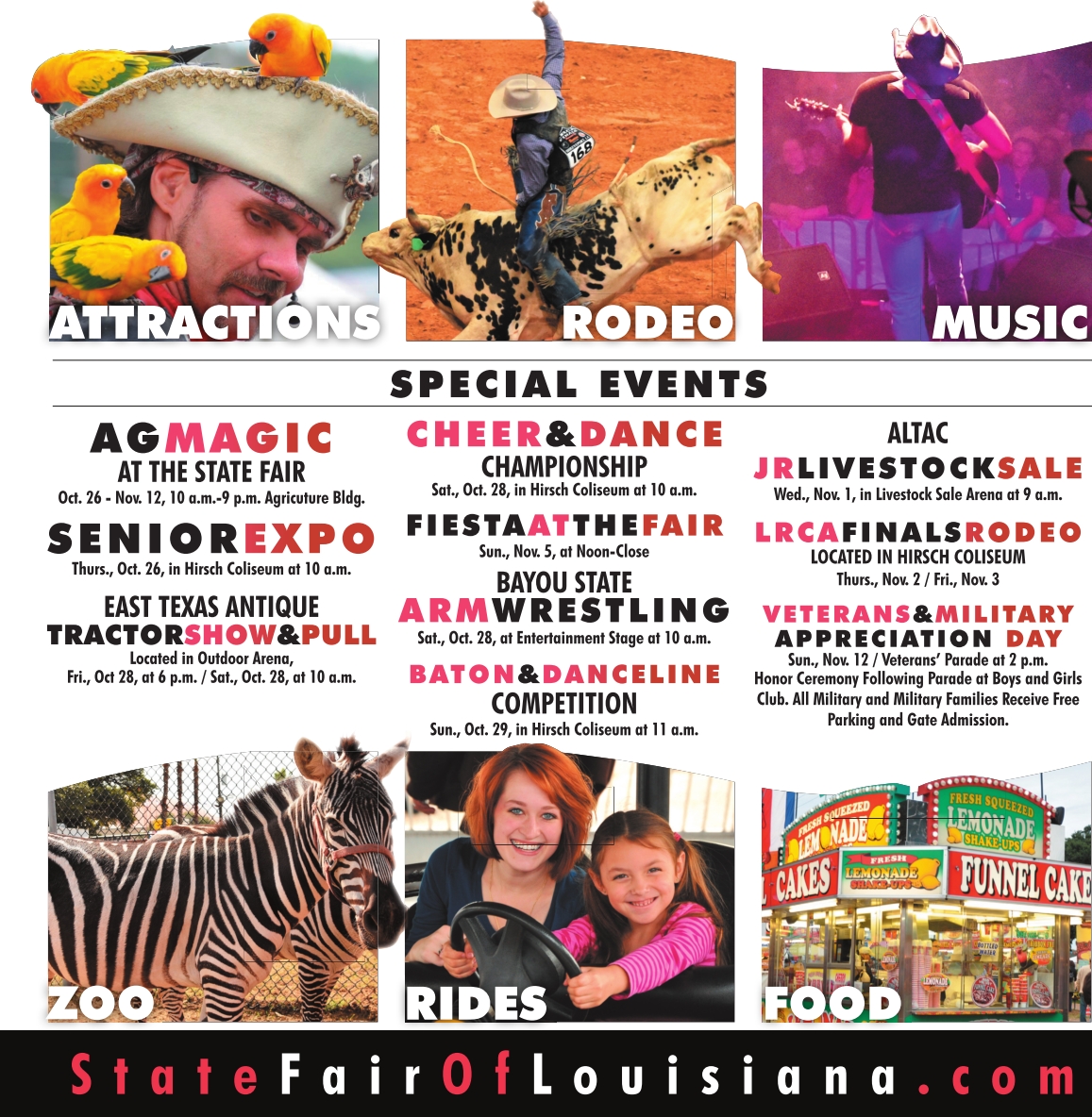 FREE CONCERTS

Oct. 26: The Hollow Decks
Oct. 27: Pokey Bear / Veronica Ra'elle / Coldrank / Audio-Yo
Oct. 28: The Bigg Robb Show / Jeter Jones & The Perfect Blend Band / Miss Portia
Oct. 29: A Tribute to Music Royalty featuring Bob by Miller as Michael Jackson & Prince w/ Special Guest: Timeless Tina
Nov. 1: Faith at the Fair featuring Finding Favour w/Special Guest Cypress Baptist Band
Nov. 2: Kandu
Nov. 3: Lenny Cooper / Cypress Spring
Nov 4: Frank Foster / Muscadine Bloodline
Nov. 8: Shallow Side / Pete Schiegel
Nov. 9: Stone Senate / Cody Wayne
Nov.10: Madison Rising / Jeremy barr-Illand Band / Cat Beach
Nov.11: Hillbilly Vegas / BJ Wilbanks / Hannah Belle / Kim Logan & Hydromatic / Jonathan East
Nov.12: Wesley Pruitt / Creed Fisher / Jake Clayton / Lauren Alexander
FREE ATTRACTIONS
• The State Fair Zoo
• Circus Hollywood
• The Tiger Encounter Show
• Hollywood Racing Pigs
• Camel Show
• Ms. Stevana's Friesian Horse Show
• The Pirate's Parrot Show
• Johnny Rockett's Cycle Circus Live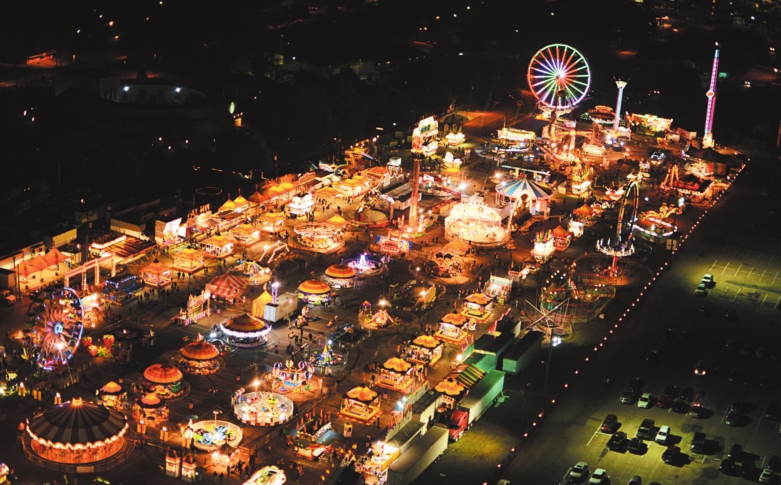 STREET ENTERTAINERS
• The Puppetone Rockers
• The Clown of Many Faces
• Dallas the Fire Guy
• Nick the Escape Artist
• The Flaming Ginger
For more detailed information
visit StateFairOfLouisiana.com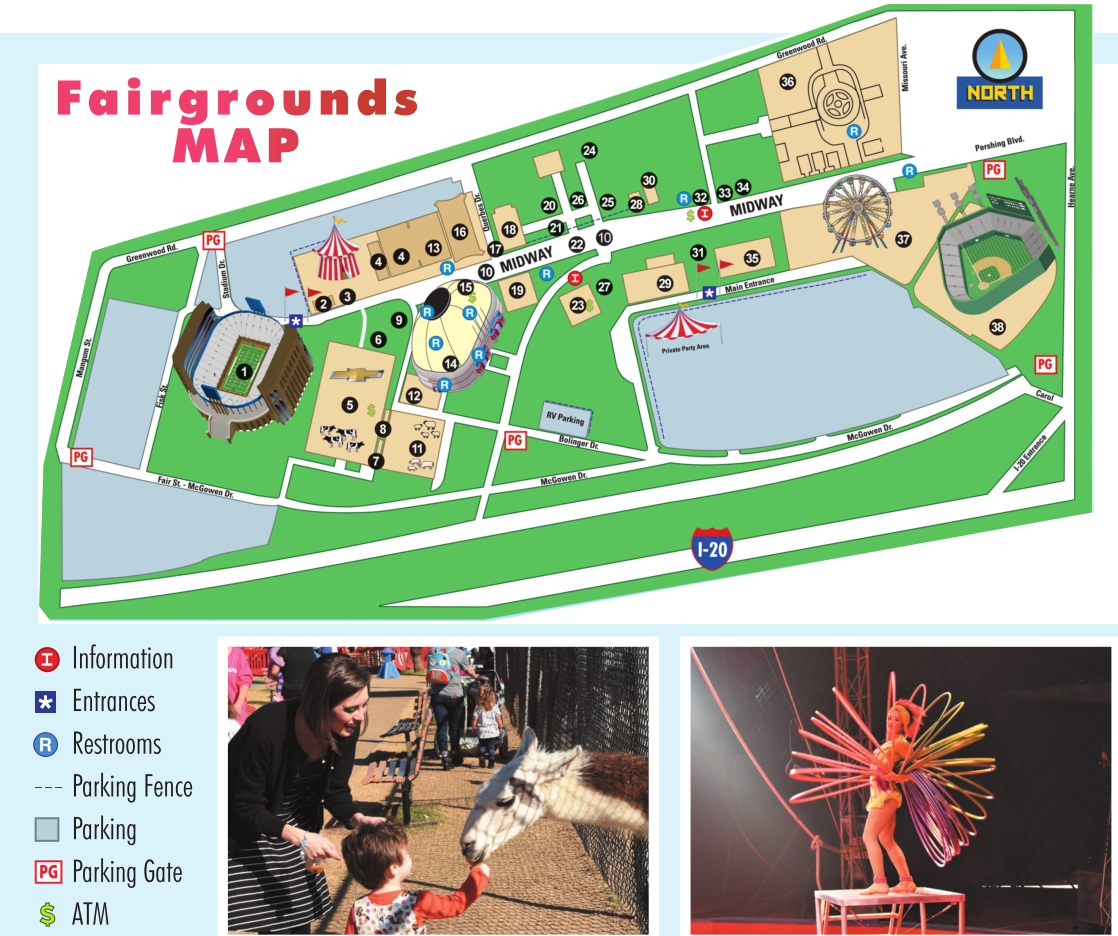 1. Independence Stadium
2. American Welding Society Nov. 1-5
3. Circus Hollywood
4. Johnny Rockett's Cycle Circus
5. Cattle Barn
6. Pirate's Parrot Show
7. Livestock Sale Arena
8. Milking Parlor and FFA Ag Mechanic Show
9. Good Neighbor Chevy Dealer Exhibit
10. Street Entertainers
11. Swine & Sheep Barn
12. Ag Exhibits
13. Farm Garden Display
14. Hirsch Coliseum
15. Chevy Exhibit
16. Ag Magic at the State Fair
17. Tiny Homes
18. Commercial Exhibit Building
19. Cattleman's Steakhouse
20. Ultimate Safari
21. Hollywood Racing Pigs
22. Independent Midway
23. State Fair Office
24. Tiger Encounter Show
25. Camel Show
26. Mrs. Stevana's Friesian Horse Show
27. Cooking Contests
28. Giant Slide
29. Antique Tractor Pull
30. Free Entertainment Stage
31. BeBops Malt Shop
32. Shreveport Police / Lost Children
33. EMT / Shreveport Fire Department
34. Crabtree Amusement Office
35. Kiddie Land
36. Louisiana State Exhibit Museum
37. Carnival
38. Fairgrounds Field