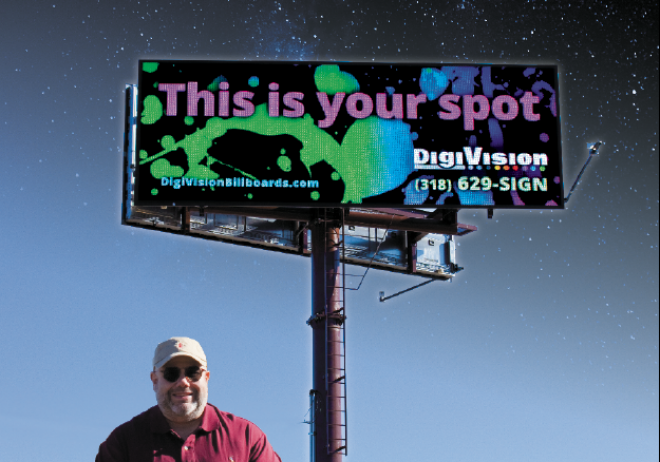 Digital billboards designed to grab your attention!
Bennett S. Rinaudo, a professional media buyer and owner of Rinaudo Media Inc., is blazing a trail in effective advertising methods here in Shreveport: digital billboards.
Rinaudo Media Inc. is a full-service advertising agency in business promoting. The company originally specialized in TV and radio when it first opened in 2003.
But times have changed, and technology is advancing.
"In the early days of my ad agency journey, we would utilize The Shreveport Times, the Yellow Pages, TV, radio, print, direct mail and outdoor methods," Rinaudo said. "These were the media choices for a complete ad campaign – utilizing them all together gave the perception that the business was everywhere."
While Rinaudo appreciates the ease of having advertisers do the continual work for business owners remotely, he now has a different point of view.
"Imagine the power of being in your vehicle, and as you approach the traffic light, a digital billboard flashes this message: Four 12 Packs of Coke Zero for $7 today only," Rinaudo said. "Of course, you immediately turn the wheel and drive into the nearest store lot – because the urgency of that compelling message grabbed your attention and forced you to respond. That's immediate return on investment for that advertiser."
Because of that possibility, Rinaudo decided to go into the digital billboard business, creating the name DigiVision. "It's a massive digital TV screen that doesn't air programs or play music – it only delivers compelling messages for its advertisers," Rinaudo explained.
"Since I'm a business promoter, I understood that these digital billboards needed to be at traffic lights," Rinaudo said. By state law, the graphic image shows for eight seconds. "Being stopped at a traffic light allows the masses to see multiple compelling messages," Rinaudo explained. "This also gives more advertisers a better chance at their own return on investment."
For Rinaudo, the secrets to making an advertising campaign successful is an easy formula: Reach, Frequency and Message.
Reach – "You need to first know who is the target demographic for the business you're promoting," Rinaudo said. "Then figure out which medias allow you to reach the most of them for the lowest cost per thousand."
Frequency – "Frequency is more important than Reach," Rinaudo said. "You would rather reach less people more times, than more people less times."
Rinaudo started in advertising in 1991 working as a media rep selling commercials on 98 Rocks radio. That was when he learned that frequency is key. "The more a song aired on the radio, the more popular it became," Rinaudo said. "It became illegal for record companies to pay a program director to play a song in AAAA Rotation. A song deliberately played in Quadruple A rotation could be forced to be a hit song."
Message – "Your Message must be compelling, with a strong call to action," Rinaudo said. "You must create urgency!" "When an ad campaign achieves Reach, Frequency and Message, the advertiser receives a return on their advertising investment every time," Rinaudo said. "Show me an ad campaign that failed, and you will easily find Reach, Frequency or Message not utilized correctly."
Rinaudo's vision for digital billboards would give his customers the frequency he desired. He decided to put his plan into action. "I grabbed a former business partner of mine, Steven Keene, who is a numbers guru," Rinaudo said. "Together we met with Paul Gordon, another brilliant businessman that I had been working with as one of my clients for the past 15 years."
The trio pitched the idea to investors and secured seven ground leases, as well as city and state permits before the moratorium on May 15, 2017.
Their first digital billboard went live in mid-November. "Our goal is to do 11 billboards in our area," Rinaudo said.
One thing in particular makes digital billboards unique.
"Today through our competitors, you rent one space on a digital billboard face for a four-week cycle. If you want more than one face, you rent another space on another face on another board. Each face is a different fee," Rinaudo explained. "With the DigiVision Billboard Network, you'll pay one affordable fee! You'll be on every board and every face, allowing you to cover the entire market."
"I truly believe without a doubt I've created a better opportunity for my customers to advertise," Rinaudo said. "I've reinvented the wheel – all which came from a mission to deliver the strongest return on investment for my advertisers."