Louisiana Landscape Concepts
With the arrival of summer, more and more homeowners are looking to spend time outdoors. That's why has seen a trend in clients wanting outdoor rooms and kitchens. It's something that John Hamiter, co-owner and licensed landscape architect of Louisiana Landscape Concepts, loves to see.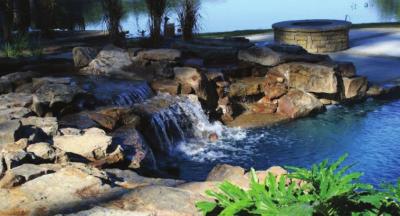 "I think people spend too much time inside nowadays," Hamiter said. "They are watching TV and playing games. I'd rather have them outside."
Louisiana Landscape Concepts is a residential architecture design-build firm dedicated to designing and constructing extraordinary landscaping for residential gardens, ponds, outdoor living areas, outdoor kitchens, commercial properties and much more.
The company is owned by John Hamiter and Mark Humphries. Hamiter serves as the licensed landscape architect. He handles sales and the design aspect of the business while Humphries handles the construction aspect.
In 2000, Hamiter and Humphries started the business after they both grew tired of working for larger firms. When Hamiter worked for a large design company, he found the process to be very impersonal. He just spit out cookiecutter designs like a machine. There were a lot of meetings, and he never really got to see the finished product.
"Both of us wanted our business to be more personal," Hamiter said. "This is their space, their house that they're going to live in for a long time. We wanted to be a design-build firm that dealt more with the clients. We weren't going to have 50 employees ever. We're both going to be more hands-on in this business."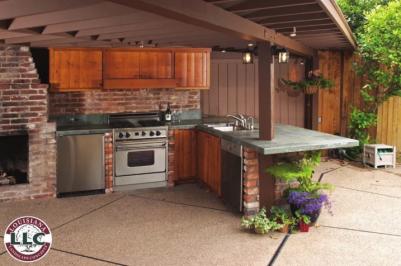 At Louisiana Landscape Concepts, the first step in the design process is to meet with the client. Hamiter sits down with them to find out what they envision for their outdoor space.
"It all depends on the client and the ways they want to utilize the space. That's why we always meet with clients. You have to determine the clients' wants and needs before you even start the design."
Hamiter determines the client's needs by looking at the architecture of the house. He brings his expertise and training as a licensed landscape architect to the table, which separates his business from most landscaping businesses in the area. Hamiter completed a five-year program at Louisiana State University, in addition to an apprenticeship and a certification exam.
"You have to design with the client's architecture and style in mind," Hamiter said. "You can't go into a colonial house and put a square, modern-looking architecture around it. It's going to look awkward. I tell them to look at the style of their house which goes back to what their needs are."
Once Hamiter creates the design for the client, then Humphries helps make the vision come to life at the client's home. Hamiter says it's important for at least one of them to always work onsite. It helps ensure they are personally involved in the whole process.
Sometimes they get clients from different states. Recently, Hamiter says they got to put LED lighting around a pool which created a really cool outdoor space for a client in Texas. No matter what design they are doing, Hamiter says they want to make sure the client is satisfied with their work.
"One time I had a client that didn't like the plants we put in, so I went back and redesigned the plants," Hamiter said. "We took everything out and redid the planting for her, and she was really happy with it. It's hard for a client to read my plans sometimes, but then I explain it to them. At the end of the design process, they're usually 100 perfect satisfied with what we've done."
Louisiana Landscape Concepts does everything from creating a cool pool area with a pergola to designing an outdoor room complete with a flat-screen TV. It really all depends on the client and their budget.
"We're an all-around design company in terms of outdoor spaces. We can do it all."
After each job is complete, Hamiter hopes his clients are satisfied. He wants to give them an outdoor space they'll want to spend time with their friends and family in.
"I hope clients get exactly what they expected. I hope they enjoy their outdoor space."
– Jessica Carr