Get your 'geek' on at this year's con August 17-19
It's cool to be a geek.
A label once used to describe the boy or girl who usually wore black, thick-rimmed glasses and was more into action figures and comic books than football teams and cookbooks is now worn as a badge of honor.
If you are a selfproclaimed "geek" or a closet "geek," your big weekend is coming up. The fourth annual Geek'd Con – a festival for "geeks" – will take place Aug. 17-19 at the Shreveport Convention Center. Hours are Friday 6-9 p.m., Saturday 10 a.m.-7 p.m., and Sunday 11 a.m.-5 p.m. Ticket prices vary, including a $25 weekend pass. VIP packages are also available. Children 10 and under are free.

You will have an opportunity to meet 25 celebrities, each with their own geek following. (Celebrities are scheduled to appear Saturday and Sunday only.)
Also, vendors – many with a "geek" theme – will have items to sell, from posters to comic books.
And when you walk in, hold your head high. Be proud to be a geek.
"Everyone is a little geeky, even if they don't realize it," said Greg Atoms, live events coordinator for Townsquare Media, which is putting together Geek'd Con. "Even if you're a guy who is big into hunting and fishing and you go out on the boat, and you spend all day Sunday fishing, and you have to make sure that you are in and ready to go at night to catch the brand new episode of 'The Walking Dead.' You may be a hunter, fisherman, a manly-man – and not consider yourself a geek in any way – yet you're going to change your entire day to schedule yourself to watch a TV show based on a comic book."
The first Geek'd Con, in 2015, was surprisingly successful – as in over-the-top successful. Some 10,000 geeks showed up.
"For us to be able to have a first year like we did, to have guests leave the way they did with all of their money and no issues, and vendors who keep coming back from crazy distances year after year, we have something special happening, and you don't see it in a lot of places."
There are more "geek-themed" events now than 10 years ago, when Atoms put together his first event, Cherry Capital (Comic) Con in Traverse City, Mich. But despite the competition, Shreveport's festival has survived – and thrived.
"With a lot of these, people don't know how to organize an event. They don't know how to run an event. They think it sounds really easy to do. So, you end up with thousands of conventions taking place around the country every single year, but only a handful of them do a year two, and even a smaller percentage do a year three, and it's a really small percentage that gets to a year four."
But Shreveport's Geek'd Con has made it to year four. Instead of one celebrity headliner (last year it was Lou Ferrigno, aka "The Incredible Hulk"), Geek'd Con will feature a "threeheaded monster" of top Geek talent: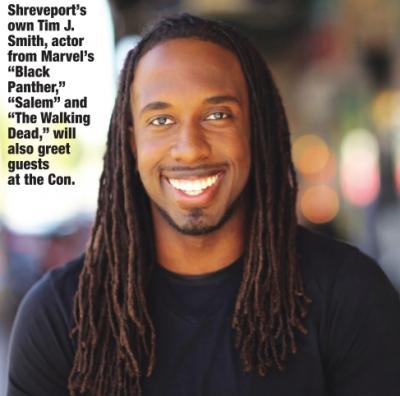 Chris Sarandon, who has been in the movies "The Princess Bride," "Nightmare Before Christmas," "Fright Night" and "Child's Play."
Mick Foley, WWF/WWE Hall of Fame member and three-time WWF Champion.
Bam Margera, who has appeared on MTV's "Jackass," "Viva La Bam" and other "Jackass" movies.
"This is the most expensive talent year that we've ever done, in a lot of different ways," Atoms said. He was also quick to point out that there isn't much of a drop-off from the three "main attractions" to the other guests. Those include:
Erik Estrada from the TV show "CHiPs."
John Wesley Shipp, from the TV shows "The Flash" and "Dawson's Creek."
Helen Slater, from the 1984 movie "Supergirl."
"The top three headliners will appeal to the late-millennial category, those 28-38 years old," Atoms said. "Those are the stars they grew up with. We've done a really good job of diversifying, too, this year. Especially with the superheroes, the nostalgia aspect with Erik Estrada, and mixing 'Star Wars' in, too. I think we've done a pretty good job focusing heavy on one spot while taking the rest of the lineup and really spreading it around."
But meeting some of your favorite personalities is only half the attraction. Geek'd Con will have vendors from Shreveport and beyond. And you don't have to be a geek to want what those vendors will be selling.
"You're also going to see a lot of comic books, action figures, posters and trading cards," Atoms said. "You're going to see a lot of that stuff, but you're also going to see a lot of crafters. You're going to see a lot of local artists with everything from oil paintings to spraypaint art. You're going to see a lot of locally produced products, whether those are handmade gifts or man-made soap."
If you've come to grips with the fact you are a geek, but still don't like being called a geek – much less going to an event designed for geeks—Atoms says it's OK for you to think of Geek'd Con as a "pop culture convention."
"People will spend a ton of money to make sure they're out Friday night or Thursday at midnight for a showing of the brand new 'Star Wars' movie. That's pretty geeky. We're kind of using that (example) to show everybody it's OK to be geeky. Everyone is geeky. That's sort of what we've evolved this into. We like to have an event where we can show people that might not consider themselves to be a geek that if you come out, you will find something you like."
To learn more about Geek'd Con, you may visit www.GeekdCon.com.
– Tony Taglavore