Louisiana's role in conflict on parade at Norton
World War II – from 1939 to 1945 – was the largest war in history. It was also the bloodiest, with an estimated 40-50 million deaths.
Virtually the entire world was affected by – and/or played a role in – the War. That included Louisiana and, in particular, Shreveport.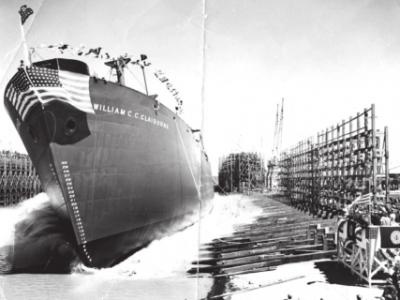 "It (Louisiana's involvement) was huge," said Emily Feazel, designer of exhibits and special events at Shreveport's R.W. Norton Art Gallery. "One of the reasons the National WWII Museum is in New Orleans and Louisiana is because of how much Louisiana did for the war effort and how much people from Louisiana did for the war effort."
From now until Jan. 13, 2019, you can get a first-hand look – without going to New Orleans – at Louisiana's involvement in World War II. The Norton Art Gallery, in cooperation with the National WWII Museum, is hosting "The Pelican State Goes to War: Louisiana in World War II."
There is no cost to see the exhibit. "It hits home," Feazel said. "You think that could be my brother or my son or my father who is missing or not coming home. You see uniforms which belonged to people who served. One of the uniforms we have in the exhibit belonged to a soldier who was one of the very first soldiers on the beaches of Omaha on the Higgins boat that landed first. In his pocket, he carried a piece of Confederate money that had been carried by his great-grandfather, his father and then him, in different wars in their lifetime. It made it through three huge wars. These are little pieces of people's lives that really touch you. It makes it more real and more tangible to see things that belong to people."
Speaking of the Higgins boat, it was one of Louisiana's greatest – if not its greatest – contribution to the war. Andrew Higgins, who moved to the state from his birthplace of Nebraska, designed and produced more than 20,000 of the Landing Craft Vehicle, Personnel (LCVP) boats. They were small, with a ramp at the bow, which allowed troops to disembark easily. Higgins could build them quickly and inexpensively – just what the United States government wanted.
In 1964, President Dwight D. Eisenhower described Higgins as "the man who won the war for us."
Another of Louisiana's contributions to the war was, of all things, its heat and humidity. The Louisiana Maneuvers were basically a training ground for the Army's soldiers and commanders. Shreveport was the northern boundary of the training field.
"The U.S. Army chose our area specifically because of the harsh climate," Feazel said.
"They wanted the soldiers to be prepared for that whenever they went off to war. From the weather to the bugs, to the atmosphere, it was those things that went into the U.S. Army's mind that this would be a great place to train their soldiers for what they were about to go through."
But the Army wasn't the only beneficiary of the Louisiana Maneuvers.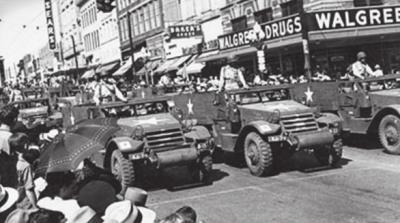 "Those maneuvers brought in jobs for Louisiana and a lot of economic growth and development," Feazel said. "We may not be exactly where we are today if not for those things that happened during World War II."
The working relationship between Norton Art Gallery and the National WWII Museum began when the Museum, wanting Norton to be a part of this exhibit, contacted the local gallery.
"It's a huge honor for us to work with the National WWII Museum," Feazel said. "With them being the national museum of history, and with us being a fine arts museum, it was a really interesting collaboration – to show the state how important this was. A lot of people see WWII as a giant world war, but it affected so many on the home front, especially in our state. People forget about that, so we wanted to highlight our home and our area."
The original exhibit debuted in New Orleans. However, instead of picking it up and moving it to Shreveport "as is," the National WWII Museum tweaked it some to make it as relevant as possible to us in Northwest Louisiana.
"They tailor-fitted the exhibit with aspects that are just about our area," Feazel said. "There are oral histories from veterans who served in World War II who are from our area – one which came to the opening reception, so he got to see and listen to his oral history in the exhibit and be a part of that."
In addition to hearing oral histories, you can see artifacts and photographs that highlight Louisiana's contributions to the United States and its Allies winning the war.
"We have an amazing collection of WW II propaganda posters which are very, very rare," Feazel said. "Those have never been shown on display before, so when the exhibit came here, we added those posters into the exhibit."
The ending of the war was a cause for joy – including in our area.
"There are some photographs on display that were taken here in Shreveport," Feazel explained, "one of which is a beautiful photograph of Texas Street during one of the celebration parades after the war ended. You can even see First United Methodist Church at the head of Texas Street and everyone celebrating."
To learn more about this special exhibit – and the R.W. Norton Art Gallery – you may visit www.rwnaf.org.
– Tony Taglavore