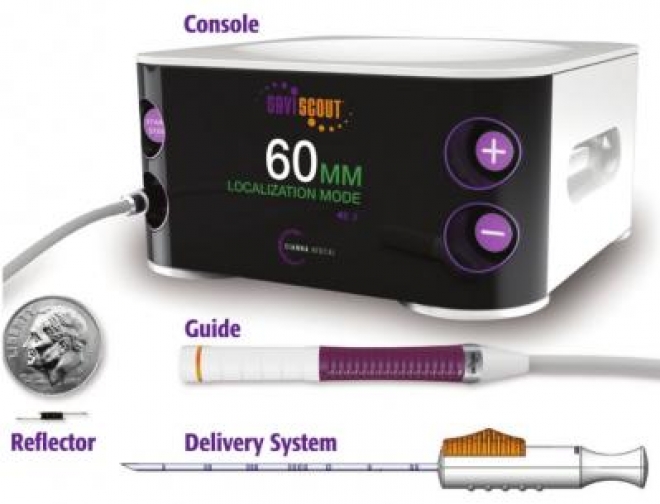 Wire-free breast tumor localization technology available
Brenda Stroud remembers well January 2017 and her diagnosis of breast cancer. "It was terrifying," she says. "You're kind of in a fog" learning about treatment options as you try to process the unexpected news.
The married mother of two, stepmother of four, had surgery on Feb. 1, 2017, followed by eight weeks of daily radiation. New wire-free breast tumor localization technology available at WK Breast Health Center relieved some of Stroud's anxiety and made her surgery day shorter.
"When I was told about SCOUT (Radar Localization System), it was far preferable to wire localization," Stroud says.
With wire localization, a radiologist inserts a very thin wire into the breast in the area of the cancer on the morning of the surgery. Hours may elapse before the operation begins.
The localizing wire sticks out from the breast, Stroud says, and can become dislodged if bumped during this waiting period. It is an uncomfortable time for patients.
The surgeon uses the wire as a guide to find and remove the tumor during surgery.
SCOUT is "a tiny, non-radioactive, wire-free, seedlike device that is implanted into the breast to assist surgeons in localizing an abnormality in the breast that needs to be removed," says Dr. Heather Bracey, diagnostic radiologist. "It is easily placed under local anesthesia by either ultrasound or mammographic guidance. The site is then bandaged, and the patient goes home to await her surgery with no limitations. On the day of surgery, a console is used to send a radar signal to the device, and it, in turn, reflects back that signal in an audible beep. This lets the surgeon know where the abnormality that needs to be removed is located."
WK Breast Health Center is the first wire-free facility in Louisiana.
With this new technology, Willis- Knighton Health System continues to lead the way in Northwest Louisiana in providing comprehensive, personalized and the highest-quality care to breast cancer patients, says Melody Adams, RN, Willis- Knighton's breast health navigator.
Surgery can be one of the more stressful and anxiety-producing aspects of a patient's breast cancer journey. This known factor is why having fellowship-trained physicians, including a surgeon and breast imaging specialist, is vital to Willis-Knighton's mission of providing the highest quality care to patients. Staying current with breast cancer treatment options, research and technology is an approach WK doctors and staff take very seriously.
"Willis-Knighton has always taken advantage of leading-edge technologies," Adams says. "The therapy of cancer has undergone remarkable changes over the last 15 years. Before the year 2000, available therapies were limited to surgery, radiation and chemotherapy, [and] now with new targeted therapy and immunotherapy options, the life expectancy has greatly improved."
Medical care providers at WK make numerous efforts in collaborating, researching and implementing treatment methods for their patients to provide personalized, quality care. Resources don't stop at treatment, however. Services at WK include diagnosis and treatment, as well as recovery and survivorship. Some of these resources include support groups for patients, their caregivers and families, patients in various age groups that address more individual needs, support services that provide items for women dealing with cancer such as wigs, care caps and blankets, personalized after-care plans that include diet and nutrition, and rehabilitation services.
The goal for patients dealing with breast cancer is multi-faceted. It includes effective research and evidence-based treatment and beyond, with emotional and physical support as patients navigate their recovery. Adams says a personalized care approach, creating a lifelong family bond with patients, lasts beyond medical care.
– Katie Ho