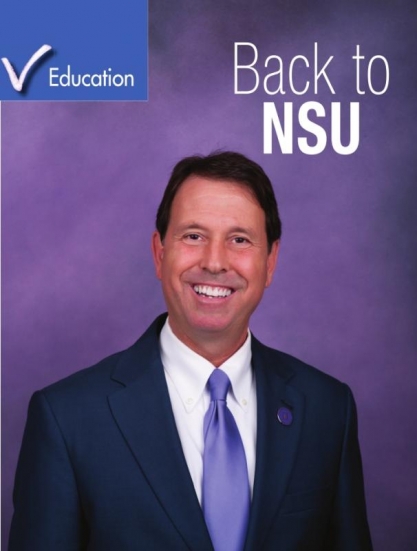 Preparing for the spring semester
As our continuing students return to campus for the spring semester and new students join them, there will be a growing sense of optimism on our Northwestern State University campuses in Natchitoches, Shreveport, Alexandria, Leesville, Fort Polk and across the nation.
The availability of vaccines for COVID-19 is providing light at the end of the dark tunnel of anguish through which we all have traveled in recent months.
We have hope and expectations that students will resume more traditional activities and study in an atmosphere of increased normalcy as the spring semester progresses.
There are still difficult days ahead with the pandemic, but the actions and attitudes of our students, faculty and staff throughout the fall semester enhanced the safety of our campus and provided a framework for continued success in academics and student activities.
Safety protocols we observed on campus in the fall will still be in effect for the well-being of our students and staff members and the health and welfare of others who play a vital role in our campus community. We will maintain social distancing, wear masks and use hand sanitizers, doing our part to mitigate the spread of the virus.
More in-person classes are planned for the spring, but there will also be on-line and hybrid academic offerings.
Our innovation and flexibility in class delivery here at Northwestern State that were evident in the fall provide assurances that we can transition smoothly and quickly to alternate teaching and learning methods if necessary.
NSU has been providing exceptional academic opportunities and other valuable and relevant student experiences for nearly 137 years. That commitment was at the forefront in the fall, even in challenging times as it will be in the spring semester.
In all of our university's endeavors, our students, faculty and staff's continued safety and well-being will be our preeminent priority as we follow state and national health advisories.
As always, our university's enrollment and student services teams in Admissions, the Student Experience, and Financial Aid are eager to assist you in enrolling or returning to Northwestern State University or learning more about NSU.
For information, go to our website at www.nsula.edu or call (318) 357-4503 for assistance with registration, housing, financial aid, or get answers to any other questions you may have.
We look forward to having our new and continuing students on our campuses for an exciting and rewarding spring semester. And as always, Fork 'em, Demons!
Dr. Chris Maggio is the 19th president of Northwestern State University and is a 1985 summa cum laude graduate of NSU.