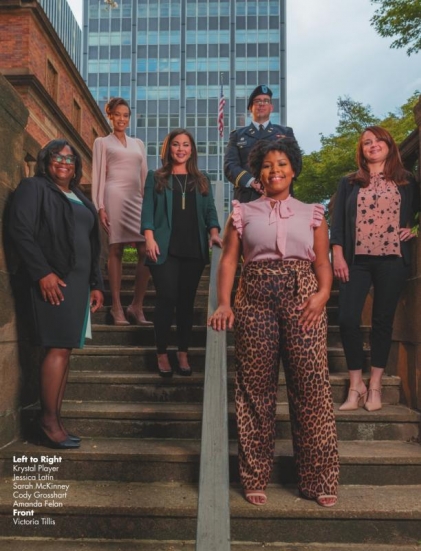 2021's Top Young Professionals
Left to Right: Krystal Player, Jessica Latin, Sarah McKinney, Cody Grosshart, Amanda Felan.
Front: Victoria Tillis.
The Greater Shreveport Chamber's Young Professional Initiative has highlighted 40 of our region's most dynamic and accomplished young professionals each year. The latter are engaged in our community as entrepreneurs, executives and managers in the public, private and non-profit sectors. Over the years, we have recognized more than 500 individuals, with many from previous classes going on to become our local leaders in business, politics and public service. 40 Under Forty is our chance to celebrate our best young leaders by spotlighting those excelling in their professions and making an impact on and for our community.
A panel of judges also selects a Young Professional of the Year as the individual among the 40 who exemplifies the spirit of 40 Under Forty. The decision is always tough, as each class of 40 brings their unique talents, experiences and contributions to our community.
"We continue to be inspired by the lineup of now and future leaders that have been chosen as honorees for the top 40 Under Forty," 318 Forum publisher Jay Covington said. "The enthusiasum of the honorees seems to grow each year. It is the mission of 318 Forum to promote the positive aspects of our community, and we are proud to do so with the YPI and the Shreveport Chamber as our partners," After hosting a virtual awards program in 2020, the 2021 Gala is happily back to an inperson event on Thursday, Dec. 2, at Sam's Town Hotel and Casino.
As the profiles in the following pages demonstrate, this year's class continues the tradition of excellence, comprising a group of highly engaged, high-impact individuals. This diverse group includes entrepreneurs, physicians, lawyers and school leaders, as well as managers, owners and directors from the private and non-profit sectors. Each of them deserves recognition for what they bring to our community. Take a look at the following pages to see the range of talent and breadth of commitment that comprise our 40 Under Forty class and the future of our community.
– Timothy J. Magner, President

Left to Right Lamesa Fleury, Madison Poche, Alan Jackson Jr., Clarence Reece, Suyi Georgewill, Darius Spells
Brittany Bass Arvie, Esq.
Brittany Bass Arvie, Esq. was born and raised here in Shreveport, La. A 2004 graduate of Caddo Parish Magnet High School, Brittany went on to pursue her education at Southern University and A&M College earning a Bachelor of Arts in political science and Master's in Business Administration. Brittany is a 2015 graduate of the Southern University Law Center earning a Juris Doctor. Brittany is licensed to practice law in the state of Louisiana. Brittany is employed as an assistant district attorney for the Caddo Parish District Attorney's Office. Outside of work Brittany is very active in the community. She is the first vice president of the Shreveport Alumnae Chapter of Delta Sigma Theta Sorority Inc., board member of the Pines to the Gulf Girl Scout Board, Shreveport Bar Foundation Board, Louisiana Bar Foundation Northwest Community Partnership Panel, associate in the Harry V. Booth-Judge Henry A. Politz Inn of Court, parliamentarian of the Red River Chapter of Jack and Jill of America, Delta Sigma Theta Sorority Inc. Southwest Region reactivation coordinator, parliamentarian for the Shreveport-Bossier Chapter of the Southern University Alumni Association, appointed to the Louisiana State Bar Association Diversity Committee, and member of Galilee Baptist Church. Brittany is married to Michael Arvie and is the proud mother of daughters Autumn Gabrielle and Adalyn Grace.
Carlotta Askew–Brown
Carlotta Askew-Brown is a Memphis, Tenn., native who moved to Bossier City, La., in 2008 as an urban and regional planner and is now the executive director of the Bossier and Benton Metropolitan Planning Commission. As such, she oversees and coordinates the implementation of the Comprehensive Plan and Unified Development Code and is responsible for maintaining and implementing policies for their impending growth. Carlotta has a master's degree in urban and regional planning from Ball State University and a bachelor's degree in business administration, real estate and urban development from Tennessee State University.
Carlotta is a standing member of the National and Louisiana Chapter of the American Planning Association. She also serves as vice chairman of the Northwest Louisiana Council of Governments Metropolitan Planning Organization Transportation Policy Committee. Outside of working on commissioned projects, Carlotta enjoys spending time traveling the country with her amazingly supportive husband and two children.
LeAnn Bussey
LeAnn is a Louisiana native, born on the bayou. She received her undergraduate degree in family and child studies, with a focus of working with children in trauma, and her graduate degree in education, both from Louisiana Tech University. She is the former director of a non-profit that exists to bring rescue and restoration to survivors of human trafficking and sexual exploitation. She is also a former mathematics instructor for Bossier Parish Community College. She is deeply passionate about bringing awareness to the community regarding human trafficking and the effects of trauma associated with sexual exploitation. She currently hosts a podcast designed to give women a platform to tell their stories of trials and adversity and how they have overcome. She desires to see women come together and encourage one another by sharing their stories. She's been married for six years and just recently entered the world of motherhood through a beautiful son.
Back Row: Victor Thomas, Lauren Holland, Sylvester Marshall, Sara Wolfe
Front Row LaTienda Pierre, Michael La'Fitte II, Tiffany Sims, Craig McCloud
Dr. LaTienda Pierre
Dr. LaTienda Pierre grew up believing that you don't have to go far from home to find your purpose in life. As a native of the Shreveport-Bossier area, Dr. Pierre has devoted 16 years to protecting, serving and educating many citizens residing in the Shreveport-Bossier area. In 2005, Dr. Pierre joined the Caddo Parish Sheriff's Office after graduating from the University of Louisiana at Monroe the previous year. During Dr. Pierre's 13-year career at the C.P.S.O., she contributed to advancing various departments in the organization, including jail records, internal affairs, corrections, reentry, youth services and patrol. In addition, Dr. Pierre has devoted seven years to serve as an adjunct professor at Remington College, Southern University Shreveport and Bossier Parish Community College. Currently, Dr. Pierre serves as a graduate coordinator of the MEDL and MEDCI programs at Louisiana State University Shreveport Department of Education. Dr. Pierre has a B.A. in mass communications from the University of Louisiana Monroe and an M.A. in criminal justice from LSUS. Recently, Dr. Pierre earned a doctorate in leadership studies from LSUS.
Amber Dixon
Amber was born and raised in Shreveport, La., and is a graduate of both the University of Louisiana at Monroe and Walden University. Her professional career includes five (plus) years of broadcasting, media and marketing experience. She currently serves as digital media specialist at LifeShare Blood Center. She also owns her photography business specializing in portrait and wedding photography servicing clients in the Shreveport-Bossier area — named Amber Marie Visuals, LLC.
Amanda Felan
Amanda Felan recently took on the role of director of marketing and development for the Community Foundation of North Louisiana. Previously, she was the director of donor relations and events for LSU Health Shreveport Foundation, where she coordinated their annual fundraising event, An Evening for Healers. She received a bachelor's degree in sociology from the University of New Orleans and a master of social work and nonprofit development from the University of Georgia. Her work for nonprofit organizations has included grant writing, donor stewardship, fundraising, event planning, marketing and direct services with children and families. She and her husband, Anthony, own Fat Calf Brasserie, a Frenchinspired restaurant in the Highland community. Her role at Fat Calf is to manage marketing, community relations and curating the wine menu. Amanda serves on the board of the Fairfield Foundation as the communications chair and is a former board member of NORLA Preservation Project.
Left to right Amber Dixon, Niematulai Longstratt, Chelsey Chance Weatherly, Mary Helen Marrs, Asha Linnear, Sarah Lowder
Lamesa Furlow Fluery
A 2006 graduate and class valedictorian of Booker T. Washington High School. She received her Bachelor of Arts degree in journalism with a minor in Spanish from Louisiana Tech University in 2009. Lamesa then received her Master of Arts degree from Louisiana Tech University in counseling in 2012. She is a national board-certified counselor, certified mentor teacher, and has been certified as a mental health first aid instructor. She is currently employed as a school counselor for the Caddo Parish School System and was named 2021 Elementary Counselor of the Year for the district. She is founder and creator of Shut Down Bullying Now and is also a local author. In 2020, she released her first children's book, "Greater Than Great." Lamesa is a member of Caddo School Counseling Association, Louisiana Counselors Association, Zeta Phi Beta Sorority Inc., Phi Delta Kappa Educational Sorority, Top Ladies of Distinction, Krewe of Sobek, and is a member of Morning Star Baptist Church, where she serves as children's ministry director, sings on the Praise Team and volunteers at the Care Kitchen. Lamesa is the wife of Rory Fleury Jr., the mother of Landen and Rylee Fleury and daughter of Anitra Furlow.
Robert Gallant
Robert Gallant is a product of the Bossier School System and loves that he is now an employee of it, helping mold the minds of Bossier's youth. Robert has won multiple awards as an educator, but sees educating students as the biggest award! He has taught for nine years over multiple grade levels at Apollo Elementary and now Greenacres Middle, where he teaches science and STEAM. Mr. Gallant sees every student as his own and is often seen cheering for them within the community. He is a member of Asbury United Methodist Church, where he helps with technology and community engagement; Cypress Lodge #89 Masonic Organization, where he helps raise money for free dyslexia education and community engagements; and spreads STEAM resources and opportunities. Mr. Gallant is a mentor for teachers and is often leading workshops and events, where he tries to help bring the most opportunities to students.
Suyi Georgewill
Suyi was born in Lagos, Nigeria, and as a child migrated to Toronto, Canada. He received a full Division I athletic scholarship to the University of Southern Mississippi and graduated with a degree in accounting. While in college, he was a multiple-time Conference USA medalist in track and field. After graduation, he started a full-time career with Cintas in the Shreveport-Bossier market. As a general manager, he has worked to increase the reach and impact of the Cintas business locally by championing profitable growth and employee engagement initiatives. He has worked with many organizations locally, including, but not limited to, the Susan G. Komen Foundation, Ayers College, Independence Bowl Foundation, the Young Professionals Initiative and the Shreveport-Bossier African-American Chamber of Commerce. He is a champion for a progressive SBC community that provides wellpaying jobs to young professionals so they can thrive and invest in their community as both a consumer and an entrepreneur. He has been married to his wife, Kayla, for five years.
Shelvia R. Grant
Shelvia R. Grant is a native of Shreveport, La., and a proud graduate of C.E. Byrd Math and Science Magnet High School, Spelman College and the Southern University Law Center.

Shelvia has worked as a staff attorney with Legal Services of North Louisiana and as an assistant city prosecutor for the city of Shreveport. She is currently employed in the Office of the Vice Chancellor of Administration and Finance and Legal Affairs at LSU Health Shreveport and owns her own solo law practice, where she practices primarily in the areas of estate planning and succession law. Recently, she successfully created the inaugural Summer Student Leadership Program at LSU Health Shreveport.
She is a member of the Byrd Alumni Board of Directors, 2017 LANO Community Leaders class, an active member of Alpha Kappa Alpha Sorority Inc., the Junior League of Shreveport-Bossier and Mt. Bethel #1 Missionary Baptist Church. An avid cancer advocate, Shelvia also serves on the American Cancer Society of NWLA's Executive Leadership Council. She believes that life should be celebrated, which led to her latest business venture, Embelleished, LLC, a modern boutique event design and rental company. She credits her success to her unwavering faith in God and her very supportive parents, Shelby Williams Grant, Richard Grant Sr. and Tamika Grant.
Cody Grosshart
Cody Grosshart grew up in the Shreveport/Bossier area and attended Louisiana State University and the Law Center, where he obtained a Bachelor of Humanities and Social Sciences, a graduate diploma in comparative law, a graduate certificate in energy law and policy, and a Juris Doctor. Following his admission to the Louisiana State Bar, Cody moved back to Shreveport to start his practice in civil law.
In addition to his practice, Cody participates with the Young Lawyer's Section of the Shreveport Bar Association, the Young Professional Initiative, the LSMSA Alumni Association, and coaching for a local high school mock trial team.
In 2020, Cody accepted a commission in the United States Army through the Judge Advocate General's Corps and serves in the Louisiana Army National Guard. He currently serves as trial counsel to the command of the 225th Engineer Brigade.
Senae Hall
Senae D Hall is a native of Shreveport. Senae graduated from C.E. Byrd in 2004. She is a 2008 magna cum laude graduate from Dillard University, where she received her Bachelor of Arts in mass communications/journalism with a minor in business. She received her Juris Doctor from Southern University Law Center.

After law school, Senae worked for the law firm of Ronald Lattier. Later, she worked for the Child Advocacy Program representing children in child in need of care cases. She was hired by DA James E. Stewart in December 2015. In January 2019, she was appointed as the human trafficking victim diversion coordinator for the Caddo Parish District Attorney's Office.
Senae serves on the board for Volunteers of Youth Justice, is the Louisiana State Bar Association's Young Lawyers Council secretary, an active member of her church and is a member of various professional and civic organizations, including Louisiana State Bar Association, National Black Prosecutors Association, American Inns of Court and Alpha Kappa Alpha Sorority Inc. In her spare time, she enjoys spending time with family and friends, eating crawfish, traveling and volunteering at Teen Court.
Lauren Holland
Lauren Holland is a proud graduate of Centenary, now working at Shriners Children's Hospital. A softball scholarship brought her to Shreveport 12 years ago from her hometown of Beaumont, Texas, but the quality people here are why she still lives in Shreveport today.
She wants to be remembered as a joyful host who always cultivated an environment for people to establish quality relationships with each other. Introducing and connecting people for the good of the community is her passion, as she believes that relationships are the best tools you could ever have! She and her husband love volunteering with young life and many other nonprofit ministries. She is energized by Jesus, good humor, live music and traveling anywhere outdoors. Being a 40 Under Forty honoree is an incredible privilege to her, and she vows to put her best foot forward as a representative for our community.
Dr. Alan Jackson
Dr. Alan Jackson Jr. currently serves as the director of financial aid at Grambling State University. Prior to working at Grambling, he served as the director of financial aid and scholarship at Southern University Shreveport (SUSLA), financial aid director of Wiley College in Marshall, Texas, and the executive financial aid director of Arkansas Baptist College in Little Rock, Ark. Dr. Jackson is the founder and CEO of JMAX Realty. He has been recognized for numerous awards, which include Louisiana Realty 2015 Top Producer, Louisiana Realty 2016 Top Producer, Keller Williams Realty Red River 2016 Rookie of the Year, Keller Williams Realty Red River 2016 Millionaire Club, Keller Williams Realty Red River Charter Member Award, Keller Williams Realty Red River 2017 Top Producer of the Year, Keller Williams Realty International 2017 Silver Medal Award, Keller Williams Realty Gulf States Team Integrity 2017 Silver Award, Keller Williams Realty Red River 2018 Top Producer of the Year, Keller Williams Realty International 2018 Gold Medal Award. Dr. Jackson is a father of two boys. Dr. Jackson holds a Bachelor of Science degree in biology and a Master of Arts degree in adult education from Northwestern State University. He also holds a Doctor of Education degree in higher education administration from Nova Southeastern University.
Destiny Jamison
Destiny Jamison is a leader in the field of school counseling. Currently, she is a middle school counselor at Walnut Hill Elementary/ Middle School. Destiny serves her professional organization as president of Caddo School Counselor Association. Destiny was named Caddo Parish Middle School Counselor of the Year because of her groundbreaking work in the implementation of trauma-based relational intervention strategies and techniques. Most notably, she went on to be named 2020 Louisiana Middle School Counselor of the Year.
Destiny serves her community through various organizations, including Alpha Kappa Alpha Sorority Inc., Shreveport-Bossier African-American Chamber of Commerce, ULM Alumni Association, Cinderella Project and Junior League.
Destiny earned a Master of Education in school counseling from Louisiana State University-Shreveport and a B.S. from the University of Louisiana Monroe. Destiny is married to Taylor Jamison and is a mother to their two children, Breslyn Gray and Trenton Blayze.
Michael La'Fitte
Michael R. La'Fitte II is a native of Shreveport, La. He is the youngest child of Michael and Glenda La'Fitte Sr. He is the younger brother of Mr. Louis Edwards (Christy) and Ms. Michelle La'Fitte. Business owner, philanthropist and community leader. He was born and raised in Cedar Grove (Greenbrook). He now resides in South Shreveport (District E) along with his wife of 17 years, Kawanis "Kay" La'Fitte, and daughter, Miss Taylar E. La'Fitte.
He is a member of professional, social and fraternal organizations. He proudly serves as a deacon at Calvary Missionary Baptist Church under the leadership of Dr. Joe R. Gant Jr. He is a life member of the NAACP and life member of the Southern University Alumni Association. He is a proud alumnus of the Southern University System. He has also studied at McAllister's Institute of Funeral Services (Manhattan, NY.), Louisiana State University - Shreveport, and a proud product of Caddo Parish Schools, where he recently sat on the Woodlawn High School Alumni Association Board of Directors.
Jessica Latin
Jessica Latin, M.A., LPC-S, NCC, PMH-C is a skillful and dynamic licensed professional counselor specializing in perinatal mental health. In 2013, she earned her master's degree in counseling and guidance and a graduate certificate in dynamics of domestic and family violence from Louisiana Tech University. She is licensed in Louisiana, Georgia and Texas and is the owner of JL Counseling, a mental health private practice located in Shreveport, La. Jessica is a nationally certified counselor and holds an international certification in perinatal mental health. Jessica has additional expertise in domestic violence and self-esteem building. She provides clinical supervision for those seeking licensure in Louisiana, and she was recently appointed as a gratis assistant professor of psychiatry and behavioral medicine at LSU Health Shreveport. She is a self-published author of a guided self-esteem journal entitled "Crowned in Confidence," available on Amazon. She is also the host of her own mental health podcast called "The Counselor's Complex," available on iTunes, Spotify and all other podcast platforms. Her motto is "Persistence is the key to success," and her vision is to empower others and to help them build the skills necessary to reach their fullest potential and become their best selves.
Erica Ledet
Erica Ledet currently serves as the senior project coordinator at the Louisiana Public Health Institute's Policy and Equity Team, where she assists with addressing systemic inequities to reduce tobacco use among African-Americans in the South. Erica graduated from Northwestern State University with a Bachelor of Science in psychology and Grambling State University with a master's degree in social work.
She has over a decade of experience working with children and adolescents who have been in and out of the juvenile justice system. She provided individual, family and substance abuse counseling to youth. Her interests include community development and advocating for the rights of children and adolescents with learning disabilities. She is the owner of Pretty Fly Destinations, a full-service travel agency with approximately 250 outlets across the United States. Erica is the mother of two amazing boys, Landon and Kaden. She is also a member of Alpha Kappa Alpha Sorority Inc. and attends Word of God Ministries.
Standing Erica Ledet, Senae Hall, Shelvia Grant, Britney Ratcliff
Seated Brittany Young, Brittany Arvie, Brittainy Pope
Asha Linnear
Asha has been a professional salon owner for 11 years and a licensed hair stylist for 16 years. She is the doting mother of a very smart and handsome son, Karen, who is the light of her life and her motivation to keep striving for greatness. She is a product of Caddo Parish Public Schools, graduating with National Honor Society recognition from Fair Park High School. She is also a 2001 graduate of Guy's Academy for Hair, Skin and Nails and enjoys working in Morningstar Baptist Church.
Her gift is nurturing people and encouraging them to feel good about themselves. This trait has been the catalyst for her role in helping women who have been abused and/or recovering from drug use and abuse. For the past decade, she has sponsored workshops on personal grooming and confidence-building opportunities for children and adults of all age groups. These opportunities of interacting in the community have opened more doors for her to give a resume writing job application classes and assistance in securing resources to meet the needs of our homeless population.
Niematulai Longstratt
Niematulai Longstratt, known as Niema, was born in Sierra Leone. She always had to wear her strength and confidence. After escaping to the neighboring country of Guinea with her family, her talents for fashion and food emerged. Chef Niema attributes her love for fashion and cooking to her mother, the late Fatmata Binta Bah. Over two decades later, she has made her home in the Shreveport-Bossier area. While here, she has made her dream come true with the birth of her company, RNL Authentics, LLC, an African clothing line that embodies the true essence of her bold, fierce and courageous spirit. She has had the honor of making an Oscars' after-party outfit for Whoopi Goldberg, dressed the president of her country and has had three days of proclamation in Shreveport honoring her contributions to the city. She was a 2019 Food Prize Golden Fork Finalist. In November 2020, she officially launched her second brainchild, RNL's Cookery Corner. Known as the newest food trailer in town, it's "where African and American cuisine fuse." Her mother taught her to remain humble. She believes in dreaming big, being consistent and staying true to yourself!
Sarah Lowder
Sarah Lowder is the co-founder and co-owner of Lowder Baking Company in Shreveport, La.. She is a Shreveport native and a graduate of Louisiana Tech University with a degree in business finance. Sarah began her early career in real estate and is currently an active licensed Realtor with Walker-Alley & Associates. Sarah's love of creating recipes and food from scratch by using high-quality and local ingredients has been a driving factor behind Lowder Baking Company's innovation and growth. Sarah and her husband, Preston, began by baking and sharing small batches of Lowder king cakes from their home kitchen with family and friends. From there, the bakery grew to become Lowder Baking Company, which they opened in January 2019. The bakery now functions both as a commercial kitchen and retail storefront. Sarah enjoys spending time with family and friends, cooking, baking and all outdoor activities. She also enjoys traveling and has visited over 28 countries around the world. She is a member of First Presbyterian Church, the Junior League of Shreveport-Bossier, Southfield School Parents Association, Northwest Louisiana Association Realtors, and volunteers with various other local organizations. Sarah, Preston, their three young children and three dogs live in Shreveport.
Mary Helen Marrs
Mary Helen Marrs is the executive director of Downtown Shreveport Unlimited/Mudbug Madness, a private non-profit that serves to improve the quality of life in downtown Shreveport through the promotion and production of festivals and events. A Shreveport native, Mary Helen graduated from C. E. Byrd High School and obtained her B.A. in Spanish and international business from College of Charleston in S.C. Mary Helen currently serves on the board of the Red River Revel, HOPE Connection and Shreveport Little League. She is married to Shreveport native Brandon Marrs, and they have three very active sons, Bahan (9), Witten (7) and Cole (5).
Sylvester Marshall
Sylvester Marshall is a native of Shreveport, La., a graduate of Huntington High School and alumnus of Northwestern State University. He currently serves as the senior client relations director for the state of Louisiana. He is the founder and CEO of The Social Circle of Louisiana, which focuses on highlighting Shreveport-Bossier through events and festivals showcasing our local attractions and small businesses. His goal as a young professional is to help his community grow and flourish with new and innovative business and increase the opportunities for people within his community by creating various platforms and resources. He believes adequate health care for everyone is a cornerstone for every community. A healthy community is a better served and more vibrant community.
Craig McCloud
Craig McCloud is a Shreveport-Bossier native who attended NSU in Natchitoches and LSU of Shreveport, where he completed his bachelor's degree in business with a concentration in management and administration. Upon graduation, he continued his career in outside sales and consulting.
For his day job, Craig is an account executive at Arthur J. Gallagher Risk Management of Shreveport, La. He has been designated as the CLCS, or Commercial Lines Coverage Specialist, which demonstrates his extensive knowledge in a critical functional area of property and casualty insurance policy coverage. Craig is a volunteer coach at the Bossier Parks and Recreation programs. In addition, he also can be seen at competitive cheerleading competitions as "Team Dad" for Team Steel at Champion Cheernastics. Craig and his family attend Asbury United Methodist Church, where he volunteers with the Technology Team. He is a huge supporter of the Young Professional Initiative as a board member and believes it brings together young leaders who work together to provide for the local community. In his free time he enjoys promoting local business, checking out new restaurants and attending local festivities, as well as spending time with his family and friends.
Sarah McKinney
Sarah McKinney is the marketing director at Fibrebond. A native of Shreveport-Bossier, she attended Centenary College, where she was a member of the prestigious Centenary College Choir. She then attended LSUS and graduated with a B.A. in mass communications with a focus in public relations.
Sarah has worked with a variety of businesses and organizations implementing marketing efforts to scale growth and profitability over the years. She is driven by a desire to see potential realized and economic prosperity accelerated in her hometown.
She serves as the vice president of public service for the Public Relations Association of Louisiana, and she enjoys volunteering with many other community organizations.
Sarah is a passionate, ambitious and creative professional who brings a unique perspective and an optimistic attitude to any project. She is an advocate for young professionals, a loyal friend and a devoted daughter, sister and aunt.
Sara Wolfe
Sara Wolfe is a Houston, Texas native who moved to Shreveport to pursue her undergraduate degree at Centenary College. She currently serves as the Grants Officer at the Community Foundation of North Louisiana and is responsible for implementing the Foundation's grant-making strategies. As a volunteer, she has worked with local organizations such as Volunteers of America, Film Prize Foundation, Highland Area Partnership's Highland Jazz and Blues Festival, Altered NWLA, Junior Achievement, Public Relations Association of Louisiana (PRAL) NW Chapter, the Shreveport Chamber YPI, and the Junior League of Shreveport- Bossier. In the community, she believes mentorship provides a foundation for success for others. She enjoys networking with other like-minded professionals who support the holistic development of future leaders through the conduits of leadership, service, and philanthropy. In her professional career, Sara dedicates herself to improving the lives of the underserved in our community, especially children, and transforming the culture of Shreveport-Bossier into a brighter place for all who call it home.
Krystal Player-Jackson
Krystal Player-Jackson is the director of oncology and blood and marrow transplant services, Apheresis Services, and Medical IP Unit at Ochsner LSU Health Shreveport. Krystal has her B.S. in nursing and MBA. Krystal has been working in the health-care field for the past 15-plus years. She's one of Louisiana's child care health consultants. Krystal was the BMT manager of first center in the world to be accredited by American Association of Blood Banks (AABB) for the clinical program, and first BMT manager at Ochsner LSU Health Shreveport to receive FACT accreditation for their autologous program. Krystal currently serves as president of the Northwest Louisiana Chapter of Oncology Nursing Society. She's a member of Delta Sigma Theta Sorority Inc. Krystal is married to Sha Jackson, and they have three kids together: Christion, Kristi and Kristina Marie. In her free time, she loves to travel, shop and watch the New Orleans Saints.
Madison Poche
Madison Poche is helping to grow the IT workforce in Northwest Louisiana at Bossier Parish Community College's Computer Technology Department. She helps to expand access to great careers through creating new programs that support underrepresented students in IT. She also volunteers as the president of the Highland Neighborhood Association in the heart of Shreveport. This group of dedicated neighbors works to keep the uniquely historic, artistic and diverse area of Highland vibrant. She has applied her bachelor's degree in business administration and master's degree in nonprofit administration in international social enterprises as well as environment, education and the arts nonprofit organizations, including previously working as the Shreveport Regional Arts Council's director of administration and grants manager. She enjoys volunteering, outdoor adventures and supporting local bars and restaurants.
Brittainy Pope
Louisiana native Brittainy Pope has made it a part of her life's journey to combine two worlds, information and art, to help others achieve their dreams. Applying her formal education and creative talents, she extends her hands to educate, entertain and inform the citizens she serves as a public servant. Her love of the arts, as both an advocate and as an actress, propels her commitment to helping artists, creators and entrepreneurs from a myriad of backgrounds bring their visions to life. She adheres to the teaching of her late mother and grandparents: "To whom much is given, much is required." It is this scripture that is the foundation of Brittainy's commitment to a lifetime of servanthood, from one chapter to the next. She credits her faith and her family as her inspiration.
Standing: Roy Rhinehart, Katie Theriot, Destiny Jamison, Carlotta Askew-Brown
Seated: Sarah Trippel, LeAnn Bussey, Robert Gallant
Britney Ratcliff
Britney Lane Ratcliff is a human resources specialist at Metro Aviation Inc. She received her undergraduate degree from LSUS in business management and administration in 2011 and her Master of Business Administration with a human resources specialization in 2020. Britney is the current president of the NWLA SHRM (Society for Human Resource Management) chapter. She is also an active volunteer for multiple local organizations. Britney enjoys connecting with other professionals, providing resume and career search assistance, and offering support and guidance to transitioning service members. In her personal time, she loves to spend time with her family and friends and travel the world. She hasn't been everywhere but says it is on her list! Britney is happily married to her husband, Zachary Ratcliff, and has two boys, Nolen and Mason, ages 7 and 4.
Clarence Reese
Clarence Reese has been working for the Shreveport Fire Department for 19 years. He currently serves as the assistant to the fire chief. He has previously worked as a firefighter/paramedic and an EMS officer. He prides himself in making sure citizens get the most professional, up-to-date and appropriate services possible. Outside of the Shreveport Fire Department, Mr. Reese owns businesses in photography, videography, disinfection and music. Clarence is very involved in the community as he mentors co-workers and neighborhood kids. Clarence is an active participant at Morning Star Baptist Church, where he serves as a musician and a medic. Mr. Reese's medical skills have allowed him to join the Caddo Sheriff's Office as a reserve deputy and provide services to the Special Response Team. This opportunity has allowed him to work, teach and train agencies all over the region. Clarence is the son of Pastor Clarence Reese Sr. and Sharon Reese. Clarence is married to Chelsa Jackson Reese and is the proud father of Kyndal Reese (14), Kaylee Reese (11) and Jackson Reese (newborn).
Lt. Col. Roy Quincy Rhinehart
Lt. Col. Roy Quincy Rhinehart III is the commander of the 2nd Operations Support Squadron at Barksdale Air Force Base. He commands a group of approximately 230 officers, enlisted and civilian employees whose primary responsibilities are to maximize the B-52's combat and training capabilities to support worldwide operations at a moment's notice. Quincy received his commission through the Reserve Officer Training Corps after graduating from Louisiana Tech University in 2004. He began his career as a communications and information officer. Quincy has served as the director of operations for the 96th Bomb Squadron. He has deployed numerous times in support of the United States Indo-Pacific Command's Continuous Bomber Presence to Europe as part of Bomber Task Force operations and flown combat operations in the skies over Iraq, Syria and Afghanistan. Quincy holds a bachelor's degree in computer information systems, a master's degree in business administration and a master's degree in military operational art and science. He is a life member of Alpha Phi Alpha Fraternity Inc. and a member of the Organization of Black Aerospace Professionals, the Soaring Society of America and the Shreveport Soaring Club. Quincy is the proud father of three children: Aiyana, Lillian and Desmond.
Tiffany Sims
Tiffany Sims is a graduate of Louisiana Tech University, where she received a Bachelor of Science degree in human resources management. Tiffany began her career with the Target Corporation as the human resources manager. Tiffany was awarded the district's Most Exceptional Culture Award and selected as the district's Most Valuable Player (MVP). Tiffany is a certified Strategic HR Business Partner (SHRBP) and is currently the senior human resources business partner for CenterPoint Energy. Tiffany is a national member of the Society for Human Resource Management (SHRM) organization and currently serves as the diversity chair on the board of our local Northwest Louisiana SHRM Chapter. Tiffany also serves as the chaplain for the Red River Chapter of Jack & Jill of America Incorporated. She also served as the March of Dimes team captain for CenterPoint Energy. Tiffany also dedicates her time in giving back to the community by feeding the homeless and providing them with care packages that she likes to call "Blessing Bags." Tiffany enjoys crafting and spending time with her husband, Omar, and their two beautiful children, Roman and Reyna.
Darius Spells
Darius Spells is a DJ, restaurateur, author and philanthropist. Darius, known as DJ Breeze, was raised by a single mother with the help of his grandparents in Shreveport, La.. Being a young drummer in church, Darius's love of music guided him to a career as DJ. His career extended into radio, becoming a founding member of 3 Kings with Hot Boy Yoshi and Scooterman Pro on 103.7 the Beat. His renowned DJ mixes have been played nationwide. In 2016, motivated by poor customer service and seeing the need for a black-owned crawfish stand in the Shreveport area, Darius opened Red Barn Cajun Crawfish and Seafood Market, which quickly became a regional favorite. Red Barn is known for its signature items such as Sweet Irene's Lemonade named for his grandmother, the Barn Bag and the Breeze Bag. In 2018, Darius became a member of the board of directors for the Shreveport African-American Chamber of Commerce and is currently serving as vice chairman. Darius attributes his success to God, mentorship and most of all his family. Darius is the loving husband to Chassity Spells and the proud father of Amaya and Winter Spells.
Katie Theriot
A Ruston native and graduate of Louisiana Tech University, Katie Theriot has been an active member of the Shreveport-Bossier community for the last 10 years. Katie serves the local hospitality and tourism industry as business travel sales manager for the Hilton Shreveport. During her time at Hilton Shreveport, Katie has built strong relationships with several local and out-of-town companies and has quickly taken on additional roles within the areas of graphic design and social media marketing. In her spare time, Katie works diligently on growing her side hustle, Socially Yours Social Media Marketing, where she assists several local small businesses with social media planning, content creation, graphic design and content photography. Katie is a great advocate for the Shreveport-Bossier community as she gives back to many nonprofit organizations and supports the military community through her role as honorary commander for the 707th Maintenance Squadron.
Victor L. Thomas
Victor L. Thomas is an entrepreneur and veteran from Shreveport, La. He currently serves as the service engagement coordinator for Southern University at Shreveport. Mr. Thomas is the owner of Hair Fanatix Salon and has served as a cosmetology instructor and cosmetology program chair for Blue Cliff Colleges. Victor has a gift for educating new industry professionals and lends his creativity and attention to detail to local arts, stage and film projects. Victor's passion for advocacy and his city is best exemplified by his work with organizations such as Shreveport Commission on Race and Cultural Diversity, Shreveport NAACP, SB African-American Chamber of Commerce and South Shreveport Voters League. As the community outreach director for Loving Little Ones Inc., he works to eradicate homelessness, increase community participation in the political and legislative process, and to allocate and manage resources that help to improve the quality of life for low-income populations.
Victoria Tillis
Victoria Tillis, owner of Volume Life Salon Studio, is a Shreveport, La., native whose passion is to help others see the beauty in who they were designed to be, one head of curls at a time. Her desire to elevate the quality of her clients' lives by enhancing the health of their hair and the value of their experience, all while keeping them educated about their hair, keeps her apart from the rest! In her spare time, she loves indulging in any new local events or restaurants, traveling and spending time with her favorite people.
Sarah Trippel
Sarah Trippel graduated from Doyline High School and furthered her education by receiving her Bachelor of Arts in political science from Centenary College of Louisiana. While at Centenary, she was active as the student assistant softball coach, a member of Zeta Tau Alpha Fraternity and of the Centenary Activities Board. As a lifelong resident of this area, it was important to her to remain in this community, even after graduation and when out-of-state employment opportunities became available to her. In 2017, she married the love of her life, Don Trippel Jr., whom she unexpectedly lost in August of 2019. She is very close to her family and a proud cat mom of three! She is an avid sports fan and enjoy traveling, but loves attending local events and festivals, as there is literally no place like home.
Chelsey Chance Weatherly
Chelsey Chance Weatherly currently serves as the director of financial aid at LSU Shreveport, where she has been employed since 2006. She is passionate about helping students eliminate financial barriers to attend college and pursue their educational goals and achieve their dreams. She earned a Bachelor of General Studies from Louisiana Tech University and a Master of Business Administration from LSU Shreveport. Ms. Weatherly is a Bossier City native and is married to Dr. Eric Weatherly, a local physical therapist. Together they have two feisty cats and a lovable Labrador, all of which are adopted. In her free time, she enjoys weekend getaways and traveling abroad, good wine, music festivals, spending time with family, volunteering with Kiwanis, rescuing animals and cheering on the New Orleans Saints.
Brittany Young
Brittany McKeel Young is a millennial attorney and native of Shreveport, La. She attended C.E. Byrd High School, the University of Louisiana at Monroe and earned a Bachelor of Arts in political science with a minor in Spanish. She received her Juris Doctor from Southern University Law Center. In 2014, she was the recipient of the Louisiana State Bar Association Law Student Pro Bono Award. She is a former staff attorney with Legal Aid of North Louisiana. Currently, she is an associate attorney at The Singleton Law Firm. Brittany is a member of the Shreveport Bar Association, Louisiana Association of Justice, Louisiana State Bar Association, National Association of Women Judges, Shreveport Alumnae Chapter of Delta Sigma Theta Sorority Inc. and member of Word of God Ministries. She serves as a board member for the Multicultural Development Center and the Virginia House. Recently, she has been selected as one of the SB Magazine Top Attorneys for 2021 and recipient of the National Black Lawyers Top 40 Under 40. When Brittany isn't practicing law, she enjoys working within her sorority, traveling, brunch and spending time with her family, friends, bonus daughter Emery and her husband, Kermit.