ARTBREAK IS BACK FOR IT'S 36TH YEAR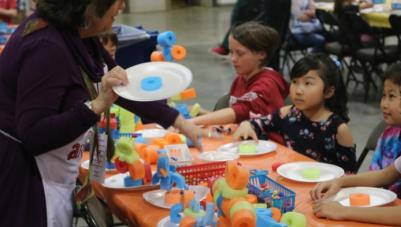 ARTBREAK is back May 9-15, 2022, BIGGER! than ever, filling all 95,000 square feet of the Shreveport Convention Center with the annual student showcase of visual, literary, performing, culinary, fashion, lighting design, and film Art that parents and kids have continued to talk about since 1984.
In its 36 th year, it's gotten BOLDER! with stronger high school representation including an entire upper floor of Film Prize Jr. and a Fashion Extravaganza, Unconventional Couture Challenge, and Culinary Arts Competition.
It's certainly BRIGHTER! with special Light It Up! Activities that the whole family can create for the first ArtBreak Light Show to illuminate the "Bakowski Bridge of Lights" on the Texas Street Bridge June 3, 2022, during GlowFest.
And some might say, it's BUGGIER! with William Joyce's The Leaf Men and the Brave Good Bugs! performed by the Shreveport Symphony Orchestra and the Shreve Memorial Library and S,T.E.A.M. make-and-take activities using the indigenous leaves of Louisiana and headbands adorned with popular bugs including the praying mantis and ladybug, and Joyce's very own "Leaf Men."
None of it would be possible, however, without the BONUS of the generosity of grantors and community sponsors who provide more than $25,000 for cash awards to outstanding student creations and ensure that students and families get to spend an entire weekend celebrating the success and synergy of S.T.E.A.M. events, the KTAL-6 ArtBreak's Got Talent show, The Shreveport Symphony Orchestra, & Shreve Memorial Library presentation of The Leaf Men and The Brave Good Bugs!, student master classes, the Very Special Arts Festival, ArtBreak's first light show, and so much more.
ArtBreak week starts Monday, MAY 9 with Caddo Parish 4 th graders joining the usual 2 nd and 3 rd grade ArtBreak attendees to gather a full head of post-Covid-19 S.T.E.A.M. (Science, Technology, Engineering, Arts and Math) creating popular make-and-take activities using the Archimedes Principle, illustrating symmetry and asymmetry, and learning about the indigenous leaves of Louisiana for five funpacked days.
The Family Fun weekend begins Friday, May 13 and, the Convention Center will be bustling with student singers, dancers, musicians, performers; young film producers; fashionistas; emerging chefs; light designers; thousands of high school, middle school and elementary school visual artworks, poems, short stories, Haiku and other literary artworks; hundreds of banners showing the support of major sponsors; and several thousand proud parents celebrating the creative achievements of Caddo Parish students of all ages.
ArtBreak 36 – it's BIGGER!, BOLDER!, BRIGHTER!, and maybe BUGGIER! than ever before. Bring the whole family out to the Shreveport Convention Center Friday, Saturday, and Sunday, May 13, 14, and 15, 2022. It's Free and Open to the public, with free parking.