Pre-Trip Jitters and Other Worldly Considerations
Greece is the destination; packing, pandemic and kidnapping fears
I like to feel clean.
I like to feel fresh. And right now, that's likely a problem.
As you read this, my significant other (Nancy) and I —the Good Lord willing and the Grand Canal in Venice don't rise — are in Italy and Greece. We both love to travel, but this is our first time — together or individually — to venture overseas.
Nancy has always wanted to go to Santorini, an island about 120 miles southeast of the Greek mainland. Me? I would settle for San Antonio. But, as Nancy often reminds me, "It can't always be about you."
So, what's the problem with feeling clean and staying fresh while traveling? Well, this is a 15-day trip (unless the friendly skies prove not so friendly). By far, this is the longest we have been away from home. Lugging around a bunch of suitcases for two-plus weeks is not my idea of fun.
So, as I write this, my goal is to pack everything I need in my carryon.
Just the thought of that makes me laugh.
Hoping you don't find this too much information to share, I typically shower twice a day— morning and night. I usually wear two undershirts—and yes, two pairs of underwear—a day. I pulled up the calculator on my iPhone and quickly learned I would have to pack 30 pairs of undershirts and 30 pairs of underwear.
A: I don't own that many of either. B: If I did, I'm not sure all of those would fit in my "big" suitcase.
So, what do I do? Bring five of each — along with a box of Tide — and do a little sink-washing and hair dryer drying? Or do I suck it up and pull multiple suitcases around the Italian and Greek countryside?
Nancy insists she will pack smart and bring as little as possible. All I will say is on a recent two-night stay in New Orleans, she brought one suitcase, one make-up bag, one computer bag and several hang-up clothes.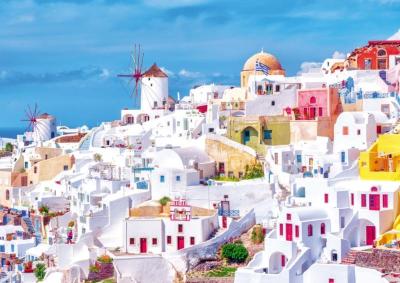 There's something else that has me concerned — something much more serious than how to pack.
I always feel bad for people who are visiting the United States from other countries and don't speak English. They must be terrified of getting lost. Surely, they are scared of being taken advantage of.
Nancy and I don't speak Italian. When we dine at L'Italiano Restaurant in Bossier City, we point to what we want on the menu. We don't speak Greek. When we eat at Taziki's Mediterranean Café in Shreveport, we say just enough to minimize our embarrassment.
Will we feel lost? Will we feel like we are on an island — one without a beautiful view of the Aegean Sea?
And then there is being American and how that will be received.
I've heard overseas that we are thought of as obnoxious and entitled.
Heck, some of my friends probably believe that about me.
I keep thinking about people who are taken hostage, have a bag put over their head, and made to be the subject of a video. You know, the ones where the hostage is made to say good things about their captors?
Some probably believe I would look better with a bag over my head, but I don't think this is the scenario they have in mind.
And what happens if there is a Covid outbreak and you can't get home? I think about the people on those cruise ships who were stranded when the pandemic first began.
And I haven't even mentioned the eight-plus-hour plane ride between Dallas and London (and the return trip), along with the corresponding layovers. At 58, my joints are not as flexible as they used to be. I chose not to rob a bank to pay for two first-class tickets, but I did request an upgrade. If we get it, I think they will give us one of those things to put over your eyes, to help you sleep.
Good grief. I am about to talk myself out of going. Then I remember that it can't always be about me.
I have no doubt Nancy and I will have fun. We always do. We will see a part of the world for the first — and maybe last — time. And believe me, I recognize I am so very blessed and grateful for the opportunity to take a trip like this.
When (if) we return, I will let you know how everything went. But if you see me in late May/early June, you may want to practice a little social distancing. Not because I may have Covid, but because I just might have a bit of a smell.