Krush Boutique Steps it Up in Bossier
Front and center is Krush Boutique owner Daniel Adams.

Larger store and more brands for the fashion conscious
Whether you need an outfit for a specific event or adding to your wardrobe, locally owned Krush Boutique has what you need for every occasion.
Krush Boutique has three locations in Shreveport, Bossier City and Longview and continues growing to meet customers' needs. Recently, the Bossier location moved into a new, much larger space to carry more brands and brands that are size inclusive to allow for a better shopping experience.
"The average impression when customers walked in on opening day was either jaws dropped ... or they were squealing, 'Look at all this cool stuff,'" said Krush Boutique owner Daniel Adams.
Adams says the location went from carrying around 2,000 styles to more than 5,000 with the opening of the new store. The boutique also has a wall dedicated to denim with several new and exclusive lines with more than 80 washes, styles and fits.
"We're officially the largest denim destination in north Louisiana and east Texas," said Adams. "We have more denim than The Buckle carries ... or anyone else around us. Demin has always been a special thing for us."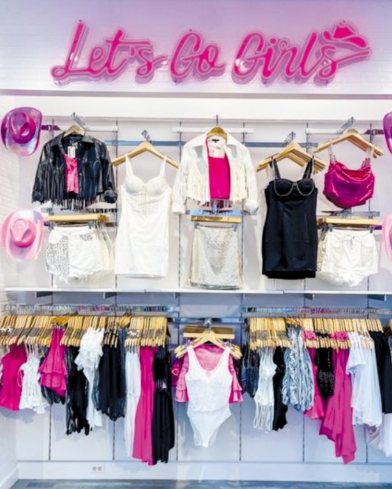 Krush Boutique came about in 2012 when Adams created the concept for the boutique and how to fulfill area shoppers' needs with budget-friendly fashion. "We came up with a concept where fashion changes every day and people should be able to afford to change with it," he said. "So, we started looking for affordable and domesticallymade USA brands so people can shop more frequently since fashion changes so often."
The original Bossier location opened in 2020 during the pandemic, and Adams says he realized it needed more space for the store to be comparable to the other locations. The Bossier shop now occupies 4,000 square feet and sets the standard for the other locations. Updates to the other stores will begin soon.
The Bossier store has a clean, modern vibe and allows more opportunity for customer interaction with the products. "Social media-wise, it's more interactive, so people can have fun and take cool social media content photos," said Adams.
Adams says that Krush is apart from other boutiques because it offers what they call "lifestyle products." "It may not be your cup of tea, but it may be for someone else, their look," said Adams. "So, if someone's into that cocktail dress that is more fitted, we've got that look for her. And if someone's into super-flowy, we have brands that are Bohemian and flowy for her."
Instead of having just one look or lifestyle spread over a handful of brands, Adams says that Krush carries 70+ brands and various lifestyle looks. The new store's layout takes this into consideration and showcases each lifestyle. It was also important to Adams that the store carries size-inclusive brands. So, he contracted with his vendors to add more inclusive sizing that goes from extra small to 3x.
"We're just super-excited about this new store and it being able to offer more sizing. Even in shoes, boutiques stop at about a size 9 or 10 for ladies. We were able to go up to sizes 11 and 12," said Adams. "We contract vendors to make them specifically for us, even though they don't offer it to other stores ... so we can offer more sizes."
Krush Boutique isn't just locally owned; the shops also carry Americanmade products. "We do our best to source at least 80% of our products USA-made," said Adams. "When [customers buy] from us, they're also buying from the factory in New Jersey or the factory in California and it helps with their families, too. They really are keeping it made in the USA."
The new store front is located at 2980 Meadow Creek Drive in Bossier City, next to the Belk off Airline Drive. The Buckle and Bath & Body Works will open near Krush Boutique in the near future.