Sci-Port brings back the science of fun
Sci-Port Discovery Center's special summer exhibit, GamePort, is back this year with an extended run, more games and new twists on last year's attractions.
The exhibit is designed to enhance critical thinking skills, teach basic science principles and promote a variety of career opportunities in the game industry to engage young folks. But that's not the only purpose, according to Sci-Port Executive Director Dianne Clark. She explained that there is more for people of a broader age range to interest them at GamePort this year. "We went from six arcade machines to 10, because that seemed to be one of the most popular places for our visitors," she explained. The exhibits that people saw last year have gotten an upgrade, and new exhibits have been added for this second year of the project.
Last year, Clark said, they were very pleased with the turnout and learned some valuable lessons they've applied to this year's event.
"Given the fact that the omicron variant came out just about the time we were trying to get open, I think we really did amazingly well. Our attendance wasn't quite as high as we had hoped for, but we were still able to show a good attendance.
"What we did learn last year was that we opened in June and closed in August. A lot of the school groups that were getting their field trips lined up for September and October were disappointed."
She said this year, GamePort won't close until Oct. 2. "That will give, hopefully, some of the groups an opportunity to come to us in September."
Some of the attractions attendees will get to see and interact with include Space Invaders, NERF Range, Sonic's Beat the Buzzer, Dabble and Scrabble Magnetic Vertical Board Game, Miss Pac Man, Putt-Putt, Giant Nintendo Game Controller, Game Guts (the history and display of classic video game stations), Asteroid, Chair Lift, Checkers, Tic-Tac-Toe, Sort of Simon, Port Pong, Lego Minecraft, and 10 classic video games and pinball machines.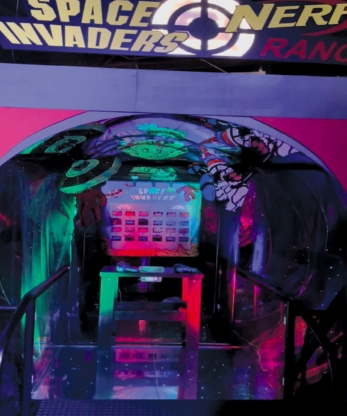 GamePort admission is $8 for general admission and $5 for Sci-Port members; bundle packages with full Sci-Port Discovery Center admission are also available. Tickets can be purchased online at https://sci-port.org/ gameport/ https://sci-port.org/gameport or at the door.
"A lot of people asked 'why' we are doing it. Where's the science behind (GamePort)? Because everything that we do has got to fulfill a mission of being an educational STEM-based opportunity," Clark said.
STEM is the acronym for a teaching approach that combines science, technology, engineering and math.
"It was last January, I believe, that Caddo Schools announced that they would be supporting the eSports competition teams," she explained. Contender eSports is a local company that operates a video gaming center with over 50 gaming stations and high-speed internet. It hosts video game competitions, as well.
"We've had a lot of parents who've expressed a lot of concern over the fact that their kids spend so much time on gaming devices," Clark said. "They're just worried that there's no value to that. What we're trying to show is that you can take that and turn it into something positive because there are careers that are built around gaming. That is really the point of GamePort."
She said Sci-Port is working closely with Shreveport's Digital Media Institute. "They bring in a console that has a variety of interactive games that their students have completed as part of their senior project. We're bringing in that career-based educational component."
The Center is located at 820 Clyde Fant Parkway on the downtown Shreveport Riverfront. For information regarding hours or special programs, call (318) 424- 3466 or visit sci-port.org.