Festival features new poster, payment option
The 46th edition of the Red River Arts Festival arrives in just a few weeks with a new poster and a couple of new wrinkles to attract festivalgoers.
Executive Director Logan Lewis revealed the new poster art at a news conference on Aug. 16. Created by Baton Rouge artist and longtime Revel contributor Chase Mullen, it focuses on one of the ubiquitous railroad crossing signals of which festivalgoers are so aware.
"I was trying to think of things that felt like the Revel, but not overlap with an arts festival," Mullen explained. "Throughout the years, there was one part that really stuck out to me."
He would walk from his hotel to the festival along the railroad tracks, often being caught by a passing train on Lake Street.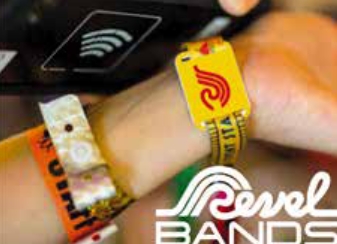 "Even now, the sound of a train crossing has a Pavlovian effect on me and brings me back to the Revel," he admitted.
Also new to the event this year is something called Revel+. "Revel+ is a partnership that we have been working toward with local businesses, restaurants, bars and venues in downtown Shreveport to encourage and develop programming outside Festival Plaza during the nine days of our festival," according to Lewis. He said the idea was to give attendees more options while going down to the festival and more entertainment to enjoy.
"I'm also pleased to announce that SporTran and the Red River Revel have entered into a partnership to offer a free shuttle service for Saturday, Oct. 1, and Thursday through Saturday, Oct 6-8, of the Revel. This free shuttle service is going to run a loop around downtown," Lewis said.
"The idea is that we would like people to come into downtown Shreveport and be able to experience great restaurants, a great festival, great venues and great activities with little to no effort in travelling around our downtown area on a controlled route. The shuttle will run all day on Saturday, Oct. 1, and then they'll run from 5 p.m. to close on Thursday and Friday, Oct. 5 and 6, and all day as the festival is open on Saturday, Oct. 8."
Another innovation this year is Revel Bands, billed as an improved payment solution for the event. Sponsored by HiTech Computers, the free bands will provide wearers with RFID wristbands as a payment option for food and beverages.
"Instead of using paper coupons, which we'll still offer, you can load those coupons onto the wristband, scan them on a mobile device at any vendor who accepts coupons as payment," Lewis explained. "That vendor can give you your balance in seconds, and it makes all our transactions for food and beverage faster and more efficient and much more convenient."
He said the best part of the new technology is that after the festival, folks with a wristband can go to Revel's secure website and get a cash-out refund for any coupons they purchased but did not use.
"This is the first time in Revel history that we have been able to do that, and we're very excited to be able to give our festivalgoers a much-improved experience when it comes to the money that they spend with our vendors," Lewis said.
The festival runs this year from Oct. 1-9 each day at Festival Plaza in downtown Shreveport. "At that time, we're going to have over 75 visual artists, more than 80 musical performing artists, 22 committee members, 150 first responders, multiple municipal agencies, staffing companies and a whole host of other agencies and vendors as well as over 1,000 volunteers that are going to come together and recreate this historic cultural event for our community," Lewis said.
The Revel began in 1976 as a showcase for arts and art education. Each year it attracts around 75,000 attendees.
For more information, visit https://redriverrevel.com.