Celebrate St. Patrick's Day in downtown Shreveport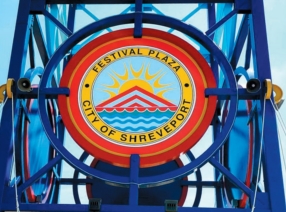 The good news? You don't have to be Irish to celebrate St. Patrick's Day.
The better news? You don't have to be Irish to attend Paddy in the Plaza.
After a multi-year hiatus, the event returns Friday, March 17, which just happens to be St. Patrick's Day. From 3-11 p.m. at Shreveport's Festival Plaza, you can pay homage to the luck of the Irish by enjoying food, drinks (yes, green beer) and music.
"The community really liked the event when it was around years ago," said Mary Helen Marrs, executive director of Mudbug Madness Downtown Shreveport Unlimited. "We just felt like it was a name that was recognizable. We don't have anything like this going on in the spring – something that is really geared toward adults – young adults. Something that is just a fun party. It's a reason for people to gather – and be together – strictly for the entertainment value."
Entertainment will be in the form of three bands. Stiff Necked Fools will lead off, followed by Cowboy Mouth. The closer will be The Hollow Decks.
Perhaps you can tell it is unlikely much Irish music will be played.
"We try to provide entertainment that can appeal to a wide range of people," Marrs explained. "Something that's not necessarily just for those 18-21, not early 20s. We want to appeal to not only the younger crowd, but we have a great age range of those people that perhaps are empty nesters, didn't have children, or are a little bit older and want to come out and have a good time. We really tried to get bands that appeal to a very wide audience."
And don't expect only Irish food to be available. In fact, there may not be any Irish food available from the eight to 10 food trucks on site. There will be everything from hot dogs to tacos, to fried fish, to ice cream. You will buy your food and drinks directly from vendors, as the admission charge only covers hearing the bands perform.
"There was a lot of conversation about certain types of entertainment and certain types of food," Marrs said. "But what it all boiled down to was good, quality entertainment. Good, quality food. We felt like that was more important than actually trying to produce an event that was exclusively with Irish music and Irish food. In our city, we just didn't think that was a necessity."
Glazer's Beer and Beverage is sponsoring Paddy in the Plaza, and Guinness beer – which bills itself as "The World's Most Iconic Beer" – is the event's presenting sponsor.
The folks at Mudbug Madness are producing Paddy in the Plaza. In addition to the long-running Memorial Day weekend festival, Mudbug Madness is involved with Brew (October) and Rockets Over the Red (the Saturday after Thanksgiving).
"We're a non-profit," Marrs said. "Our mission is to improve the quality of life in downtown Shreveport through festivals and events. Producing the festivals and events in and of itself fulfills our mission."
Those events also bring in revenue, some of which has been used – and will likely be used in the future – to improve Festival Plaza.
"In 2018-19, we helped with the renovation of the tower," Marrs said. "We're in talks with SPAR (Shreveport Public Assembly and Recreation) about what we can do to help at Festival Plaza. That's where our festivals are. That's kind of like our home base. We would like to do whatever we can to make it look nice – to make it more enjoyable for patrons and anybody who has a festival down there."
Marrs has a couple of items on her wish list.
"One of the things we've talked about is adding one of those Big Ass Fans (that's the proper name of the product) to put under the pavilion and upgrading the lighting underneath the pavilion. Ultimately, I would really, really love to have some turf down there somewhere. I think it really needs some green, but that's a big, big project.
This St. Patrick's Day, Irish green will have to do.
To buy tickets to Paddy in the Plaza, visit the event's Facebook page or www.eventbrite.com and search for "Paddy in the Plaza."