Celebrating 22 Years of Camp Tiger
Reflections on Camp Tiger 2023 from Camp Tiger Director & Fellow Volunteers
I can't wait to see you tomorrow!" an enthusiastic camper claims as she hugs her counselor tightly. For 22 years, Camp Tiger has provided a free, five-day camp for children with disabilities such as Down syndrome, autism, cerebral palsy and more in the Shreveport-Bossier area.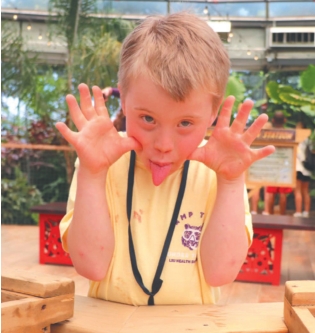 Camp Tiger is hosted each year by LSU Health Shreveport medical students, and the tradition continues to be a highlight for both campers and medical student counselors alike, with 66 campers signing up this year, and 136 counselors, 14 group leaders and six medical assistants volunteering to spend time with the campers. The Camp Tiger planning committee was composed of 54 second-year medical students.
Each year, Camp Tiger is filled with fun, engaging activities for campers to enjoy throughout the community. This year, campers could go roller-skating and bowling, spend a morning at a local park, see a movie and experience local attractions like Party Central Family Fun Center, Sci-Port Discovery Center, the Shreveport Aquarium, and Gators and Friends. In addition to the daily excursions, Camp Tiger provides a place for these children to interact with their peers while receiving individual attention from camp counselors to ensure the event is safe and engaging for every participant.
Our medical student volunteers enjoy Camp Tiger just as much as our campers. "Last year, some of my favorite moments were during the lively playtime in the gym waiting for lunch to arrive. The energy that the campers made me feel like a kid again!" Jacob Sanders, a second-year medical student, reflects on his summer experience. He joined Camp Tiger this year as a group leader, eager to help counselors provide the best experience for the campers. From playing song requests on the bus to participating in games of tag, the group leaders have ensured every camper is engaged and having a great time. This goal is shared by each of our committee members as we strive to provide a fantastic experience for everyone.
To provide that great experience for every camper, the Camp Tiger planning committee ensures everyone has options by making spaces available for children who would prefer to play and children who would enjoy a quieter environment. The committee provided ball pits, basketballs, parachutes and inflatables for the campers to enjoy in the gym while also making available a craft room that caters to campers who prefer a quiet setting, providing coloring sheets, keychains, dance mats and movies for campers to enjoy.
"If our kids want to draw one million doodles or hula hoops for hours, we as counselors are thrilled to do so! From the daily group events to the tons of crafts and toys in the gym, Camp Tiger is sure to provide an experience fitting and special for every camper," mentions Camila Carrera, a counselor and weeklong activity planner this year.
The campers and counselors are not the only ones that enjoy the camp festivities, as families are invited to join us. "I love that Camp Tiger offers a week full of fun with the most energetic and enthusiastic campers, leaving us all walking away with the happiest memories. I am glad I was able to help organize a memorable family day for campers, their loved ones and fellow counselors to end the week!" expresses one of our Family Day planners, Amber Cradeur. Family Day is the last day of Camp Tiger each year, where campers and their families can enjoy giant inflatables, indoor activities and a delicious meal together.
As the director, planning Camp Tiger this year has been rewarding as I saw how much of an impact we had on the campers. Hearing from parents about a child who normally does not dress himself being fully dressed and ready to attend camp each morning warms my heart. Similarly, the medical students' dedication shows a genuine interest in serving the community and creating the best possible experience for these campers every summer. The counselors and campers truly form a lifelong friendship here, which will serve as a lasting memory for the camper and an experience that will shape us into better physicians.
Camp Tiger is primarily funded by Clays for Camp Tiger, a skeet-shoot tournament held in the fall of each year. This year's game will be held on Saturday, Oct. 14. Individuals may register teams to shoot with, and businesses can sponsor teams. If you are interested in learning more, visit https://www.lsuhsfoundation.org/claysforct/.
If you want your child or loved one to experience Camp Tiger, look for applications to open the first week of January 2024. Participants must be aged 5-18 to participate, and limited spots are available. First-time campers are prioritized.
Trevor Blackstock is a second-year medical student at LSU Health Shreveport School of Medicine and the 2023 Camp Tiger director.