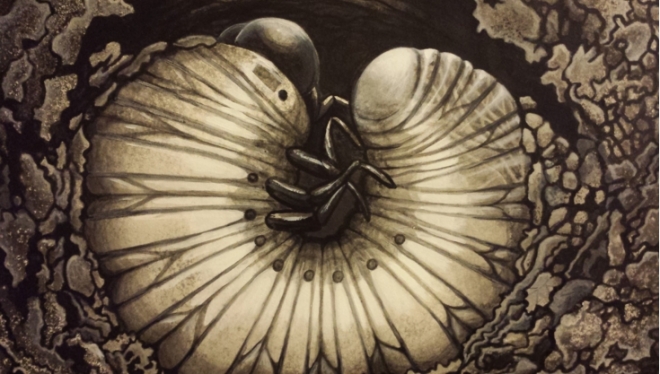 Taffie Garsee is the Best in Show winner of the Shreveport Regional Arts Council's recent Critical MASS exhibition. The competition was held Feb. 13 and featured more than 80 local artists.
Garsee won for her pen and parchment piece titled "Greed Weed."
This was Garsee's second try at the competition after entering last year. At that competition, Garsee entered an eye-popping painting of a beetle titled "Brian's Portrait."
"It was over the top with rust and glitter," Garsee said. "I asked the critic then about what I could have done differently to get chosen. She said, 'It's just so much.' That hurt at the time, but I thought about it and realized she wanted to be able to look at a whole roomful of someone's art and not be overwhelmed by one piece.
"I realized I couldn't go into the next show with all this shine. It had to be more subtle. So that's what I submitted, but when I saw my piece at the competition, it was surrounded by a sea of color on the wall. It looked so plain Jane up there."
As it turned out, Garsee walked away with the $2,000 top prize.
Garsee said she is self-taught and has always loved painting and coloring especially alongside her dad when she was younger. Only in the last five years or so did she start showing her work to people on Facebook.
Garsee said her love for art is what has kept her at it, even while working at a fulltime job and raising a daughter.
"I would do this whether or not I could make a living at it," she said. "I've been able to sell some work the last few years and that's been great. Of course, if I could just do art, that would be fantastic, but it's not why I do it. If you're competing just to win a prize or sell something, that's different than if you have to convince someone they want to see a whole room of your work."
The show will be held June 26 through July 26 at artspace. "Sure, it makes me nervous," she laughed. "I work full-time and have my daughter to pick up and household stuff, and I know I need to be doing art, but sometimes I'm too tired. With the show coming up, the weekends are jam-packed with getting things framed and making sure I have all the accessories I need. I did the Red River Revel a few times, and it's one thing to load up all your stuff and forget something and just run back to the house and grab it, but it's another thing to have 50 people coming to a show just for you. Right now, I have a thousand sticky notes with a thousand lists of things to do!" The show will feature about 20 works in different mediums such as acrylics, pen and ink and spray paint. Most of it will be from the last two years with possibly a few new pieces, Garsee said, and mostly following her typical themes of bugs and nature.
"I like to paint out of nature and relate them to human conditions," she said. "I've got thousands upon thousands of pictures of bugs. If you go on my Facebook page, every week there's a picture of me with some bug on my hand or a moth on my finger. Sometimes I stand outside the gas station and take pictures of bugs on the windowsill. Luckily, the guy there knows me and doesn't run me off.
"I see a bug in one situation and have one thought about it, and then switch that around to relate to people, and then try to portray that."
Garsee said she is trying to be a good example for her daughter, who has a strong talent in writing. "She reads voraciously and writes her own mini-novels and gives herself goals each week to write a certain word count," Garsee said. "She's her own little mentor. I'm trying to let her see that people can do things they aren't comfortable with. I've never put myself out there until recently, especially with something as personal as art, but she sees me fall down and get back up again, or she sees that if someone doesn't like my work, then I laugh it off and say well, we can't all have the same taste. I tell her, do what you love, get educated, spend as much free time at it as you can, and it will pay off. I want her to see me keep going at it regardless."
Garsee's show will be held June 26 through July 26 at artspace, with a reception from 5:30 p.m. to 8 p.m. She will also have another show coming in August. Search for TheArtofTaffieGarsee on Facebook.