Winner could fill criminal division seat
Caddo Parish District 2 voters likely will have a tough decision in choosing between two excellent judicial candidates to replace Judge Jeannette Garrett in the Oct. 19 election. Garrett moved to the Louisiana Second Circuit Court of Appeal without opposition.
Caddo Parish Registrar of Voter Ernie Roberson predicts a turnout of about 10-12 percent of the district's 54,682 registered voters. Roberson has good prognostication record, but perhaps District 2 voters will prove him wrong with a much larger turn out.
In the meantime, the candidates are Brady O'Callaghan and Mike Miller. It's anticipated that the winner of this election will fill a criminal division seat in the Caddo's First Judicial District Court. That assignment could change to a civil or domestic seat, however, as Caddo judges choose divisions every couple of years – based on seniority.
O'Callaghan has served for the last decade in the Caddo Parish District Attorney's Office as a violent crimes prosecutor. Prior to the Caddo DA's Office, O'Callaghan was a special homicide prosecutor in the Orleans Parish District Attorney's Office for nearly three years. He notes that his work in these capacities included hundreds of cases and nearly 100 jury trials.
He also has civil experience in family, estate law and commercial litigation and has served as a Shreveport Police Academy instructor for the last seven years.
O'Callaghan said he has appeared in many courts around the state in his career and seen just how important a judge's attitude is toward victims. He said, "I think I have enough experience to do a good job."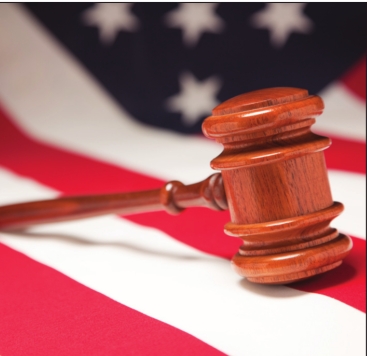 He also believes service as in the court is one of the best areas of public service – as either a civil or criminal judge. His strength on the civil side, said O'Callaghan, "is my willingness to read and study each issue as it comes up. There are so many different areas of law in the word 'civil;' you have to be willing to reeducate in every case."
Importantly, he was adamant that, if elected his rulings would be timely and fair.
And he talked about his work as a prosecutor noting that the "District Attorney's office has done a good job bringing the number of cases down over the last few years," and that his section's work contributed to those reduced numbers.
O'Callaghan is a Shreveport native, Republican, married and has twin sons.
Mike Miller is presently serving as the felony supervisor in the Bossier Parish Public Defender's Office – where he's been for the last three years. Prior to this work, he worked with his father in a general law practice for 15 years on cases, which included criminal, civil and domestic matters.
Miller said, "I feel that someone (running for judge) needs to have experience in civil, criminal and domestic law because you can be called at anytime to serve" in one of these areas of law.
Miller said that as an attorney, he was driven to help families in need and when they came to him for legal help, he made sure that the laws were applied fairly and that he would take that same conviction to a judgeship if he is elected to move from "advocate to decision-maker."
He believes that his work ethic, legal and life experience also contribute to his qualifications for judge. He's worked in variety of jobs from bartender, to mucking out stalls, to working in fields, and feels that experience coupled with his broad legal experience makes him a favorable candidate for the job.
"I'm even-tempered and firm … I can make concise decisions … I'm impartial and I can present dignity to those who come before the court," Miller said.
Interestingly he's also enjoying a part of campaigning that many political office contenders don't – walking the streets of his district to visit with voters. "I look forward to Saturday morning when I can get out and meet people," Miller said. "I think it's extremely important for people to see us and get to know us – that's the best way to learn about me."
And he recounted several occasions of finding old friends and folks who know his family.
Miller is a Republican, married and has two children.
An election for district judge should not be the understated affair this race looks to be. It's important for voters to get to know the folks who sit on the benches of their courts and this race is a good opportunity to do so.
Perhaps District 2 voters will make that effort.
Marty Carlson, a freelance writer, has been covering local news for the past 13 years. She can be reached via email at m_carlso@bellsouth.net.