A simple guide to choosing in-home senior care services
As we mature, our needs change.
The things that were once simple to perform become complicated.
Perhaps you or a loved one has experienced a sudden life-changing event and a physician, family member or friend has recommended inhome care. But what does the term "in-home care" mean, and what is right for you?
There are three types of inhome care services available to those who need assistance. They include a sitting or companion service business, a licensed home-care agency or a skilled home-health agency. To determine the type of care provider that would be best for your situation, an assessment of needs should occur.
Sitting or Companion Service Business It is often "hands-off" care, called instrumental activities of daily living, which is first needed. A sitter or companion can provide "hands-off" care. They can spend time with an individual, accompany the client on trips and outings, prepare and deliver meals as well as provide housekeeping services. In Louisiana, a sitting or companion service business is not regulated or required to be licensed and are not permitted to provide "hands-on" care. These services are usually paid with client funds.
Licensed Home Care Agency If assistance is needed for "handson" care, called activities of daily living, such as bathing, dressing, toileting, grooming, transferring, ambulation and eating, then a home-care agency licensed and regulated by the Louisiana Department of Health and Hospitals is required by law. Since these services are traditionally paid with client funds or long-term care insurance, a physician's order is not required. Neither private health insurance nor Medicare will pay for these services.
State licensed home-care agencies may also perform the activities of a sitting service but may not perform any medical tasks such as wound care or injections.
Skilled Home-Health Agency Skilled home-health agencies provide services for patients who are not medically stable or have not attained a satisfactory level of rehabilitation. These patients require frequent monitoring by licensed professional health-care personnel.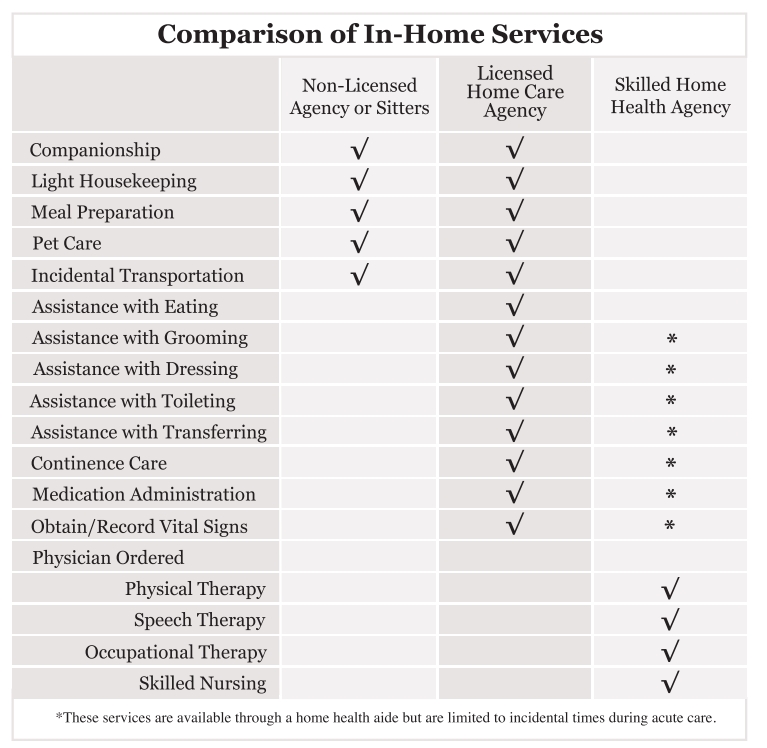 Skilled home-health agencies are also licensed and regulated by the Louisiana Department of Health and Hospitals. However, unlike a licensed home-care agency, their services must be provided under the order of a physician, in the place of residence of the person receiving care, include skilled nursing and at least one of the following services: physical therapy, speech therapy, occupational therapy, medical social services or home-health aide services. Services provided may include intermittent visits for wound care, dressing changes or medication education.
The physician's prescription for skilled home-health care is for a specific situation with time limitations and does not cover long-term care. Since the need for skilled home-health is medical care, most private health insurance providers as well as Medicare will pay for these services on a limited basis.
Many referrals for in-home care companies come from hospital discharge planners, physicians or other medical professionals. But, when they provide a list of agencies, do they really know much about each agency or which one will be able to meet your needs?
It is important to take time to identify the best in-home care provider to suit your specific care needs. If you are admitted to a health-care facility due to an emergency, don't wait until your day of discharge when a social worker will come to you and ask you to choose a provider from a list.
If you will need care following an upcoming elective surgery, plan ahead and have in-home care arranged in advance. Although care needs may change following your surgery or hospital discharge, a good reputable company will have the experience and flexibility to meet any and all of your care needs.
Your choice of an in-home care company will affect the care you receive and your quality of life. After all, with in-home care, you are inviting someone into your home in whom you must place your trust. They should have the reputation, experience and qualifications necessary to provide the quality care you need to help you and your family adjust to the bumps in the road that come with aging.
Scott H. Green is a Certified Senior Advisor® and president of Preferred Care at Home. Green can be reached via e-mail at scottg@preferhome.com.