40 UNDER 40 NOMINATIONS UNDER WAY
Young professionals to celebrate milestone 10-year anniversary for awards gala
The 10th annual Young Professional Initiative of Northwest Louisiana is accepting nominations for the 40 Under 40 Awards and Gala 2016. 40 Under 40 spotlights Northwest Louisiana's outstanding entrepreneurs, executives, managers and professionals in public, private or nonprofit sectors.
Jessica Lowe Hall, executive director of March of Dimes and chair of the 2016 event, said, "40 Under 40 recognizes young professionals who are industry leaders and community advocates. They are doers. They are leaders. They are dedicated to making a difference and making change."
Winners are chosen based on such values as achievement, experience, innovation, vision, leadership and community involvement. Nominees must be a member or employed by a member of the Shreveport or Bossier Chamber, or a current member of the Young Professional Initiative. Nominees must be under 40 years old as of June 30, 2016. They do not necessarily have to be business owners, and professionals in the nonprofit business sector are eligible. Nominations will be accepted through June 30, and individuals are encouraged to nominate themselves.
"Every year the number of nominees grows, and narrowing the pool down to only 40 becomes more difficult," Hall said. "As we plan to celebrate the next 40 to be inducted, we must also pay tribute to those who came before them. This will make 400 young professionals from our area that have been recognized. That's 400 young people making a positive impact right here, where we live."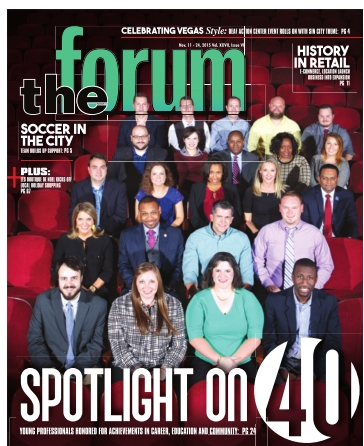 Plans for the 10th anniversary include an announcement party where the next 40 are named, a Forum cover reveal party, a VIP cocktail party and a gala awards ceremony. "All of these events are meant to bring all the honorees together and celebrate their accomplishments," Hall said.
The Young Professionals Initiative's mission is to create a network of community leaders under the age of 40 in efforts to enhance the development of Northwest Louisiana for attraction and retention of young professionals. The group offers professional development and networking opportunities and addresses community issues as the voice for young professionals. It also creates economic impact for Northwest Louisiana businesses and the community at large.
"I have seen YPI and 40 Under 40 give back to so many area nonprofits," Hall added. "Every year a portion of the proceeds from the 40 Under 40 Gala are given to the Philanthropy of the Year, a non-profit organization selected by the YPI board of directors. Members of YPI, which includes all 40 Under 40 honorees, are also asked to volunteer for the Philanthropy of the Year at various events. In 2015, Louisiana Film Prize was given this honor."
Pete John is managing partner at Raising Cane's, and he received the Young Professional of the Year Award at 40 Under 40 2015. "I love Shreveport," John said. "The reason that our group was honored is because the 40 of us are going to be committed to this community."
"40 Under 40 is necessary because it shows the even younger professionals that there is a group to look up to as mentors," John said. "It tells them they can be the next generation of leaders. It also recognizes the brand you work for, whether you're self-employed or part of a large corporation."
"It opened up doors for me to meet a lot of people," John said. "It gave me a great platform for what we do at Raising Cane's and what we do to give back to the community. But for me personally, it raised my Q score. It said, 'He is giving back, and he is trying.' It gave me the ability to motivate others."
"I think YPI in particular is a great organization for young professionals to kind of cut their teeth on," John said. "If they're looking to get involved or serve on a nonprofit board, it's a great platform because everybody is super-friendly and so welcoming."
Kourtney Washington, director of sales and marketing at CenturyLink, was an honoree in 2013 and chaired the event committee in 2015. "40 Under 40 is also an opportunity to showcase businesses that are supporting young adults," she said. "We don't ever mention one of the recipient names without mentioning the business they work for, too. It's something that makes it beneficial for current employers to continue hiring young adults and helping them succeed."
"40 Under 40 allowed me to network with 39 other adults, and networking is invaluable," Washington said. "The contacts that you make … you never know whether these people are going to reappear in your life and how you'll help each other out. I've gotten jobs and referrals, and friendships have been forged through business networking. It's really a secret of so many successful people. Going to those events is the No. 1 recommendation I can make to young people just starting out. Nobody is going to come to you. You have to get out there and get out of your comfort zone."
Katrina Sproles is administrative assistant to the vice chancellor for academic affairs at Bossier Parish Community College. "I was a recipient in 2012," she said. "It's one of those awards where you go to the dinner and you meet all these people and you form relationships with people you wouldn't have known before, but It's more than just getting an award. It enables you to be a part of an opportunity. And it comes with a responsibility to move further and help others."
"As we look back over 10 years, I'm looking forward to seeing all those people who have stayed in the community," Sproles said. "The award encourages people to get involved in our community and stay here, to live here and grow."
Shelli Briery Murphy, community relations manager at Horseshoe Casino, is another 40 Under 40 recipient from 2012. "It really puts a spotlight on the young talent, the movers and the shakers," she said. "You hear so many negative things about young people and that college graduates are leaving the area because they can't find work. We have seen so many young people who have been successful and have made a professional career and come home to work. These are people that are making Shreveport what it is and what it should be."
Kristen Gary Powers was a 40 Under 40 recipient in 2007 who is now development director at Holy Angels. "40 Under 40 was one of the first events I helped to organize from beginning to end," she said, "which taught me a great deal about event planning and management. It has been a skill I've used regularly ever since."
"There are not many, if any, other opportunities for those in our area who are just beginning their careers to receive public recognition for their efforts at work and as community volunteers," Powers said. "Being honored in this way not only builds the selfesteem of those recognized, it also adds a gold star to one's resume, which may help him or her to grow professionally. It also be nefits the business that person represents by showing the public that they hire quality young professionals."
"Receiving that award at age 27 was a huge milestone for me," Powers said. "It gave me the confidence and motivation I needed to continue to dig in and become more involved in my community and work even harder to achieve success. I like to think that having '40 Under 40 Award Recipient' on my resume has given me an edge up as I followed the road that led to me finding my place at Holy Angels."
"I love how each year the 40 Under 40 events brings a whole new audience to the room," Powers said. "The Shreveport Chamber and YPI created this signature event that not only recognizes the best of the best, but also brings their friends and family out for a night of celebration."
To nominate someone, visit www.shreveportchamber.org/nominate_40under40.php. The event will be held 7 p.m. Dec. 3 at the Shreveport Convention Center. Sponsorships are available by contacting the Shreveport Chamber of Commerce at 677-2500.
–Susan Reeks