Artist's visual poems describe relationships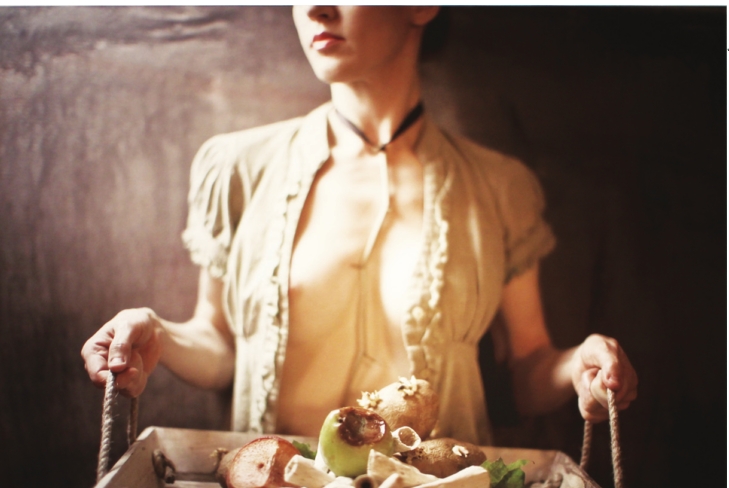 Devin Rachul McClintic named her show "Romantic Monody," not "Melody," but one can be forgiven for transposing the word.
What is romance without a soundtrack of heavenly harmony? The piece "Reminiscence" in the press release for Critical Mass 4 shows Rachul, most often the subject of work, as a vulnerable bride in white lace, modestly holding a bouquet of flowers, head bowed down, her eyes covered by a swath of hair. It could be the wind, but the artist is also the director of this study, and considering the entire body of this exhibit, chances are, there's some fate in that flurry. The strict definition for monody (thank you, Merriam-Webster) is an ode sung by one voice, as in a Greek tragedy. At the Shreveport Regional Council's artspace, Rachul's elegy is performed, as she describes, in a series of 29 visual poems about the kismet of relationships, be they family, friend or paramour. Themes of vulnerability, paradox and transparency of truth haunt the show.
McClintic records her images with a collection of cinema lenses, which she chooses for each vignette, lenses she chooses for "the freedom and ability to make technical decisions based on the aesthetic outcome I'm looking for. I work intuitively with the digital camera and its components. Using technology does not come naturally to me, so I shoot work with the intention of running it through a minimal manipulation process." In "Emotional Autopsy," (pictured at right) an unguarded woman presents her offering in hospitable gesture from a ribboned tray. The over-ripened fruit, some pared and evidently consumed, portends gifts used and discarded. The fine arts paper Rachul uses to print her images are heavy weight, museum etching paper or cotton rag, eschewing gloss or reflective properties to evoke history and permanence. "The Discerning Witness", an oval-faced, slopeshouldered bystander in an oval frame, faces the viewer masked by binoculars, an outsider documenting the drama.
The series of ovals in that piece reflect McClintic's background in painting, which was her area of emphasis while studying for a bachelor's degree in fine arts. When she took up photography as a side interest, professors encouraged to shift focus when completing her Master of Fine Arts. However, the years of drawing and figure painting are evident in each piece, like "Irrational Patience,"
where a human form holds on tensely, horizontal lines and long, vertical legs pulling the elements in tight. As her own subject she is immeasurably more than a persona. She is focal point, instrument and mannequin in the fullest sense, an articulated, jointed model. She is her own vehicle. In the graceful, gorgeous lines of "To Weave a Nest," shot from behind, her upswept hair plaited and attenuated with pointed feathers, a curved torso cambers upward, arms expectantly holding a big, braided twig, as she strives to build a home, a relationship, a future. Gentle horizontal creases on the bent torso echo the movement.
Composition, and a magical ability to present photography with the layering and depth of painting, convinced me to choose Rachul as Best in Show. "Vine Escutcheon" is a focal point of this exhibit, as well, the strong (startled?) eye of the artist confronting the viewer from behind the escutcheon, which could be shield or sword. Hunter or hunted? Emerging primordial from either forest or sea, bare-breasted, she offers the viewer a mystery wrapped in recognizable elements.
Critics were asked to choose an artist whose work we wanted to see in greater scope, and McClintic's work did not disappoint. Like the theme of that most famous ode by Keats, "Beauty is truth, truth beauty," she meditates on the nature of truth and beauty. It may not be pretty, but it's a beautiful thing.
– Gwynn Vitello