Twin Blends links past and present
Mike and Mark Mangham, brothers and co-owners of Twin Blends Photography LLC, are bringing the past to life with their unique and iconic photos of historic Shreveport.
"Our passion is to show others a glimpse into the past, while creating a desire in them to preserve what is left of that past," Mike said. "We also hope to generate interest in the downtown area so that people will come downtown and see all the history that is there."
It all started a couple of years ago when the Mangham brothers joined the Facebook page If You Grew Up in Southern Hills, Shreveport that was created by Mark and Barry Walker.
"We grew up in Southern Hills, and the members on the page were asking about locations in and around Shreveport, which we had pictures of," Mike Mangham said.
"So we posted them, giving full credit to LSUS Library, where we had found them, and the people on the Facebook group really enjoyed it."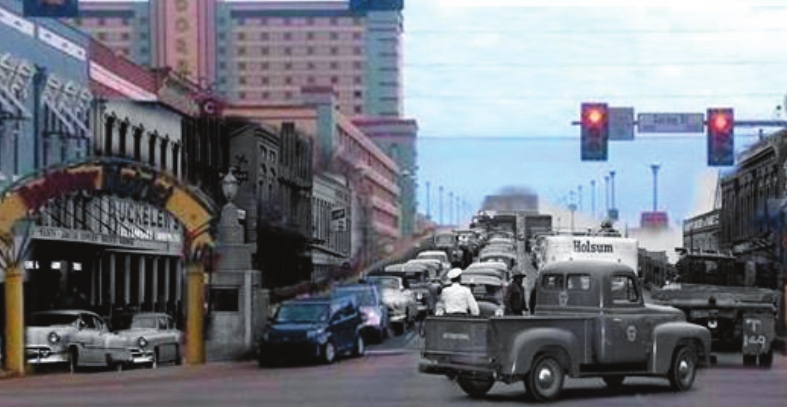 Soon after, Mark had the idea of going to the exact same spot in town and taking a current picture, then putting them side-byside to show how much or how little things had changed in the area.
"We received a lot of positive feedback on that experiment," Mike said. "Then one day, I was playing around with the images and merged – or 'blended' – them together. We posted those images, and the members on the Facebook page loved them and encouraged us to post more. We began looking for more old Southern Hills photos and stumbled across a lot of really old, downtown Shreveport photos."
"Those old photos were awesome," Mike said. "We couldn't wait to blend them. We received permission from LSUS Library to use the images, and Twin Blends was born."
The rest, as they say, is history. The process is as unique – and fun – as the photos themselves. "What we do is take a vintage picture and locate the exact spot the photographer was standing, and then duplicate the picture, using an ultrasecret technique to make sure everything will line up," Mangham said. "As we work on each picture, we work together to come up with creative ideas on how it should be presented."
"Our current project is titled 'Shreveport Now and Then, a Link to the Past,'" Mike said. Many of the vintage photos for that project were provided by Conway Link, who is a big part of the Shreveport Historical Preservation Society. "We will be blending and offering those photos for sale in print, as well as in video," Mike said.
The Manghams have found plenty of encouragement and support in local avenues. "The works of local historians of this area, Dr. Gary Joiner, Dr. Cheryl White, Eric Brock and Ernie Roberson lit a fire in us to know more about our city," Mike said. "Liz Swaine with the Downtown Development Authority was a big inspiration as well."
"Shreveport is so rich in history and the reason it is so special to us is that we remember the days when we were little going downtown and seeing how alive it was," Mike said.
Twin Blends Photography was recently featured in The Best of Times Magazine by Tina and Gary Calligas. "They not only featured our work on the front covers of several months' editions, but they have a special monthly feature titled 'Shreveport Then and Now' in which our work is showcased in every edition," Mangham said.
The Mangham brothers had no idea how fast their business would grow – in exposure as well as in popularity. The Shreveport Times featured their business on the front page, and last March, KTBS Channel 3 asked Twin Blends Photography to drone film the flooding in Tall Timbers in Haughton. "That footage was played on 'Good Morning America,' Fox News and 'World News Tonight,' as well as many other national news stations," Mike said. "The KTBS story alone had 75,000 views and over 2,000 shares."
Twin Blends Photography also created a picture of Officer Thomas LaValley and presented it to Shreveport Police Chief Willie Shaw, who in turn gave it to the LaValley family. "We are very proud of all law enforcement officers and have dedicated several of our videos to them," Mike said.
"We hope to be the company that people come to when they want things photographed or videoed from a unique perspective," Mike said.
All of Twin Blends Photography's blended photos are available for sale.
Those interested in purchasing them can contact Mike via e-mail. They accept PayPal, as well as checks. Prices vary per picture, depending on the amount of time each took to produce.
– Betsy St. Amant
MORE INFORMATION:
For prices and purchases, contact Mike at mikermangham@gmail.com. Visit Twin Blends Photography on Facebook at https://www.facebook. com/twinblendsphotography/ . Check out their YouTube Page at www.youtube.com/channel/ UC71Yf6XlO2niI0Fcvv3ieMw/videos