CHILDHOOD OBESITY AWARENESS
September is National Childhood Obesity Awareness Month
Once considered a problem more so for adults, one in three children in the United States are overweight or obese, according the U.S. Department of Health and Human Services. Childhood obesity can have lasting effects, but it be easily prevented.
Registered dietitian Shelly Marie Redmond of Skinny Louisiana stressed that introducing children to a healthy lifestyle helps them become healthy adults.
"Just like anything else, start out young, and it builds a habit," she said. Childhood obesity can lead to children developing diseases that were once seen solely in adults, such as type 2 diabetes, heart disease and high blood pressure. Developing these health problems early in life leads to longer wear and tear on the body.
Though you may have grown up with the traditional "eat your vegetables" spiel from parents, Redmond recommends trying different methods of introducing healthy foods.
"The first tip is to never nag your child to eat healthy or say the obvious 'This broccoli is really good for you,'" she said. "The most important thing is to have healthy food selections available for the entire family. I suggest adding one vegetable or fruit to each meal and serve to the entire family. Don't make a big deal about the new item. Just eat. Enjoy the item."
Making children part of the food preparation process can also help, Redmond said.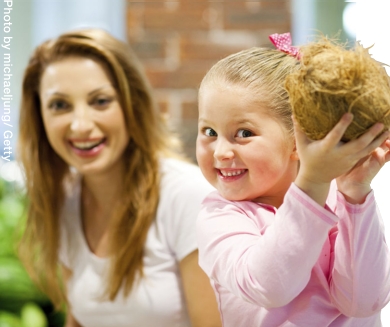 "Bring the kids to the grocery store with you. Yes, this may make your trip longer; give the kids one to three dollars and allow them to select fruits and vegetables for the family. Depending on age, have the kids prepare foods in the kitchen. Two-year-olds can wash foods with mom and dad's help. "Make this fun."
Eating healthy can especially be difficult for children who are picky eaters. If your child only seems to want chicken fingers and french fries, Redmond said introducing new foods often is key.
"Add one new item to each meal. If the child does not eat it, don't panic. Move on. I also encourage having the kids pick out new foods at the supermarket," she said.
If a child is struggling with adopting a healthy lifestyle, a primary care physician could refer the child to a registered dietitian for more help. If one's insurance doesn't cover the referral, Redmond recommended some tips for helping children get active and create a good relationship with healthy meals.
1. Spend 10 minutes dancing. Just turn on the music and let the children move.
2. Encourage the children to participate in outdoor family chores. Get the mail, take out garbage, pick up sticks/trash in yard.
3. Find one recipe or dish for the children to prepare.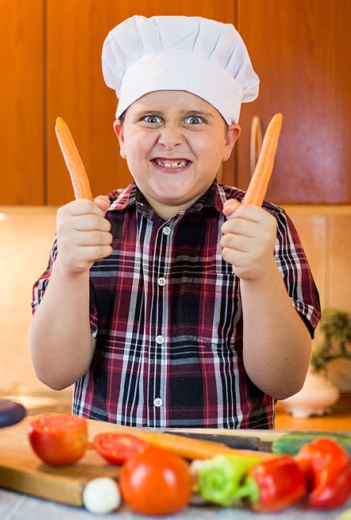 "Let's Move," First Lady Michelle Obama's initiative to encourage children to eat healthy and get active, offers resources on planning healthy meals and snacks and making physical activity part of your family's routine. LetsMove.gov encourages parents to reduce screen time in favor of time spent being active, such as taking a family walk following meals. Gardening, even if it's only a kitchen/windowsill garden, can also help children eat better and appreciate fresh food.
Struggling to find a kid-friendly recipe that's good for your family? All of Redmond's recipes are approved by her husband and children. These Skinny Cajun Parmesan Cauliflower Bites will make you and your family feel like you're indulging on fried food without the calorie punch. At only 130 calories a serving, plus 11 grams of protein and 7 grams of fiber, this dish is a win-win.

Skinny Cajun Parmesan Cauliflower Bites via SkinnyLouisiana.com

Prep Time: 15 minutes

Cook Time: 30 minutes

Total Time: 45 minutes

Yield: 4
Ingredients
½ head cauliflower, cut into bite sized florets

¾ cup of Panko bread crumbs, crushed (Redmond used Kikkoman)
¾ cup of Fiber One, crushed

½ cup Parmesan cheese, grated

1 teaspoon Tony's creole seasoning
2 eggs, whisked
Preparation

Preheat oven to 400 degrees. Line baking sheet with non-stick aluminum foil.
Combine Panko bread crumbs, Fiber One, Parmesan cheese and Tony's in a bowl.
Dip cauliflower pieces into whisked egg, roll into crumb mixture, place on lined backing sheet. Continue until all cauliflower is coated.
Bake for 25-30 minutes or until crunchy.
Serve.