FOUR GENERATIONS LOOK TO THE FUTURE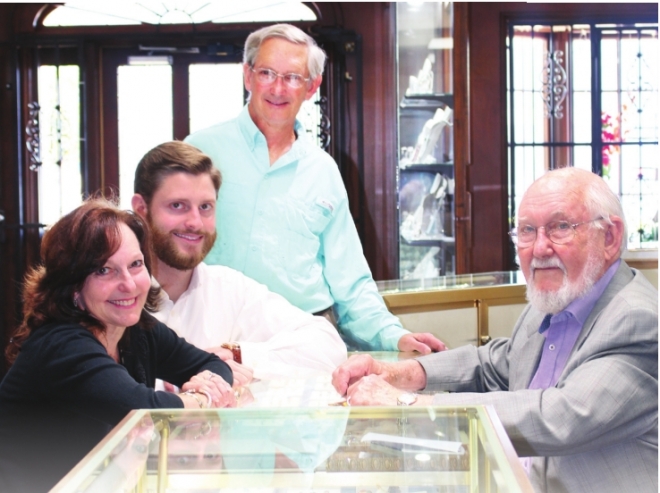 McCary's Jewelers celebrates store's 75th anniversary
One of Shreveport's most established family businesses is celebrating a milestone birthday, its 75th.
McCary's Jewelers started in 1941, the first year of World War II. Most of the world's major countries were either already at war or about to enter the conflict.
It was a rough time to venture into any business, particularly the sale of luxury items, but James R. and Ruth McCary were optimistic. They started small in a rented space shared with a barber shop in downtown Shreveport.
"It was on Milam Street, and it was a different day because of rationing and the lack of availability of goods," said Lynn McCary Thomas, granddaughter of the couple and the third generation to work at the store.
In those early days, watches were the store's bread and butter. Shreveport had an extensive trolley system, and the trolley drivers carried pocket watches. Accuracy was crucial because trolleys ran on "railroad time," Thomas said. Every driver's watch had to be certified by a jeweler, and McCary's was the place, she said.
After James and Ruth divorced, both continued in the jewelry business. In 1960, Ruth decided to move to Shreve City Shopping Center, which had just opened in Shreveport. It was the largest shopping mecca in Louisiana at that time.
"I went with her to Shreve City," said R.L. McCary, Ruth's son and Thomas' father. "We started from scratch – from absolutely nothing."
"Shreve City opened doors for our family," Thomas said. "Dad left the downtown store to aid the family in operations and sales. He created a reputation for his unusual designs and has proven to be not only an artistic manufacturer, but also a respected businessman."
As Shreveport's demographics changed, R.L. moved the store to a Pierremont location and then to 70th Street. Plans are in the works for an even bigger and better move in that same area in the future.
At 85, R.L. still sits at his jeweler's bench surrounded by his tools. He designs, makes and repairs jewelry and is a certified gemologist. Through a large window into the store, R.L. can view his grandson, Miles Thomas, working at his own jeweler's bench.
"He is actively teaching his grandson the business and jewelry expertise," said Lynn, Miles' mother. "Miles is the fourth generation and will lead us into the future." R.L.'s son, David, a registered jeweler, works at the store along with several longtime employees.
"Running the business is a family affair," Lynn said. "The family members and the employees who are like family have worked together a long time. One employee [David Strange] has been here over 55 years and the shortest employment is around 20 years," she said.
There are six jewelers on staff, and they pride themselves on their knowledge of gemology.
"We are a full-service jewelry store, meaning that we don't just sell jewelry, we can create, make and repair jewelry," she said.
In addition to crafting individual pieces, McCary's has an extensive collection of men's and women's jewelry and watches, including pieces by Swiss watchmakers Raymond Weil and Tavannes, and Japan's Seiko, and jewelry by James Breski, Carl Messler and Cordova.
"We have national designers such as Simon G. and Alwand Vahan and local artists, like Julie Goodman. But, we are proudest of our best and most beautiful designer, R.L. McCary," Lynn said.
On a recent afternoon, Lynn greeted a couple of longtime older customers warmly at the door while Miles and R.L. looked on from their benches.
"We love to help people get engaged and be a part of many happy anniversaries and babies and all life's milestones that require a lasting piece of jewelry to mark the occasion," Lynn said.
"We have provided their baby gifts, their wedding rings, their anniversary surprises, their birthday celebrations, their graduations and just for very special moments. Our customers are so much a part of our everyday lives. We truly wouldn't be celebrating 75 years of successful business without them, their children and their grandchildren," Lynn said.
McCary's Jewelers are members of the American Gem Society and the Gemological Institute of America. McCary's is located at 1409 E. 70th, Suite 118. For more information and interesting facts and information about stones and jewelry, visit www.mccarys.com.
– Kathleen Ward