at HOME Junior League Kitchen Tour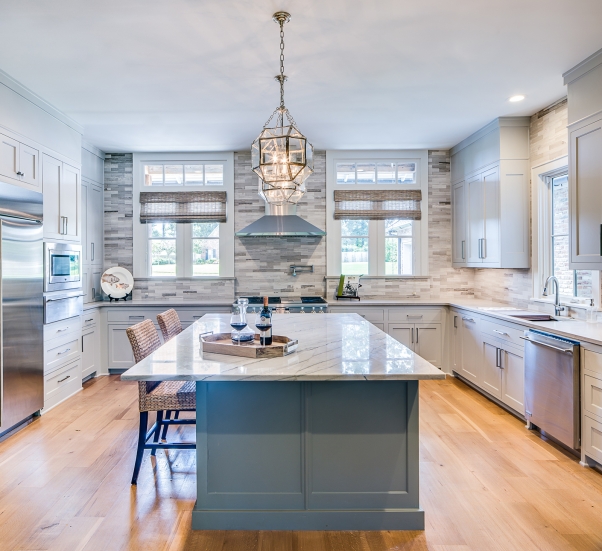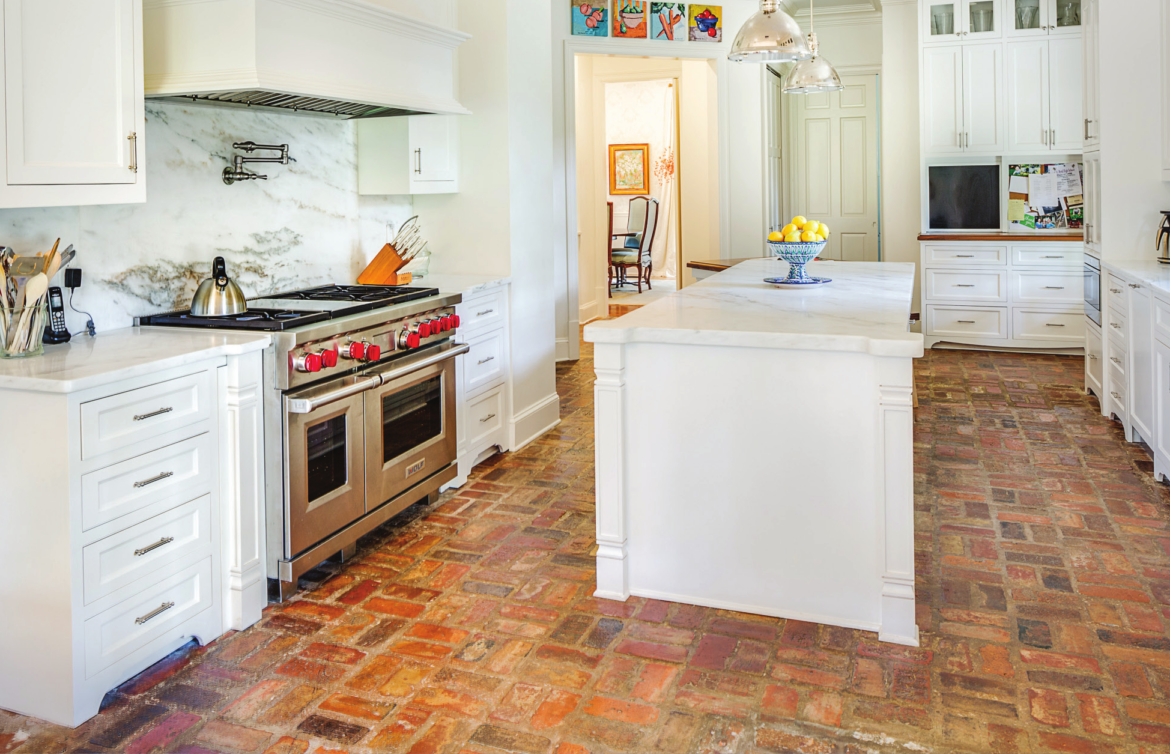 Ideas and inspiration for home design can be found on the Junior League of Shreveport- Bossier's 2016 Kitchen Tour. Eight homes will be featured on the tour and span the city of Shreveport from South Highlands over to Long Lake.
In its third year, the Junior League was urged to begin a kitchen tour by sustaining member Dixey Robertson of the Home Builders Association, and was inspired by kitchen tours held by other leagues in cities such as Atlanta, New Orleans and Baton Rouge.
New and remodeled kitchen spaces will be showcased at the Saturday, Oct. 29, event from 10 a.m. to 4 p.m. Kitchen Tour chairman Meredith Armuth said the League partners with the Home Builders Association to find homeowners who would like to participate. Armuth said it takes the Kitchen Tour committee about a year to the plan such a large event, and planning for the 2017 tour will begin shortly after this year's wraps up.
The Kitchen Tour realized a net profit of more than $20,000 on its first run in 2014. That profit rose to almost $22,400 in 2015.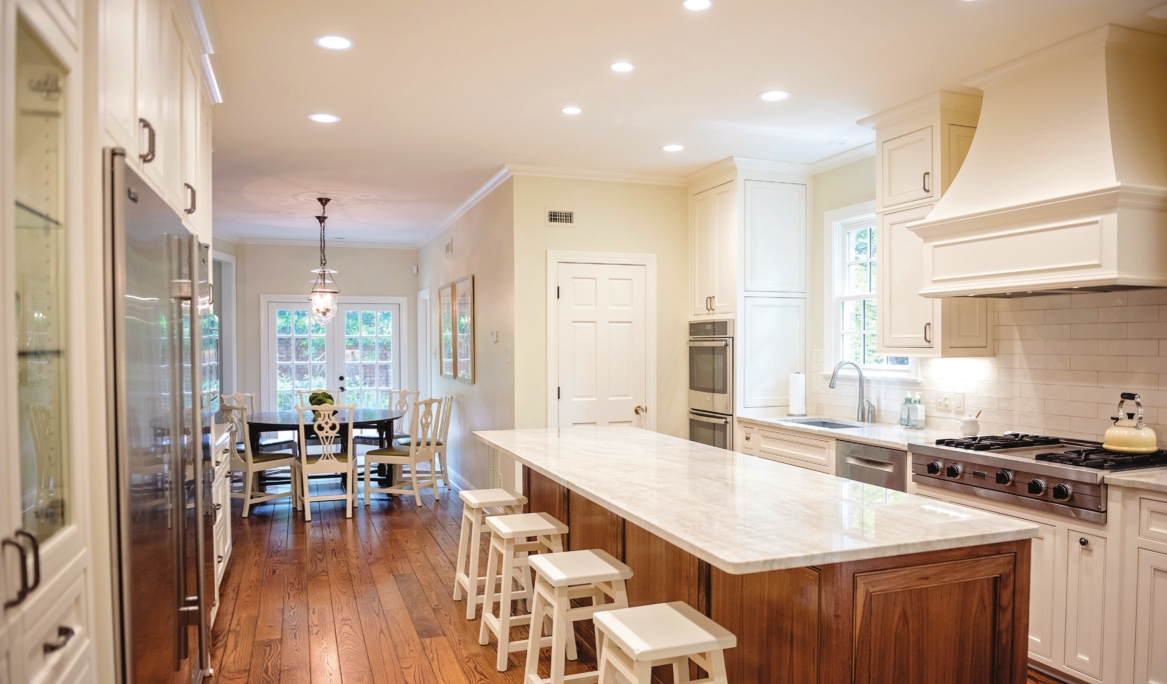 "The Kitchen Tour is one of several fund-raisers we have throughout the year that help fund the Junior League's community projects," said Armuth. "I think in addition to [participants] being proud of their home, they recognize this is a fundraiser for the League, and they want to be supportive of that."
The League's current community projects include Meeting with a Mission at Mooretown Elementary, University Health Bingo, Kids in the Kitchen, Artist for a Day at the Red River Revel, Super Safety Saturday, Safe Sitter, Health Literacy Initiative, Between the Lines, and MAGIC: Mentoring Ambitious Girls to Inspire Change.
The menu for the event also includes brunch, courtesy of The W Group, at Kitchen & Bath Cottage from 9 to 11 a.m. The food will include recipes featured in the League's cookbooks ("Mardi Gras to Mistletoe", "A Cook's Tour" and "Revel"), as well as a variety of brunch foods from local restaurants. There will also be a cooking demonstration by Chef Blake Jackson of Drake Catering.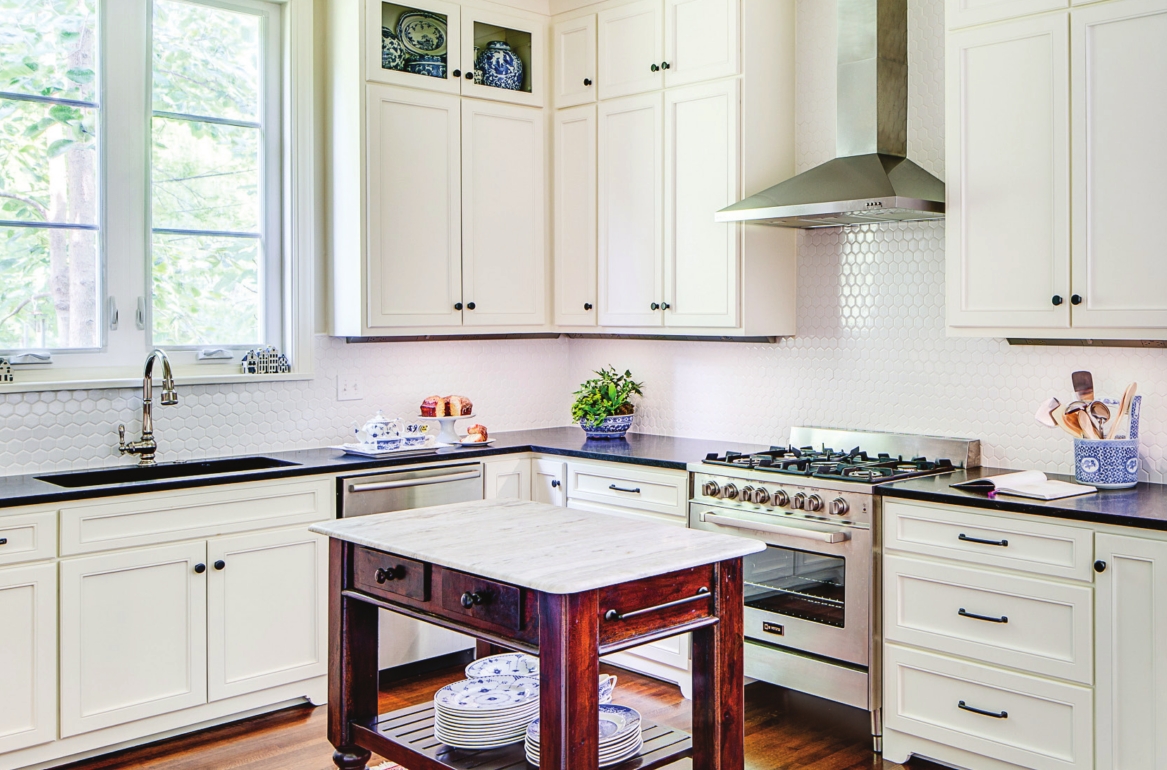 The tour will conclude with a happy hour at Kitchen & Bath Cottage from 4 to 5 p.m., where the raffle and Grand Prize Kitchen Makeover drawings will be held. Ticket holders do not have to be present to win.
Tickets for the self-guided tour, brunch plus tour, VIP, raffle or grand prize drawing are available for presale at www.jlsb.org/kitchen-tour.
They may also be purchased from 8 a.m. to 2 p.m., Mondays through Thursdays, at the Junior League office at 2601 Line Ave., or by calling 221-6144. On the day of the event, tickets may be purchased at each featured home or at Kitchen & Bath Cottage in Pierremont Common. All raffle sales that day must be made at Kitchen & Bath Cottage. Attendees may also enter to win the grand prize – a kitchen makeover by Jackson Construction worth almost $10,000 – after getting their event ticket stamped at all eight homes. Just turn the ticket in at the final home visited or at Kitchen & Bath Cottage.

Jennifer and Wesley Thomas 1126 Waters Edge Drive This new home, built by Wesley Thomas Inc., was featured on the 2016 Home Builders Association of NWLA Parade of Homes. Architect Scott Payne and Alison McKenzie of Medina Interiors helped the homeowners design the spacious kitchen. Texas Wood Mill provided the shaker-style cabinetry, while the quarter-sawn white oak flooring was milled by Graham Smith. The island has a Calacatta quartzite countertop, and the perimeter countertops are Metropolis Grey honed quartz by Sheppard's. Henson's Carpet provided the limestone backsplash. The hardware was provided by Tommy's Specialty Hardware, and the stainless steel appliances are GE Monogram and from Barrett Appliance. The commercial-grade Kohler kitchen sink from the Plumbing Warehouse/LCR has a built-in prep area. The home also has an outdoor kitchen that will be on display.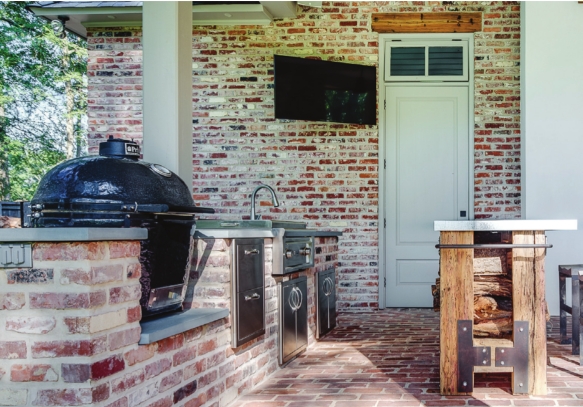 Kelliwood Circle Home 2641 Kelliwood Circle Originally built in 1989, the current homeowners have resided in the home since 2012. They attended the first Kitchen Tour in 2014 to gather kitchen renovation ideas and undertook the task of updating their kitchen themselves the following year. The remodel of the space took about three months to complete with the help of designer Catherine Smith.
New shaker-style cabinetry by Custom-Bilt Cabinet & Supply features hardware from Tommy's Hardware. Sheppard's Countertops installed Sea Pearl quartzite countertops and a beveled subway tile backsplash, while Custom- Bilt provided the mesquite bar. Davis Electric installed Restoration Hardware lanterns above the island. Sub-Zero and KitchenAid appliances came from Morrison Supply.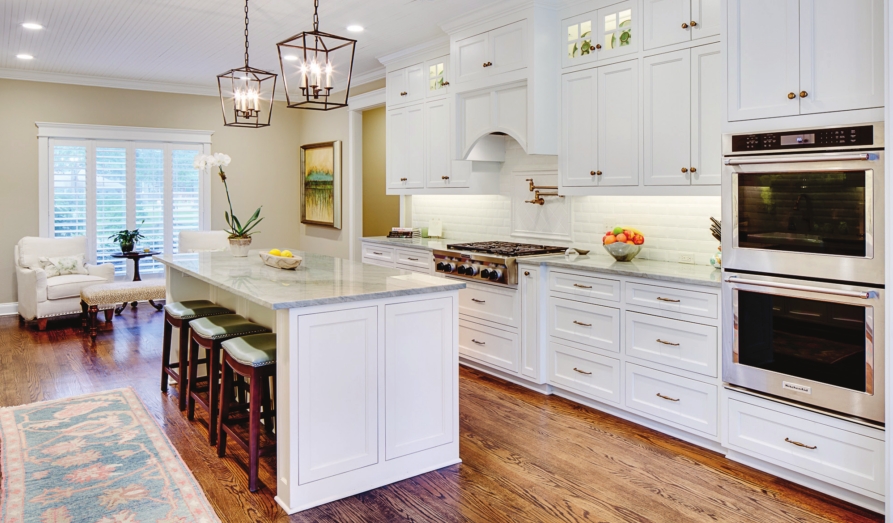 Bart and Lesa McDonald 206 Gladstone Boulevard The McDonalds purchased the home in 2015 and immediately began to make it their own. It took half a year to complete the 70-year- old home's kitchen remodel. They wanted to keep the vintage feel, while updating it for modern living. Ben Vaughan Builders Inc. and Jenny Johnston Interiors helped the homeowners' vision for the space come to life. The homeowners, who lived in Singapore for many years, incorporated furniture and artwork from their travels into the design. Unique features of the room include an antique marble-top island and antique teak coffee shop set.
Custom cabinetry by Dustin Weeks of Designer Cabinets & Millwork, honed Jet Mist granite installed by Natural Stone & Design's Mark Johnson, and a ceramic hexagon mosaic backsplash from United Tile complete the room.
Mike Morgan 9644 Railsback Ridge Drive This newly completed residence was designed by Girouard + Hebert Architects of Lafayette. The firm worked to capture the features of a New Orleans Garden District home. Morgan worked with interior designer Laura Williamson of LHW Designs and builder Patrick Larkin to create a dream come true.
The main kitchen was built as an extension of the living/dining room and boasts a large reserve pantry with floor-toceiling cabinetry and a Sub-Zero wine fridge. Antique wood beams span the kitchen ceiling. Handcrafted white poplar shaker-style cabinetry by Builders Custom Cabinets has soft-close hinges and drawer glides. Classic Stone Interiors installed Calcutta Gray quartz countertops in the prep areas, while the island is topped with handcrafted German alder by Custom-Bilt. The company also installed white oak flooring. United Tile supplied the glass tile backsplash, and the appliances came from Morrison Supply Company. The home's outdoor kitchen will be available for viewing as well.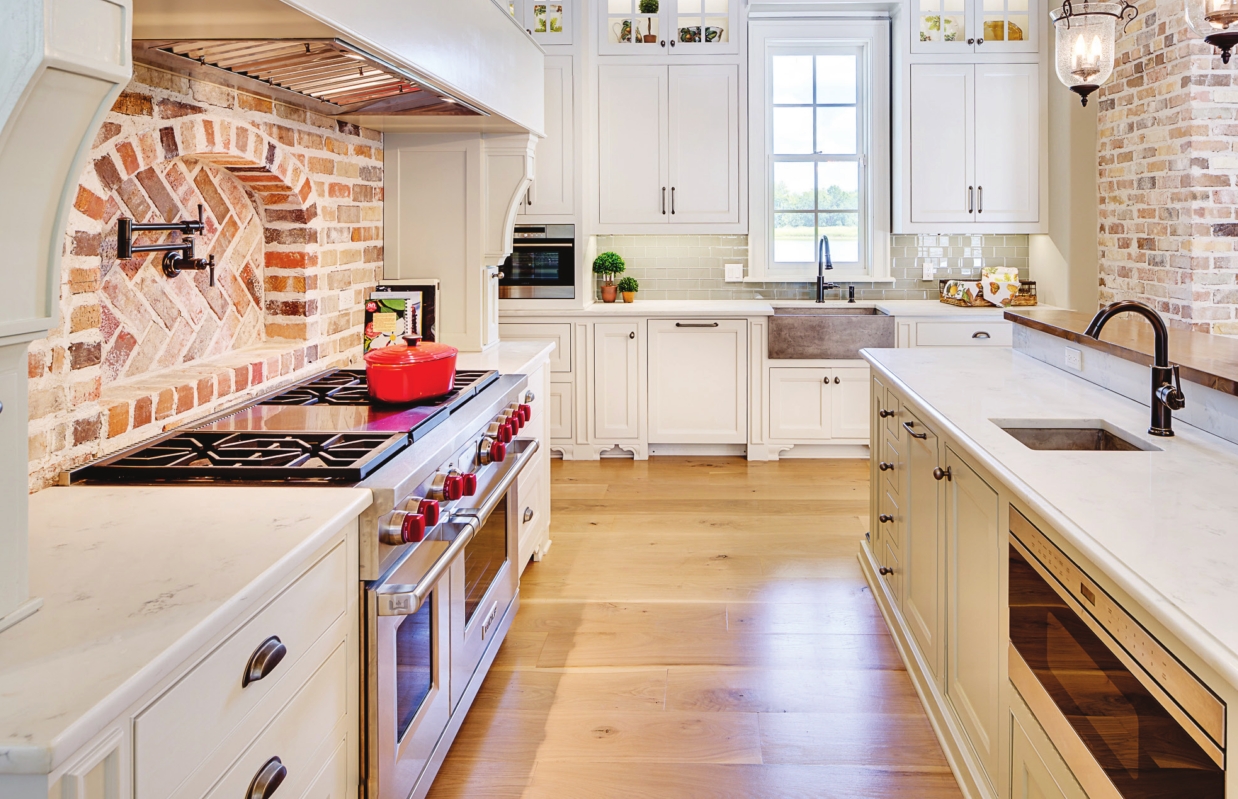 Greg and Grady Morrison 846 Erie Street This South Highlands home was built in the 1940s and purchased by the homeowners in 2007. JEB Design/Build completed the kitchen renovation in nine weeks. WW Wood Products Inc. provided the Landes poplar cabinetry. Classic Stone Interiors installed Dark St. Cecilia granite countertops, while Brian Brumley installed the wood flooring. Rittenhouse square tiles in Arctic White make up the backsplash. Allied Electric put in the Murray Feiss "Preston" pendant lights. Barrett Appliance & Home Products provided many of the appliances.
Sarah and Jerrod Thrash 7211 Gilbert Drive The homeowners spent six months remodeling their home's kitchen after they purchased it in 2014. Ryan Smith Builders and designer Kori Shirley worked with the couple to create a kitchen that is functional and eye-pleasing. Custom-Bilt installed new maple cabinetry. They also crafted a handmade walnut butcher-block bar extension to mix the old and the new in the space. Speaking of old, the original antique salvaged brick floors remain in place. Superior Stone Works put in gleaming Danby Marble countertops; Superior Stone and Kitchen & Bath Cottage supplied the backsplash. House of Carpets illuminated the space and high-end Sub-Zero and Wolf appliances came from Kitchen & Bath Cottage.
Springlake Home 541 Rives Place Ed Jackson with Jackson Construction Inc. and designer Catherine Smith helped the homeowners reimagined kitchen space into a cook's dream. Built in 1973, it took five months to complete the project from start to finish.
Taj Mahal quartzite countertops from Sheppard's sit atop custom stained cabinetry designed by Dupont Custom Cabinets. The backsplash, also from Sheppard's, is a Walker Zanger Café Latte Crackle tile in a brick lay pattern. Carter's Hardwood Flooring supplied the rich hardwood. G&S Electric installed recessed lighting throughout the space, as well as under cabinet lighting to highlight display cabinet areas. Twin sinks rest on either side of the home's original cook top. A built-in coffee bar can be closed off when not in use.
Brad and Meghan Wood 1026 Winterberry Lane Vintage Construction completed the build on this brand new home in the Provenance community. The homeowners enlisted the help of designer Catherine Smith to help showcase the home's beauty. Custom-made cabinets with soft-close doors and drawers, and antique hearts of pine custommilled flooring planks were supplied by Custom-Bilt. Sheppard's installed Mont Blanc quartzite countertops and a Walker Zanger Café Collection subway tile backsplash. Painter Ponciano Hernandez used Benjamin Moore paints from Harrison Paint Co. The cabinets were painted Swiss Coffee and the walls Soft Chamois. Unique touches in this space include the antique pantry door from Belgium and reclaimed wood beams. The commercial grade appliances came from Barrett.
– Melissa Airhart