Locke Properties at the forefront of burgeoning neighborhood
Rolling hills and a large lake, along with contemporary landscaping, are part of a picture perfect new subdivision in Benton named Lost River.
Under development by Locke Properties, the 115-acre residential development saw many visitors and excitement this past summer as the location of the 2016 KTBS 3 St. Jude Dream Home.
"We're developing the whole subdivision, but [Locke Properties] is also building homes in it," said developer and builder Matt Locke.
Locke, who has been a builder for more than three decades, says the choice to build a new subdivision in Benton was based on the town's strong growth. He says the area is very desirable with good schools – Benton High School and Middle School, as well as Legacy Elementary. The surrounding area also has a new shopping center, and Willis-Knighton Health System will be constructing a new facility on the former Palmetto Country Club location. "You have to do your homework. I brought in a marketing company out of California and they studied the Shreveport/Bossier area, and once we found the property, they … gave me what they would recommend as far as what housing style and lots would need to go in," he said. "There's just a lot of growth in that area, and I feel like it's going to be the future in the Bossier Parish area."
Plans for Lost River include approximately 130 patio homes that Locke Homes and the development's three other exclusive builders – Rick Avery of Avery Homes, Ben Lennard of Lennard Construction and Remodeling, and Philip Rodgers of Rodgers Home & Construction – will construct. (Rodgers Home & Construction has been the KTBS 3 St. Jude Dream Home builder for years.)
Patio home perks include a homeowner's association that will take care of maintenance on the homes – everything except the windows and roofs. The front yards and flowerbeds will also be maintained. A private fenced-in backyard will be the homeowner's responsibility.
In addition to the patio homes, larger single-family traditional detached homes will be located on the south end of the property. Those lots may be sold to buyers who can then bring in their builder of choice to construct their home. These homeowners will be responsible for their own yards and home exteriors.
Houses built by Locke Homes include popular features such as farmhouse sinks, freestanding sunken tubs in the master bath, separate walk-in showers, and outdoor kitchens with sinks and granite countertops. A Big Green Egg grill will usually be set into the granite. "Another thing we've done with all of our light fixtures throughout the homes, is we've gone totally LED with all bulbs and fixtures … for energy efficiency," Matt said.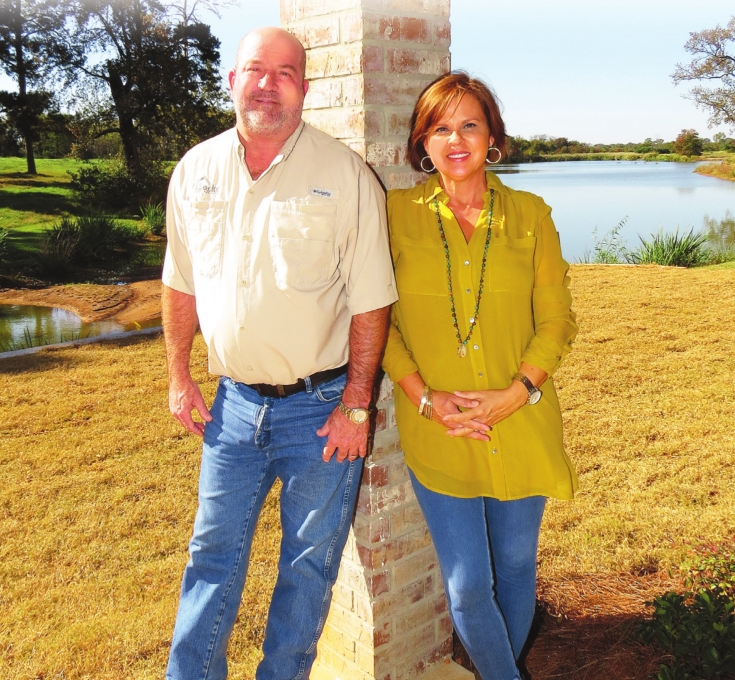 Each home also receives custom storage solutions from Closets in Order, a company owned by Matt's wife, Deneé Locke.
"We've been building patio homes for 30 plus years, so we know how to get the most out of space. We take those storage areas and try to max them out to keep those areas flowing well," Deneé said.
A purchase of a house built by Locke Homes also includes time with a decorator. Myron Griffing, owner of Space: interiors, will be available to help buyers make selections for their new home. "You have a decorator going with you to pick out the light fixtures, and the paint colors, and the granite to make sure there's a nice flow," Deneé said. "That is definitely a premier service, I believe."
Lost River is the Lockes' first development in Bossier Parish. They are excited to be part of the growth in Benton and north Bossier. "We have a great relationship with the town of Benton. They are very helpful to business, as far as overcoming obstacles. They've got a real can-do attitude," Matt said.
According to Matt, the homes in Lost River will range from 1,800 to 2,800 square feet and be priced starting from the $285,000 to $290,000 range up to the $380,000s. Available homes can be viewed at open houses held from 1 to 5 p.m on Saturday and Sunday afternoons.
Matt and Deneé say Locke Homes excels in making the home buying and building process as painless as possible. Their years of experience have made them efficient and a home typically
takes three to four months to complete, depending on weather. "We want it to be an exciting time. Buying a home for probably 80 to 90 percent of people is the largest investment they'll make in their lifetimes," he said. "We want it to be a fun and enjoyable experience."
Locke Properties also developed the Shreveport neighborhoods of Spring Lake, Town South Estates, Cobblestone, Pepper Tree, Village Green, River Oaks, Apple Tree, King's Crossing and The Haven. Those communities total over 3,500 homes.
– Melissa Airhart