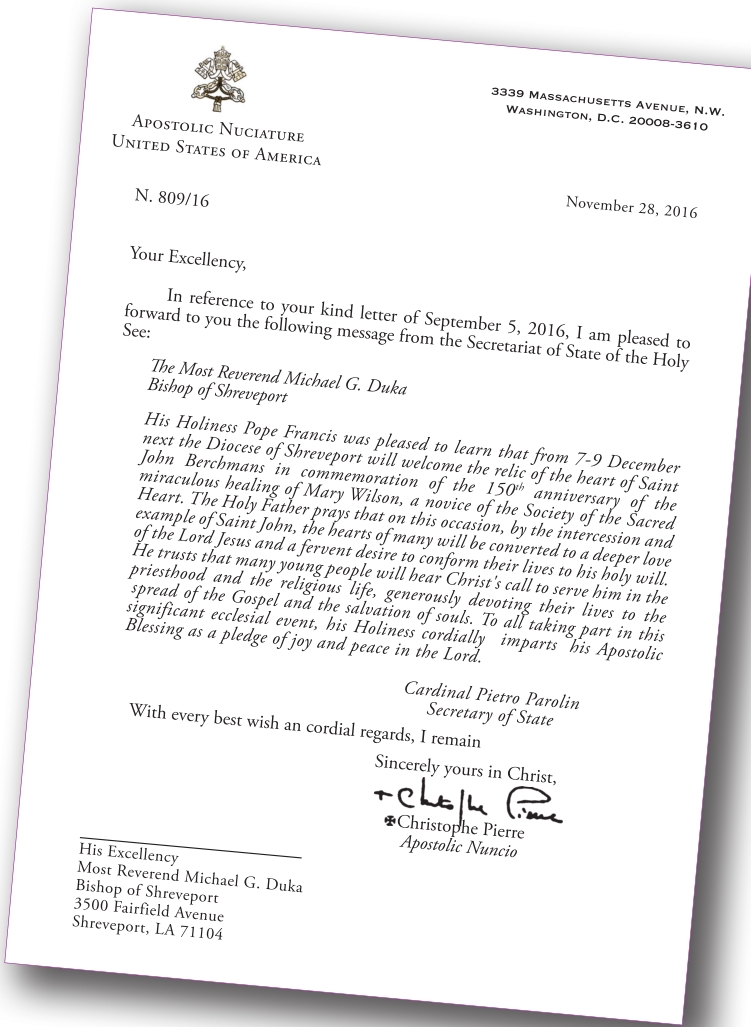 The Cathedral of St. John Berchmans brings the heart of a saint to Shreveport
The Cathedral of St. John Berchmans is looking to the 150th anniversary of the Miracle at Grand Coteau as an opportunity for the people in our community to reconnect to their faith by bringing the heart of a saint to Shreveport. On Dec. 7, the holy heart of St. John Berchmans will make its journey from Belgium to the Cathedral. In the 12 days that follow, pilgrims will come from all over the world to commemorate the events with liturgies, guest speakers and an exhibit of relics and memorabilia.
The Cathedral of St. John Berchmans is the only cathedral in the world that has St. John Berchmans as a patron. The Very Rev. Peter Mangum, rector of the cathedral, had the idea over a year ago to bring the actual mummified heart of St. John Berchmans, an elaborately encased relic that has been enshrined in Belgium for the past 395 years, to the cathedral here in Shreveport. When Father Mangum first approached the priests in Belgium about borrowing the relic, they laughed at him. "It took me a year and a half for them to say yes," he said. "We've commissioned a special suitcase to be made so that it will be placed into it and be protected for the journey. Obviously, a priest from Belgium will be carrying the heart through customs until it finally arrives here."
His Eminence Edwin F. Cardinal O'Brien will be attending the festivities as a representative from the Vatican in Rome. "The Vatican is very much aware of what we are doing here," Mangum said.
People who come to venerate the heart will stand mere inches away from the vital organ of a saint's body, a saint who has influenced even more people in the afterlife than he did when he was living. "People aren't just coming to look at the heart," Mangum said. "Relics are a window beyond, not this four-chambered organ that is pumping blood through the body, but in terms of the heart that is the seat of the soul of our personal encounter with God. The heart is mentioned a thousand times in sacred scripture as the place from which we pray."
St. John Berchmans (1599-1621) was the son of a shoemaker from Diest in modern-day Belgium. He has been described as "angelic" and was muchloved by the people of Belgium who loved to watch him serve in mass. "He dedicated so much of his life through his own devotion to Mary," Mangum said. "He constantly prayed for her intercession. He lived such a very good and holy life, all the way from his childhood until his early death at the age of 22. In fact, we can all think in terms of him in the same terms as we think of Mother Teresa. Everyone knew her to be a walking, living saint. Well, everyone knew St. John Berchmans to be a walking, living saint. For many people he, in turn, helped them to want to live good and holy lives. He wanted to become a Jesuit priest, but he died too soon."
When St. John Berchmans died of Roman Fever, there was a post-mortem examination where his heart was removed and mummified. "Back then, in 1621, you couldn't just transport the body over the Alps to be buried," Mangum said, "so they buried him there in Rome, where he died. A Flemish priest wanted to take his heart back to the people of Belgium because they were distraught that their young saint had died."
St. John Berchmans' death in the 17th century coincided with another movement, the beginning of the Sacred Heart Devotion. "So again, we have that connection of the heart, the understanding of the heart as that place of encounter with God," Mangum said. "The sisters of Grand Coteau, La., where the miracle took place … they are the Sisters of the Sacred Heart of Jesus."
"The Miracle of Grand Coteau took place 150 years ago at the Convent of the Sacred Heart," Mangum said. "Here was Mary Wilson, a young woman who wanted to become a sister, and it appeared she was also about to die too young."
St. John had been beatified, one step before canonization, in 1865. "All of these sisters wanted to pray to the intercession of this newly beatified St. John Berchmans, asking for his intercession to help her be cured," Mangum said. "Of course, it was not by the power of St. John Berchmans that she was cured but through his intercession on the ninth day of the Novena, when she was in what they thought was her death bed. She hadn't eaten in weeks or even been able to take water. Her tongue was swollen. The doctors of Opelousas said she was at the point of death."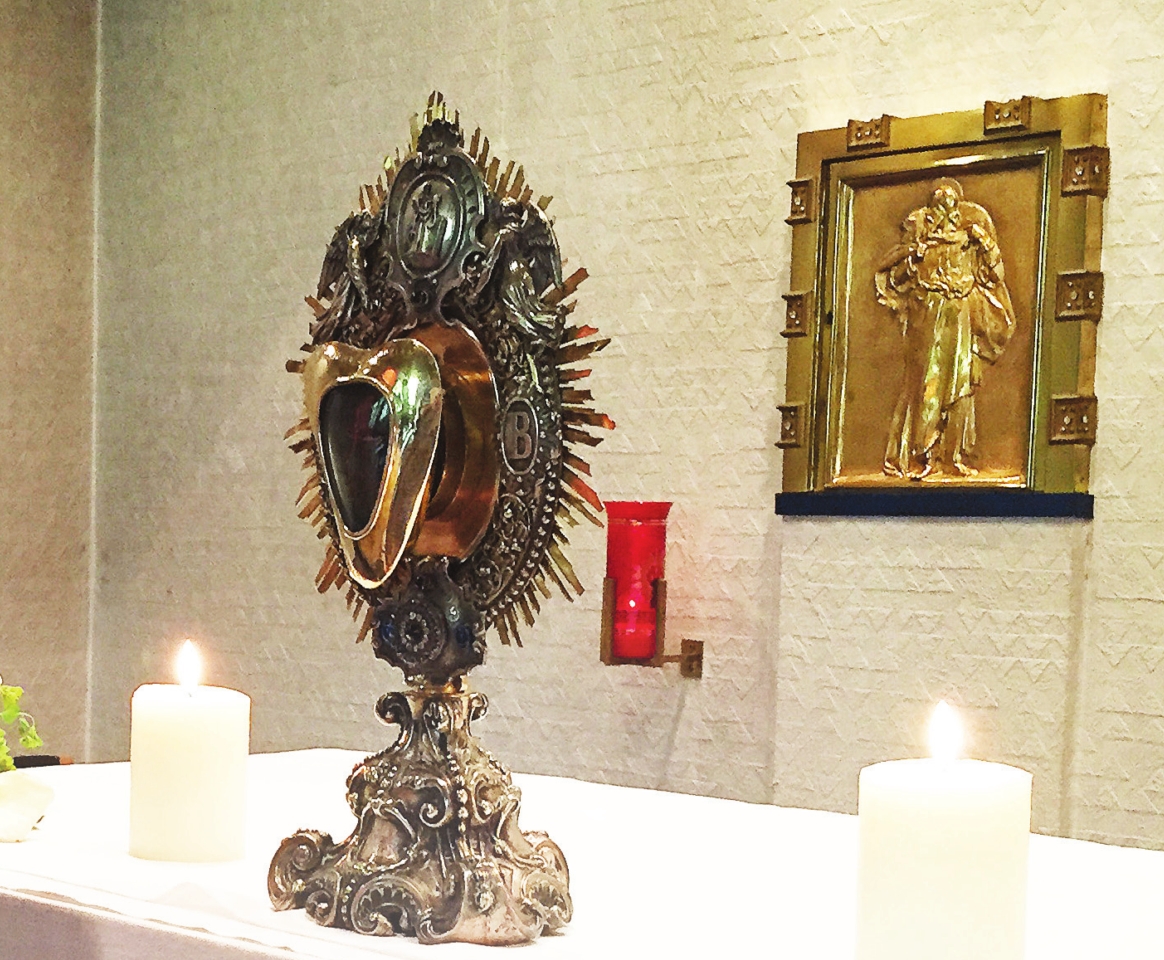 On that ninth day, the sisters left the chapel to return to Wilson in the infirmary presuming that she would be dead when they returned. "Quite the contrary," Mangum said. "She had had a vision, quite literally an apparition which the Vatican has approved as the only apparition to have happened in the United States of America. And it happened here with St. John Berchmans, where he touched her mouth. She was quite literally completely, spontaneously cured."
Not only was Mary Wilson cured, but after having been bed-ridden for weeks, she was able to get up out of bed. "She was hungry," Mangum said. "She saw the mother superior and wanted to get back to her regular duties. She gave a complete description of what took place that day. The apparition, the miracle, all of it is archived now in the Archdiocese of New Orleans."
"People then had a purity of heart," Mangum said. "They were concerned about others and a world to come in a way that we need to be, but it's so difficult when we're concerned with things and technology. The earliest of Protestants, Henry VIII and Martin Luther, believed in miracles. One thing led to another, to now, where many people just no longer have an understanding of it."
"Heaven still cares about what's taking place here on earth," Father Mangum said. "God is not the divine watch maker who made the watch and now He doesn't care. He intimately cares, and there are times when there's a break-through and there are miracles. Apparitions happen in the sense that there is some divine message that is not just heard or experienced by means of the healing, but seen as well."
Historical items from Grand Coteau will be on exhibit at St. John Berchman's Parish Hall, along with another 167 relics and artifacts. "We will also have the Missal, the big book that Pope Leo XIII (1810-1903) used for the canonization ceremony, Mangum said. "I will actually use it at one of the Latin masses. All of this will be a way of which we hopefully will once again come to know about the life and the miracles of St. John Berchmans."
"Everyone is welcome," Mangum said. "There are non-Catholics who come here for mass. They're searching, trying to figure things out. We always let people know that theology is faith seeking understanding, but for so many people in the world today, it's understanding seeking faith. There's a moment when there's a leap of faith. We're in a church with beautiful stainedglass windows. When you stand outside and look at a stained-glass window, you don't know what these images are. But when you're inside the church, that's when the beauty comes out. You're outside the church, you don't really quite get it, but when you step into it, all of a sudden, YES! Now you start to understand it."
The heart of St. John Berchmans will arrive at the Cathedral of St. John Berchmans on Dec. 8 with four masses to be held on that day. It will remain at the Cathedral until Dec. 14, when it will be taken in procession to the Shrine of St. John's in Grand Coteau for the actual anniversary of The Miracle. Afterwards, it will be returned to St. John's and remain for viewing until Dec. 18.
For more information, such as a calendar of events and list of speakers, or to schedule a group viewing, visit www. sjbdevotion.org or call 221-5296.
– Susan Reeks