Stroud, Carmouche & Buckle Open New Law Firm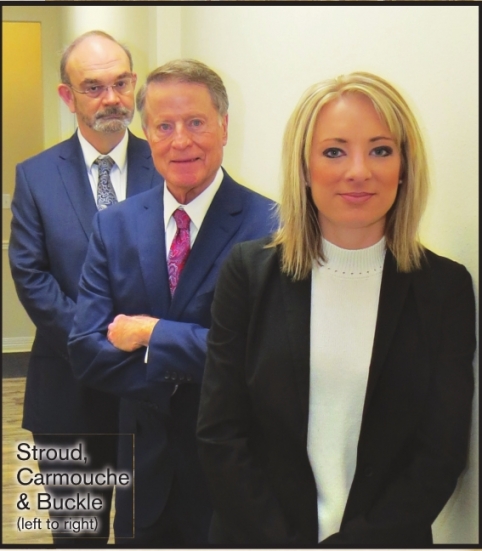 Stroud, Carmouche & Buckle, PLLC opened their doors Jan. 1, but for two of the partners the firm has brought them full circle after almost thirty years.
Paul J. Carmouche, a former district attorney for Caddo Parish, was born in 1943 in Napoleonville. He received a B.A. from Nicholls State and earned his J.D. from Loyola University in New Orleans in 1969. Upon graduation from law school, he practiced with a small law firm for four years handling civil and criminal cases. From 1974 to 1977, he was an assistant district attorney for Caddo Parish and was responsible for prosecuting serious felony cases. He left the district attorney's office in 1977 to work as chief counsel for the Caddo Indigent Defender's Office, but returned in 1978 when he was elected as the District Attorney for Caddo Parish. He was elected four more times before retiring in 2008 after serving Caddo Parish for 30 years. Defense attorneys applauded Carmouche as being a district attorney more concerned with justice than convictions.
Carmouche tried hundreds of serious criminal cases in Louisiana state district courts. "I cannot think of any kind of case that I have not handled, from first degree murder charges to traffic offenses," he says. Carmouche has also served on numerous governor's commissions, including the Louisiana Commission on Law Enforcement and the State Sentencing Guidelines Commission. He has lectured on trial tactics and rules of evidence at legal seminars, and he was elected president of the Louisiana District Attorney's Association in 1984.
A.M. "Marty" Stroud, III, was raised in Shreveport. He graduated magna cum laude from St. Louis University in 1973 and graduated with honors from Louisiana State University School of Law in 1976, where he was also a member of the Order of the Coif. After law school, he served as a law clerk to the Honorable Tom Stagg in the Western District of Louisiana.
Stroud worked as an Assistant U.S. Attorney in the Western District of Louisiana following his clerkship, and was hired by Carmouche as First Assistant District Attorney in 1983. Stroud remained First Assistant for six years before entering private practice to work on both criminal and civil cases. Stroud served as President of the Shreveport Bar Association in 2007 and earned the Shreveport Bar Association's Professionalism Award in 2012.
Nichole M. Buckle ("Nikki") graduated summa cum laude from LSU-Shreveport with a B.A. in journalism and then graduated cum laude from Baylor University School of Law in 2008 at the age of 23. After graduation Buckle clerked for the Honorable Donald E. Walter, the Honorable S. Maurice Hicks, Jr., and the Honorable Elizabeth E. Foote in the Western District of Louisiana, where she worked on civil and criminal trials and also assisted with appellate work. She is an active member of the Shreveport Bar Association, Krewe of Justinian, and Inn of Court.
After retiring from the District Attorney's Office, Carmouche opened a small solo firm in order to practice criminal defense in city, state and federal courts and also to assist clients with personal injury claims.
Stroud and Buckle began working together at the beginning of 2013; Stroud, who has been described by peers as a "master" in litigation, had a heavy caseload and he hired Buckle who had developed a reputation for her writing skills.
It wasn't long before the three found themselves working on the same side of a case, and were able to achieve great results for their respective clients. The three decided to join efforts, bringing Carmouche and Stroud back together after almost thirty years.
Stroud and Carmouche focus primarily on criminal defense and personal injury cases. Having both worked as prosecutors and as defense attorneys, the two understand the intricacies of the criminal justice system. They understand the importance of upholding the laws, but also understand that justice must be tempered with mercy. As Carmouche explains, "the system depends on good and fair prosecutors and good and competent defense attorneys."
Buckle practices criminal defense and personal injury, but also represents individuals, municipalities, and businesses with their civil litigation needs.
Although Stroud and Carmouche have had long, successful, and reputable careers, neither have any desire to stop practicing. Carmouche says he still enjoys the practice of law, and Stroud concurs: "The practice of law is an honorable profession. I enjoy helping people who are in trouble, to help them get their lives back together and on the right path." They say Buckle adds to their practice by providing youth and enthusiasm, and a new perception and evaluation for their clients.
What Stroud, Carmouche & Buckle strive to achieve is a personal connection with each client.
"We take a hands-on approach to our clients. We spend time with them," says Carmouche. Buckle adds, "The legal system does not discriminate. All persons, regardless of race, religion, gender, profession, or financial status, have been, or have a family member or friend that has been, arrested, in a car accident, divorced, accused of misconduct, in a contractual dispute, etc." Stroud says "everyone needs effective representation, and we hope to provide that."
318-629-0014 7330 Fern Avenue, Suite 903, Shreveport, LA 71105