Hey, Mister, Throw Me Something Good!
Marilynn's Place to host sixth annual Mardi Gras party
A day-long celebration held during the Krewe of Highland Parade will feature live music, food and drink specials, VIP party packages and more.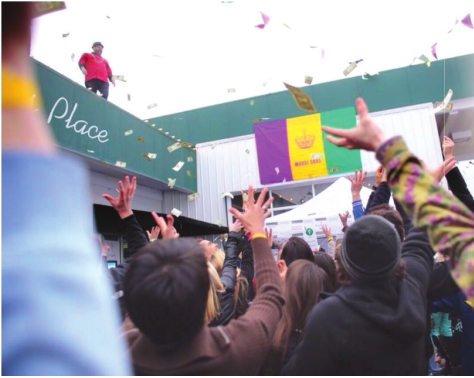 Marilynn's Place, a New Orleans-style eatery located in the South Highlands neighborhood of Shreveport, will host the Sixth Annual Marilynn's Place Mardi Gras Party during the the Krewe of Highland Parade, 10 a.m.- 8 p.m., Sunday, Feb. 26. The party will include live music from Dirtfoot, DJ Pablo Z and others, as well as food and drink specials including crawfish, jambalaya, beignets, red beans and rice, and more. There will be clowns, face painting and balloons for kids to enjoy as well as local beer, mixed drinks and more for adults. General admission to the party is free, but food and drinks must be purchased. A limited number of VIP admission passes including VIP seating accommodations, free food, open bar and more may be purchased by contacting the restaurant at 868-3004.
Marilynn's Place is located at 4041 Fern Ave. in Shreveport, just one block from where the Krewe of Highland Parade will begin at the intersection of Gilbert Drive and Gregg Avenue. The party will begin at 10 a.m. as the enormous Krewe of Highland Parade stages in the neighborhood surrounding the restaurant and will continue during and after the parade, with live music set to begin as the parade is winding down. The Krewe of Highland Parade will begin at 2 p.m. and will travel a circular route through the historic Highland neighborhood, with the parade beginning and ending just steps from Marilynn's Place.
Now in its 22nd year, the annual Krewe of Highland Parade is a funky, unpredictable neighborhood parade that is typically made up of a combination of huge, colorful floats and quirky, homemade mini-floats as well as numerous marching groups and bands. The parade route is three miles in length, and more than 200 units are expected to be included in the 2017 parade. Among other things, the parade is known for its unusual "throws" – the items tossed by float riders and members of marching krewes – which have historically included grilled hot dogs, packaged ramen noodles and original works of art.
MORE INFORMATION:
For more information on Marilynn's Place, visit www. Marilynns-Place.com or search for the restaurant on Facebook. For more information on Mardi Gras celebrations in Shreveport- Bossier or to plan your trip, visit www.Shreveport-Bossier.org/ mardigras or call 800-551-8682.