ENTREPRENEURIAL ECOSYSTEM THRIVING IN NORTH LOUISIANA
Angel investors to help further advance medical technology
Entrepreneurial Accelerator Program participant, RNvention, was one of five companies selected to pitch at the New Orleans Entrepreneur Week Get Started competition this week. Wayne Nix of RNvention will compete against four other start-ups for more than $10,000 in prizes, along with face-to-face meetings with potential investors.
RNvention is a biomedical device start-up based in Shreveport and was cofounded by Wayne Nix and his wife Dawn. RNvention is a past finalist of the Louisiana Startup Prize competition, where the Nixes met the Entrepreneurial Accelerator Program team and ultimately become one of 27 Entrepreneurial Accelerator Program portfolio companies in their goal to become investment ready.
The Entrepreneurial Accelerator Program (EAP) is a public/private partnership between BRF (Building our Region's Future), the Caddo Parish Commission and the City of Shreveport to diversify the regional economy, create jobs and expand the area's tax base by providing services to innovative startups with growth potential. EAP offers a blend of services to analyze the viability of ideas and products and match them with investors. EAP then nurtures them through the critical steps toward market. The group works with portfolio companies and investment groups like the North Louisiana Angel Fund (NLAF1).
"EAP provided services we needed to help get us investment-ready," Dawn said, "and to the level of pitching in front of a sophisticated group of accredited angel investors."
The company's first product is MultiNix, a device designed to assist in bedside patient care. "It's a utility tool that combines several tools into one," Wayne said. "It also introduces new tools nurses often find themselves needing. We hope to put the tool into the hands of every nurse in America and now we have a well thought out plan and sophisticated go-tomarket strategy to do it."
Wayne was in the Louisiana Army National Guard and has four degrees in addition to his experience on a medical transport team. When asked if there was an "ah-ha" idea moment, he replied, "It was more of a jingling moment. I kept noticing that my pockets were singing when I was walking. On a transport team, you are supposed to take with you everything that you need. Then, one day when I was getting on a helicopter to transport an infant, everything fell out. Here I was scrambling in a tight Bolkow helicopter, a really tight space, because I needed to turn on an oxygen tank. I thought to myself, with all the advances in health-care, how come I feel so ill-equipped?" Health-care is about saving time and saving lives," Wayne said. "A nurse goes into a room and while there, needs to unscrew a bottle, then realizes he or she can't. The nurse would have to leave the bedside to go and find a tool or interrupt someone else's workflow. Something that could take seconds has now taken minutes and has a ripple effect on the others that are awaiting care."
Wayne has a vision for health care that doesn't just involve better equipment, but a better philosophy of communication between various limbs. "Nurses are around to make things better," he said. "I want to build things better. With the downturn in the oil industry, I'm scratching my head wondering why there are little to no medical devices being built. We have some of the smartest engineers and Louisiana has some of the most giving and caring people. I'd like to start a revolution of sorts. The dream is to be the one who can connect the dots for all the stakeholders in health-care – meaning the patients, care clinicians, engineers, lab, manufacturers and payment providers. In the end, the goal is to improve overall health-care."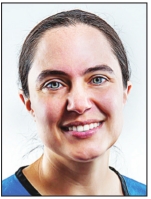 "Without the Angel Fund and BRF, we wouldn't be as far along as we are now," Wayne said. "One of the greatest things about this type of assistance is that it is not just about the money. We're on a journey. And to get to any great destination, you have to have the support and guidance of people and maps. Having a team that can tell you about potential obstacles, how to stay away from rough waters, and how to navigate if you are in those waters... that's essential to growth."
Wayne said things are moving along rapidly. "We are converting our 3-D printed files to engineering for mass production," he said. "In doing so, we will have to alter some angles but my goal is to make sure we are staying within the feedback from the frontline clinicians, which is to make it as light but strong as possible – and of course, to keep the slim and nonthreatening design. As for funding, we are seeking accredited investors interested in helping us close out our debt-to-equity round. We are over the halfway point, so we are close."
"The challenge is not having someone that is constantly assisting in growing the team," Wayne said. "I'm full-time committed to the company and getting the first product to market. The other challenge is making sure there is enough green to support the dream. It's a global economy and very difficult to compete with oversees manufacturing. Even so, we have a low overhead and believe I can maintain enough margin to manufacture here in the U.S."
Both Nixes said that the Shreveport start-up scene is a little friendlier than some of the other major markets. "We've found such an entrepreneurial ecosystem in Shreveport /Dreamport," Dawn said.
"There's opportunity in Shreveport with the big medical centers there," Wayne added, "especially for what we do. In Shreveport, there is more of a summer camp atmosphere and everyone wants to win together. It's not as competitive as other markets."
Wayne shared some advice for other would-be entrepreneurs. "A lot of people have an idea," he said. "First of all, clearly articulate what the actual problem is. Everything ties back to money. Is it worth solving the problem? Then, if you have an idea, don't go public. You have to patent it first. Talk about the problem, not the solution. Verify the problem. The flip side is: you still need to talk to people. If you're in health-care, shoot the idea to Human Resources first. Show how it relates to that one thing. You need to tell the whole story."
As for Wayne, the biggest surprise on his journey has been that he could actually make this happen so quickly. "I just keep beating myself up," he said. "I should have done this earlier. I finally decided to take what I want and make it happen."
Dawn doesn't seem surprised by that at all. "I think your personal experience from the start to where you are now is incredible," she said smiling. "From talking with people in common areas of your hospital to delivering a sophisticated pitch presentation to about fifty angel investors ... Ever stop to think about that?" – Susan Reeks
More Information:
For more information, visit RNvention. com. RNvention is also on Facebook and Twitter. You can find out more about Entrepreneurial Accelerator Program at www.eapla.com and www.brfla.org.