Le Tour des Jardins
The Northwest Louisiana Master Gardeners present their annual fundraiser, "Le Tour des Jardins." This year's spring garden tour will take guests through seven beautiful gardens throughout Shreveport. Tour hours will be 10 a.m. to 5 p.m. on May 6, and 1-5 p.m. on May 7.
The Master Gardeners is a non-profit organization serving the community since 1998. They are a division of the LSU AgCenter and strive to educate the public about gardening and engage the community in horticultural pursuits.
In 2010 the Master Gardeners, after several successful tours, decided to pull together a community grant program with the excess money that was accumulated. This year alone, they've awarded grants totaling over $17,000. One grant recipient, the Martin Luther King Center Garden, is one of seven gardens featured on the tour.
Among those gardens:

1. Pioneer Heritage Center Garden, One University Place, Shreveport, LA 71115 (LSUS Campus).
Vendors with plant sales, garden art and paintings and antique buildings from nearby plantations.
The gardens contain an herb garden, a medicinal garden by the doctor's office and native trees, plants and flowers that grow well in our Louisiana climate.
2. MLK Health Center Garden, 865 Olive Street, Shreveport, LA 71101 (Highland).
The sunrise gate is hand-painted by Holy Angels artists and opens to a patio with a covered pergola and seating for clinic patients and neighborhood visitors to enjoy. Jennifer Donner has overseen the installation of a garden with raised beds, where she grows vegetables to share with the clients. Peppers, lettuce, cabbages, collard greens, kale, tomatoes, "Chinese Yard-Long" beans and okra abound. The herb garden is backed by a happy fence painted with clouds by Holy Angels artists. There is a small greenhouse and an ancient Bois d'Arc tree that produces horse apples. The perennial beds include periwinkle, blueberries, Angel's Trumpet and Oleander.
3. Charles & Nita Acklen Garden, 2611 Fairfield Avenue, Shreveport, LA 71104 (Highland).
The Acklen garden is located in historic Shreveport at the corner of Fairfield Avenue and Robinson Place and was built in 1910 by Dr. Charles Robinson. There are stained glass windows designed by Tiffany & Co., a pond with a waterfall and goldfish, large old-growth azaleas and Nita's daylily collection. A large Mexican palm stands over the pond filled with water lilies. The raised-bed rose garden with statuary is attended by Charles, who has lived here and worked in the garden for 20 years. In the back garden and along the borders, you will see bridal wreath, perennial hibiscus, huge native lantana plants, Turk's cap, birdhouses, patios, an outdoor kitchen and a bright red garden shed.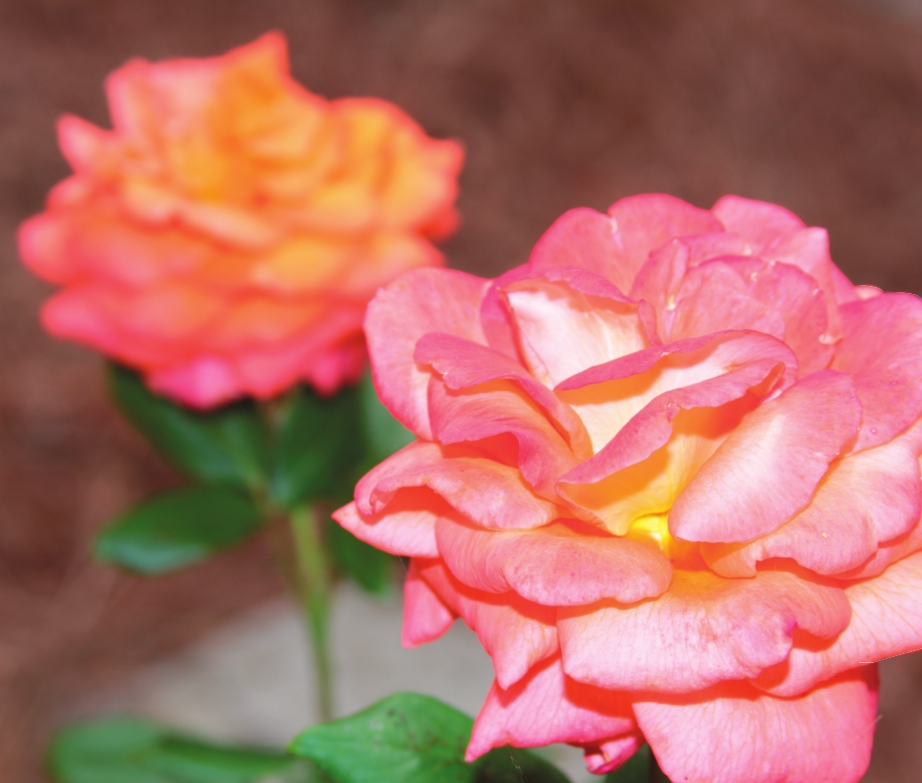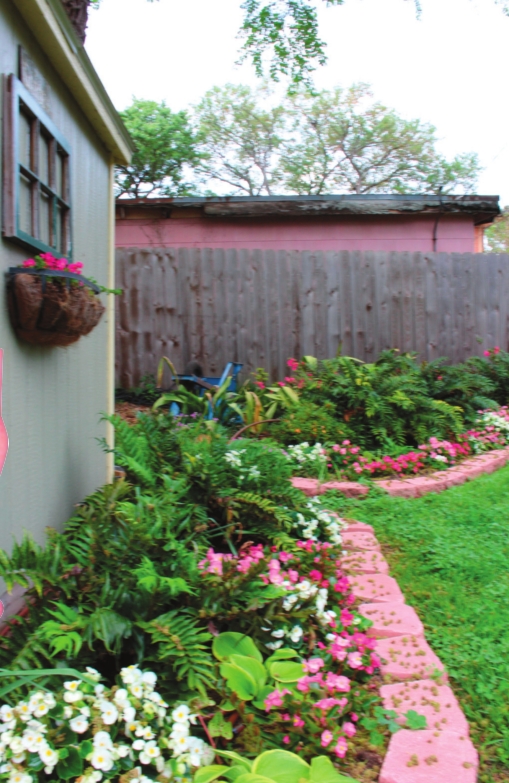 4. Jeff Knighton Garden, 537 Dunmoreland Drive, Shreveport, LA 71106 (Spring Lake). Jeff has transformed a former rose garden into a Spring Lake oasis in the two years he has lived here. Enter from the driveway past two huge aluminum water troughs filled with elephant ears and brightly colored trailing annuals such as Marguerite sweet potato vine and vinca. Through the gate is a beautiful pool surrounded by a city garden. There are water features, an arbor and new plants along the exit path.
5. Jimmy & Maxine Isgitt Garden, 10003 Trafford Way, Shreveport, LA 71118 (Chase Crossing). Starting at the front door with a bed of blue phlox, agapanthus and Mexican petunias in lavender, white, pink and purple, a gardener who knows about heat in the South lives here. Through the gate is a shaded bed of clivia, begonias and bananas with a birdbath and a garden storage shed. Wandering around are three hens, four banty roosters and a puppy. In sunnier pathways are coral bean, roses, white gardenias, a large white althea, purple clematis, white ginger lily, geraniums and a potting shed with a porch covered in potted bromeliads.
6. Karen & Les Picard Garden, 2104 Woodsong Lane, Shreveport, LA 71106 (Provenance).
The front yard's curving beds filled with colors of globe amaranth, pansies, dwarf Spiraea, loropetalum, "Wintergreen" boxwood, Cleyera japonica, Sweet Olive, Japanese yew and Lily of the Nile welcome you to the Picard garden by garden professionals Hoogland's Landscape, LLC, designer Mike Hoogland. Two redblooming Bottlebrush trees flank each side of the heavy wooden entry gate. Inside is a gorgeous brick-walled pool with three waterfalls surrounded by Teddy Bear magnolia, "Wheeler's Dwarf" pittosporum, flax lily, pink "Encore" azaleas, "Pink Ruffle" azaleas, Windmill palms and abelia. The covered outdoor kitchen anchors the family area.
7. Dr. Joe & Barbara White Garden, 509 Sleepy Hollow Road, Shreveport, LA 71115 (Ellerbe Road).
Dr. Barzana White Garden, 511 Sleepy Hollow Road, Shreveport, LA 71115 (Ellerbe Road).
Dr. Joe & Barbara White's garden at 509 has been a test garden for citrus, muscadine vines, camellias and roses over 40 years. Joe has a "Ponderosa" lemon that looks like grapefruit and tastes like lemon. He has "Meyer" lemons, "Bloom sweet" grapefruit, "Chang Shaw" tangerine, pomegranate and Japanese persimmons in his garden. "Poncan" satsumas are grown on a lovely pergola next to the patio, and four varieties of muscadine vines are grown on grapevine trellises in the southwest corner of the garden.
Dr. Barzanna White lives next door at 511 and has a pretty front yard with pink perennial hibiscus, yaupon, a birdbath and a wildlife-friendly habitat on the east side of her house at the front driveway with plantings with berries preferred by birds, rabbits and other small wild animals. There are two bronze statues in her garden, water features, a lovely patio with umbrellas and pots of annuals, a brick fire pit, a pergola with a swing and "fairy boxes" built by her father that she has filled with tiny fairies, figurines, mushrooms, gnomes and miniature plant scenes placed along the fence behind the swing which are fun to see.