One hundred thousand pounds of crawfish. Five hundred kegs of beer. Endless hours of music – from Cajun to country.
Sound like a great party? If so, you're invited! Mudbug Madness, a Shreveport Memorial Day Weekend tradition, will soon peel back the shell on its 34th year.
Crawfish, beer and Cajun music – the foundation of Louisiana summertime entertainment – will be featured at downtown Shreveport's Festival Plaza May 25-28. Hours are 11 a.m. to 11 p.m. daily. Thursday and Friday, admission is free until 5 p.m., then $5 per person. Saturday and Sunday, admission is $5 all day.
Children under seven years old will be admitted free each day. Active duty and retired military personnel will – with their ID – enjoy free admission each day.
"Once a year, we like to bring a little bit of South Louisiana up here to North Louisiana and pay homage to the crawfish boil, which is certainly a Louisiana tradition," said Melanie Bacon, executive director of Downtown Shreveport Unlimited, the non-profit organization which owns and produces Mudbug Madness.
"When people come to Mudbug Madness, they hear the music, smell the crawfish boiling – it immediately puts everyone in a party atmosphere and a cultural atmosphere that is not found many other places," Bacon says.
To say Mudbug Madness has grown through the years is as big an understatement as, hopefully, the size of this year's crawfish. The event began in 1984 as a modest, twoday street festival.
"We had one beer trailer and one person cooking crawfish," Bacon remembered. has long since grown into four days of music, food and fun.
"It's a feel-good event for the community," Bacon said. "It's something people look forward to, so it is a quality of life event. It is a tourism driver, so it does make an economic impact for virtually every segment of the market. It is something unique because of the South Louisiana flair."

That "South Louisiana flair" will be showcased on the festival's "Madness Stage" – one of three music stages.
"On our Madness Stage, we keep it all Cajun and Zydeco," said Terri Mathews, now in her 22nd year as Mudbug Madness chairperson. "We have people that have been coming to this festival for 34 years, and that's what they come for – that traditional Cajun and Zydeco."
However, Mudbug Madness is also about variety. That's what you will find on the FOX 33 Swamp Stage.
"Our Swamp Stage is just that – it's like a swamp," Mathews said. "It's a little bit of everything. We have anything from country to blues to soul to old time rock and roll, and a lot of house bands, a lot of cover bands."
It's all a part of the festival's desire to be several things to many folks, as opposed to one thing to a few folks.
"A lot of people don't come for the Cajun and Zydeco music," Mathews said. "They want to hear a mixture of other things and other genres, so that's what we're doing. We're giving everybody something they can enjoy."
That same philosophy applies to this year's food selection. While boiled crawfish is the choice of many, it is far from the only choice being offered.
"We know that not everybody likes boiled crawfish, so we have lots of other foods, including crawfish made up in other ways," Mathews said. "We offer anything from (traditional) festival food to the boiled crawfish and in between – fettuccine, gumbo, jambalaya, sausage on a stick – you name it!" If you are a repeat visitor to Mudbug Madness, you will notice something different.
There will be identification stations as you enter Festival Plaza. If you plan on having an alcoholic beverage, you must stop at one of those stations and show proof of age. You will then be given a wristband, which you must have to buy alcohol.
Even with a wristband, you may be required to show your ID at the vendor booth, as workers will have the right to ask for proof of age.
"The local and state laws have been rewritten the past couple of years," Mathews said. "We're just doing our part to abide by those and limit liability toward everyone."
While there will be plenty of adult music and beverages, Mudbug Madness is far from an "adults only" event. "Kids on the Bayou" is the name of this year's children's area, which features attractions such as bungee jumps, a rock-climbing wall, bounce houses and a giant slide.
There will also be hands-on art activities such as face painting, along with ice cream and snow cone vendors, children musical groups and puppet shows on the Capital One Kids Stage.
But that's not all. "We started adding artist tents," Mathews said. "We were more a music and food festival, and now we have great artist tents. We have over 20 different artist booths. We've expanded that year after year."
While Mudbug Madness has long been a "look forward to" festival for locals, out-oftowners also circle the event's dates on their calendar. Bacon said the most-recent study showed 37 percent of attendees come from outside the Shreveport-Bossier area, helping make an approximately $9 million economic impact.
"It brings awareness that we're here," Bacon said. "I think people think of Louisiana and they think of New Orleans and maybe Baton Rouge, but there is another side of Louisiana – another part of Louisiana. It raises awareness that Shreveport-Bossier exists."
"We have people and groups from all over the country, and some from even out of the country that come," Mathews added. "They may not come every year, but they know about it and so they kind of plan a mini-vacation around that time."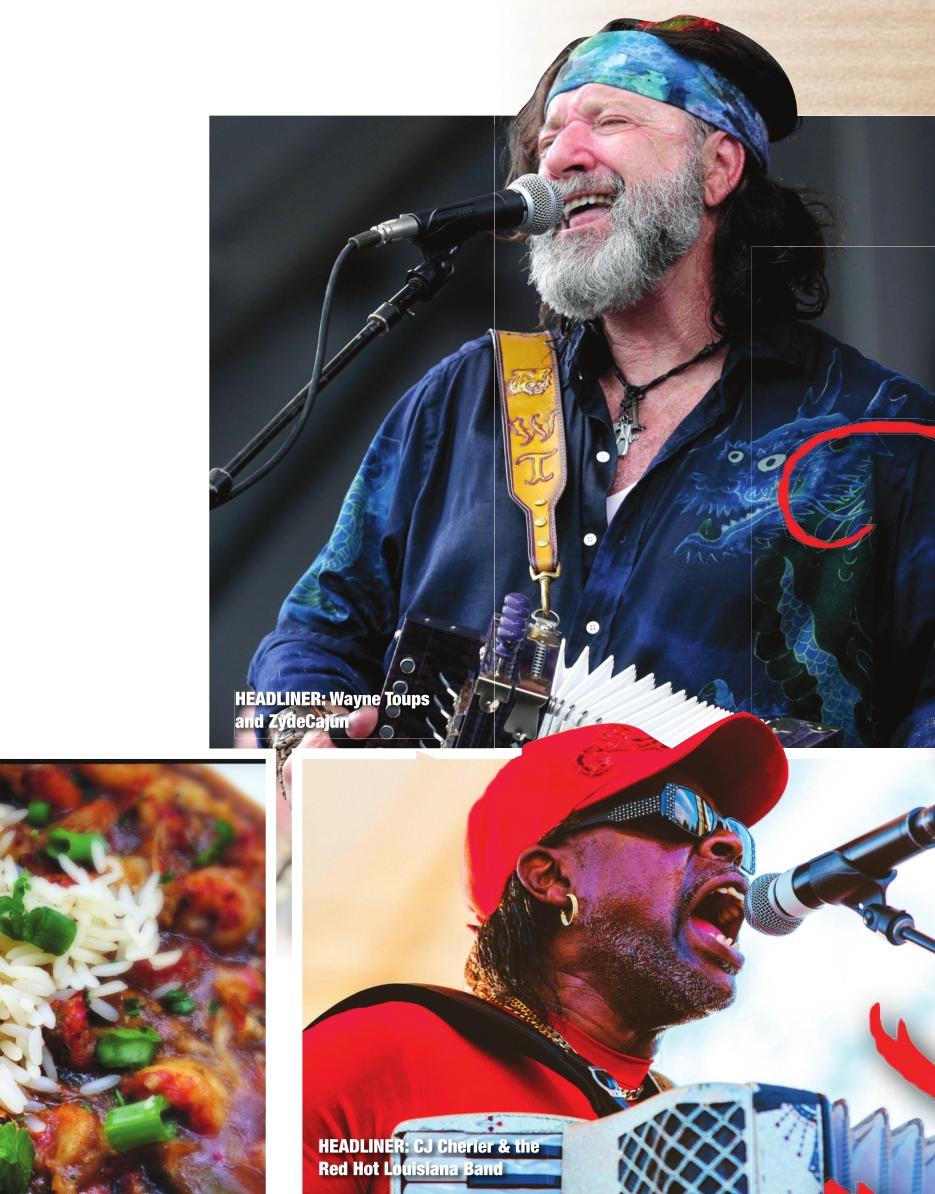 That hasn't always been the case, as Mudbug Madness has grown from humble beginnings.
"The very first one was held on Milam Street in one block," Bacon remembered. "I believe it was maybe a Friday and a Saturday. They had two contestants in a crawfish-eating contest. One was Edwin Edwards, and one was David Duke."
Mudbug Madness has grown not just in length, but also in the number and variety of musical acts it offers. Organizers used to actively search for performers to bring in. Now, the festival's reputation takes care of the search.
"We're kind of at that point where we don't have to go out looking for them," Mathews said. "We're on the music scene now for festivals. Once we put on our Web site that we're accepting applications, they start pouring in. The committee listens to them, and we discern what is the best fit."
"We're always looking for new music," Mathews said. "Up and coming Zydeco bands and Cajun bands. Of course, we have to stick with some of the old favorites (like Wayne Toups) because they draw big crowds."
Because of the nature of the music busi- ness, Mudbug Madness organizers still have to reach out to "headliner" acts, such as country music singer Ty Herndon, who will be featured closing night on the Swamp Stage.
The bottom line is that Mudbug Madness, once a small get-together on the courthouse steps, is now – and has been for some time – a must-attend event. While specific attendance figures are not kept, Bacon estimates an average of 80,000 people pass through the gates each year, depending on weather.
While Mathews said organizers strive to improve Mudbug Madness each year, she recognizes a good thing when she chairs one.
"If it ain't broke, don't fix it." For more details on Mudbug Madness #34, visit www.mudbugmadness.com