Outdoor Decor Makes for Cozy Garden Living ADD SOME EXTRA APPEAL TO YOUR LANDSCAPE
Adding excitement to your garden is easy. You can create instant, year-round color, structure, motion and fun to your landscape with a bit of garden art.
Just like shopping for plants, look for pieces that complement your gardening style. And consider all the benefits each piece of art provides. Many pieces are functional as well as beautiful, helping you get the most from your garden budget.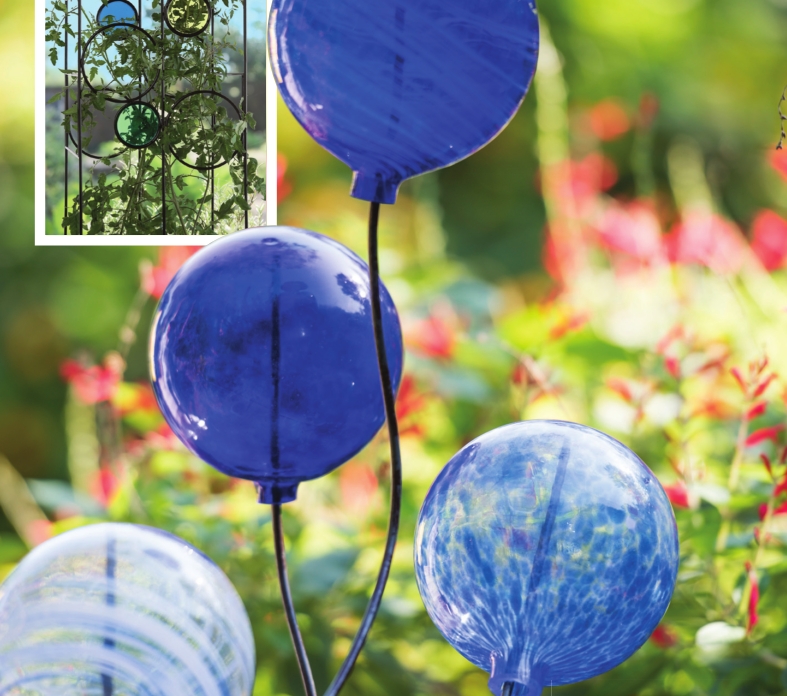 In centuries past, garden art included statues of gods and beautiful people as well as pieces that mimicked nature's ornamental qualities. You can still find those traditional garden statues. But these days you will also find colorful pieces made from a variety of weatherproof materials in a variety of styles.
Look for garden art that's functional as well as beautiful. You no longer need to settle for drab plant supports. Look for items like the Kaleidoscope Tomato Cage made of durable, heavy gauge steel and adorned with colorful weatherproof glass inserts. Train peas and pole beans up colorful and sturdy structures like Kaleidoscope Spiral Supports. These make creating an edible, ornamental landscape a breeze.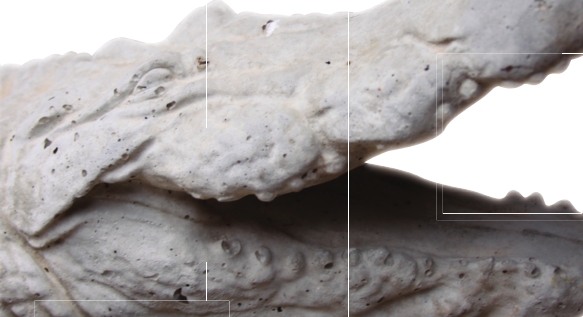 Bring your garden to life with garden art that moves in the wind. Metal wind spinners, mobiles and wind chimes add motion, and in some cases, sound to the garden.
Try creating a bottle bush using individually mouth-blown art glass globes instead of wine bottles. Select those suited to the outdoors. Strategically place them in the garden, so you can enjoy the way the sunlight plays off the unique, colorful glass.
Add a bit of color and ornamental appeal when purchasing your next birdbath or bench. And don't forget about other winged visitors. Some garden art, like poppy sways, also capture water for hummingbirds, butterflies and other beneficial insects.
Artfully direct water from the roof using decorative rain chains into a rain barrel or mulched area. Use this centuryold technique to slow the flow of water, preventing mulch and mud from splashing onto the house.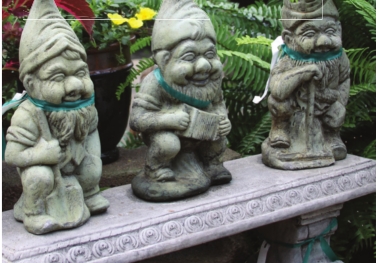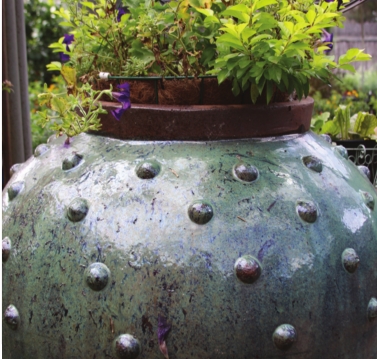 Extend your enjoyment by lighting up the landscape with solarpowered artwork. Set solar stakes donned with birds, roosters or calla lilies throughout the garden. You'll enjoy their charming style by day and colorful glow at night. Lead your guests to the front door or backyard garden with the help of solar-powered mosaic glass globes.
Include a bit of fun and whimsy in your landscape. Let your garden design and garden art reflect your personality. A flock of funky metal chickens meandering through the garden or school of steel "fish out of water" garden stakes swimming through your perennials may just be the extra character your garden needs.
Take some time this season to finish off an established garden, create a focal point for a new garden or just add new life to an existing landscape. Whatever the reason, you're sure to enjoy the added beauty only garden art can provide.
Melinda Myers has written more than 20 gardening books, including Small Space Gardening. She hosts The Great Courses "How to Grow Anything" DVD series, including the latest Food Gardening For Everyone DVD set. Myers also hosts the nationally syndicated Melinda's Garden Moment TV & radio segments. She is a columnist and contributing editor for Birds & Blooms magazine and was commissioned by Gardener's Supply Company for her expertise to write this article. Myers' web site is www.melindamyers.com.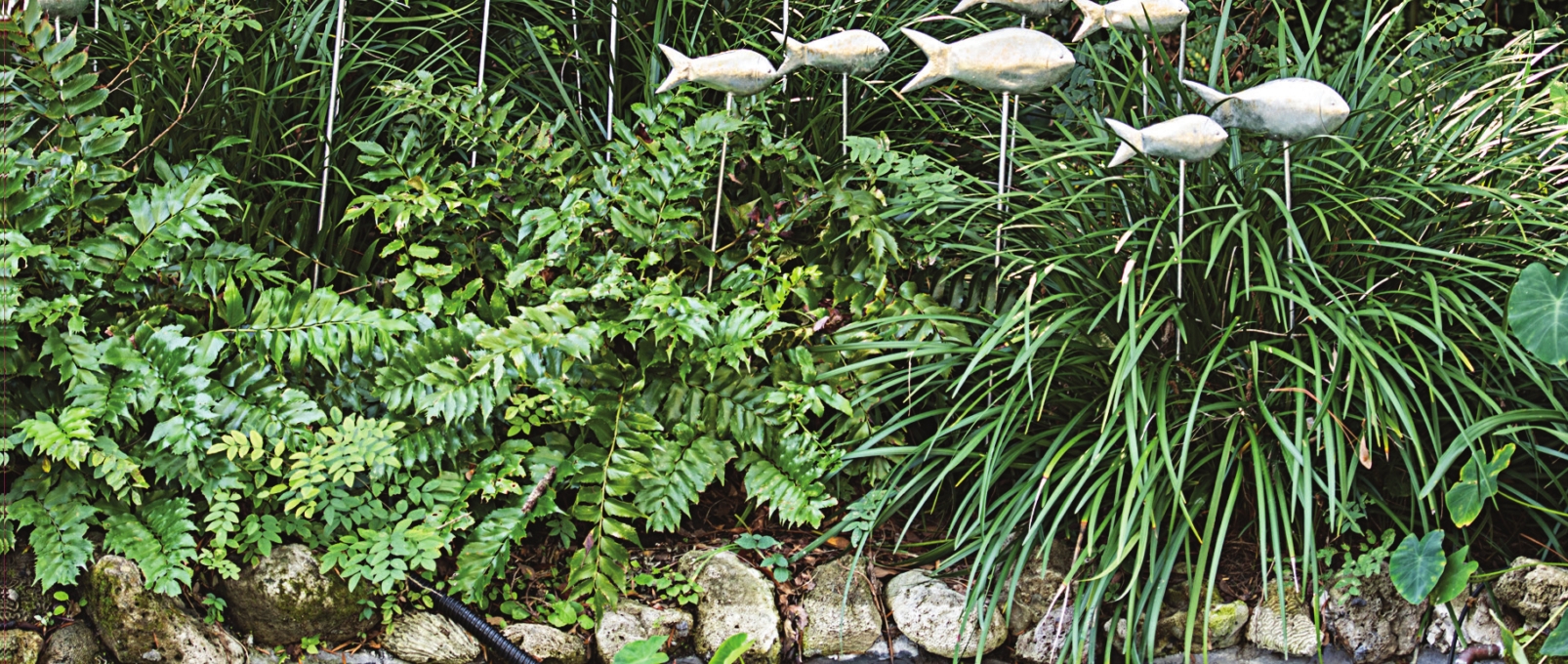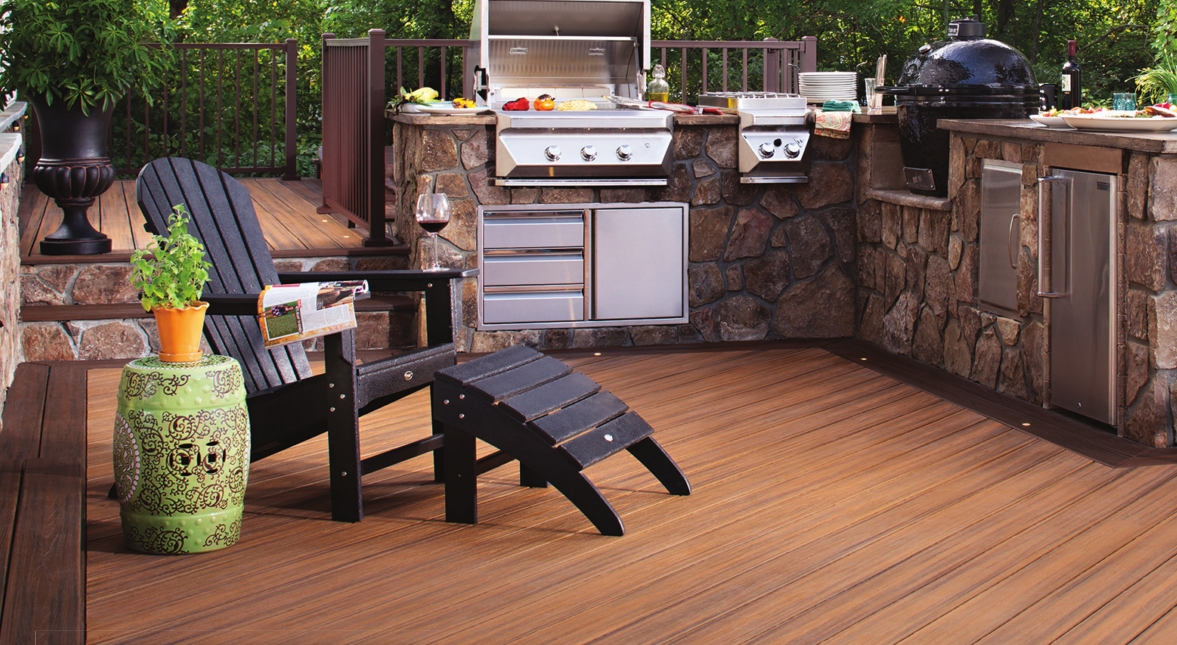 Cooking outdoors can be more than just grilling
Family Features Content
If your idea of enjoying the great outdoors is relaxing on your deck with a tasty beverage while the grill heats up, you're in good company.
"The alfresco movement is transforming backyards across the country as homeowners create outdoor kitchens that finally live up to their name," said backyard design expert Paul Lafrance of HGTV's "Decked Out" series. "If you count yourself among the homeowners ready to undertake a deck upgrade, integrating interior kitchen ideas into your outdoor living space is a sure-fire way to bring fun, function and added value to your home."
In fact, an outdoor kitchen project can provide homeowners up to a 130 percent return on their initial investment, according to the National Association of the Remodeling Industry. To help you cook up plans for an outdoor kitchen that truly sizzles, Lafrance suggests the following tips.

Start from the ground up A show-stopping outdoor kitchen needs a quality stage that can stand up to heavy foot traffic and everyday kitchen mishaps such as dropped utensils or spilled sauces. Highperformance, wood-alternative decking is durable and easy-to-maintain – just a simple soap and water cleaning can take care of any common party foul.
"If you have a Trex deck, it will resist fading, staining, scratching and mold so you never have to sand, stain or paint it," Lafrance said. "For me, composite decking is a no-brainer. It delivers the natural aesthetic of wood without the back-breaking and time-consuming upkeep, so outdoor chefs can focus on what they love most – preparing delicious meals and entertaining guests."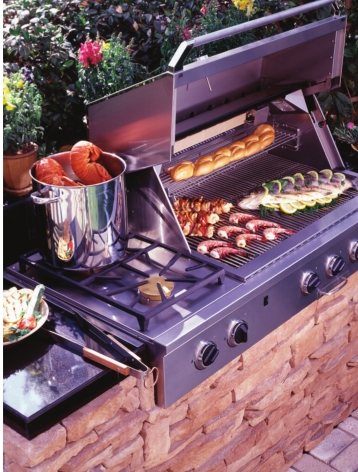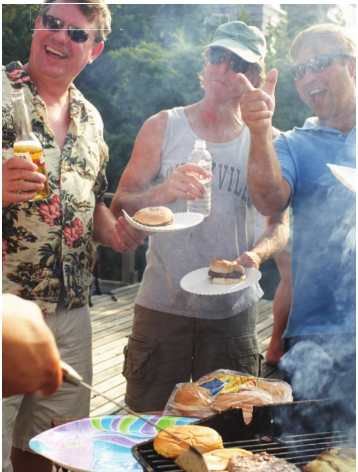 Think beyond the grill While outdoor cooking once meant a basic grill and a bag of charcoal, today's outdoor kitchens are more elaborate and equipped than ever, featuring a range of appliances including professional-grade cooktops, refrigerators, sinks and dishwashers, as well as specialty features like brick ovens and fully stocked bars. Grills, too, have been upgraded to handle more than steaks and burgers – think whole turkeys, smoked meats and rotisseries. Your appliances will determine the outdoor kitchen dimensions, so consider how the appliances you want will fit within your design.
Factor in function Plan for adequate storage to eliminate back-and-forth trips inside your house.
From pull-out trash bins to hidden ice chests for chilled drinks, the Trex Outdoor Kitchens collection features cabinetry that blends interior style with durability to withstand the elements.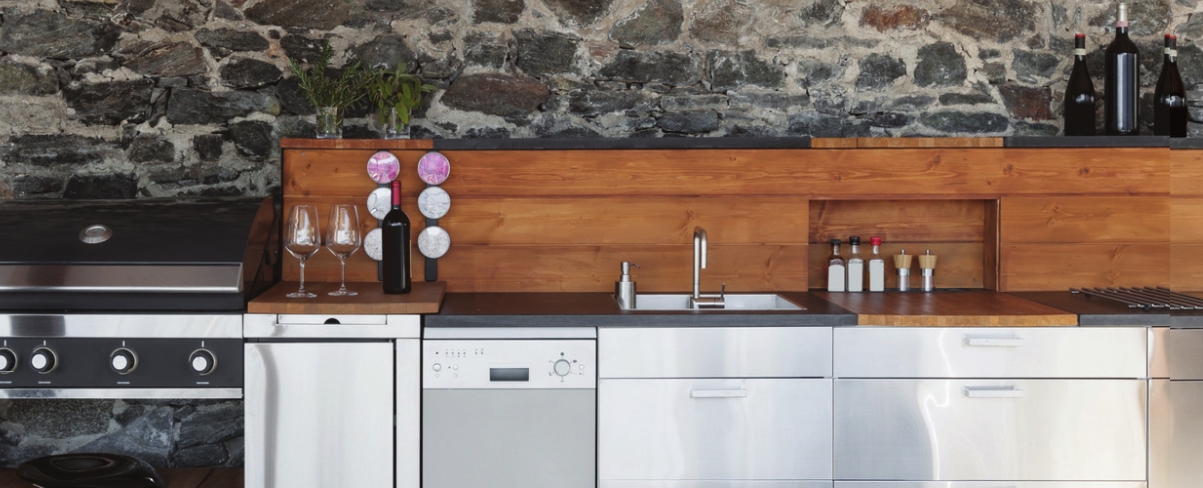 "You can even get customized cabinets for televisions and entertainment systems, along with sink and grill bases designed to hide plumbing and propane hook-ups while also providing extra drawers," Lafrance said. "With this collection, you can bring a designer look to your outdoor storage solutions."

Shine some light Double the time spent enjoying your outdoor kitchen by installing adequate lighting for cooking and entertaining well after sundown. For safety measures, put task lighting over countertops used for slicing and dicing, as well as near stovetops and other appliances that use heat or flame. To set an understated, sophisticated mood, add ambient lighting where your family and guests will wine and dine.

Create comfort To welcome and accommodate your guests, your outdoor kitchen should be inviting and have ample seating and bar areas. For added comfort, integrate interior-inspired accents like decorative cushions and pillows made of weatherresistant materials. Additionally, your outdoor kitchen should incorporate sufficient counter space not only for food prep and serving, but also for creating a communal environment so guests can chat with the chef.
MAKE IT SIZZLE
Local gas, propane and electric grill sources include:
1. Barrett Appliance,1760 Swan Lake Road, Bossier City 7463332 2. Fireplace Specialties, 8500 Box Road, Shreveport, 219-7712 3. Splash Pools and Spas, 2331 Airline, Bossier City, 212-0205 801 Brook Hollow Drive, Shreveport , 797-6218