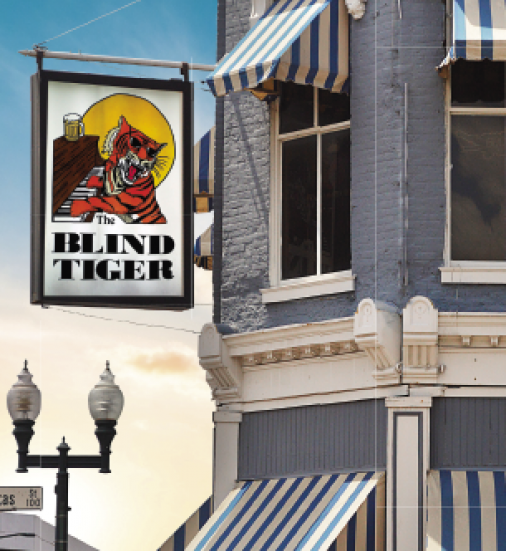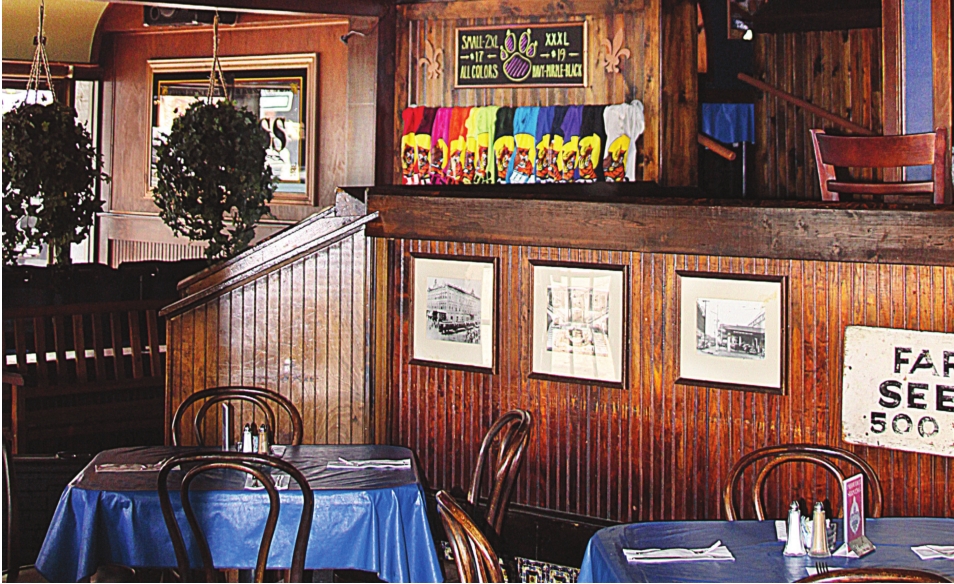 Well known for its Cajun dishes, the Blind Tiger is an anchor for downtown businesses and has thrived longer than most everyone else in the district. The building takes up a whole city corner, and the interior boasts wood and brass fixtures with large windows on either side looking out into the downtown.
Glenn Brannon and Rick Sloan opened the Blind Tiger on May 26, 1992. Sloan was 27 at the time, and Brannon, 24.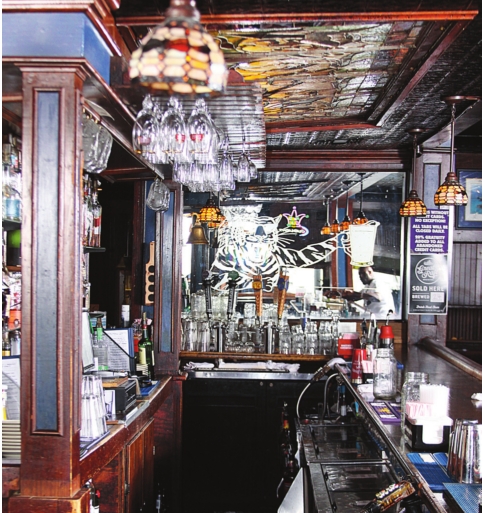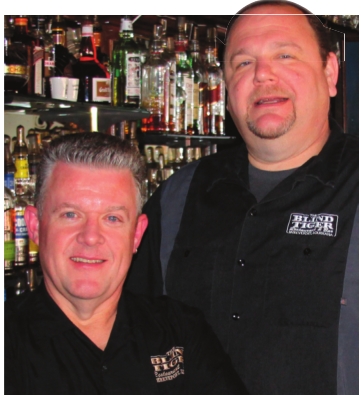 "I knew everything there is to know about the restaurant business," said Brannon, with a selfdeprecating laugh. "Rick and I had been friends for quite some time before that, and we had worked together for other restaurants," he added, turning serious.
The restaurant gets its name from the Prohibition era when illicit speakeasies would advertise by placing stuffed animals, often a tiger, on tables or in windows to indicate that there was a back room where someone could get a drink or gamble. In fact, Brannon added, the name is still on the books today. If you are caught selling liquor without a license, your establishment is known as a blind tiger.
Not surprisingly, especially with the popularity of the LSU Tigers, there is a lot of tiger decor in the restaurant, with approximately 90 percent of it coming as gifts from guests, said Brannon.
"There are tigers everywhere in here," he said.
The bar, on a raised level, is always hopping, said Brannon. "We've got big drinks, and the food is fantastic. The fact that we've been here 25 years proves that."
Brannon characterizes the restaurant as kind of a Cajun "Cheers" with a fullservice family dining experience, where people can celebrate life with their friends and relatives. Within walking distance of two casinos and located near four music venues, the Blind Tiger is also a starting place for a night on the town. Also, Brannon and Sloan cater to the downtown lunch crowd during the week.
Consistency is the secret to their success, said Brannon, especially in the appearance and taste of their food.
"Either Rick or I are still here almost every day," he added. Two managers and a cook have also stuck by them for more than 20 years "That kind of longevity helps you remain consistent. It's a labor of love."
But it hasn't always been an easy labor. "When we first opened there was very little downtown, not even casinos," said Brannon. "We struggled to get our foothold in Shreveport."
One year, a streetscape project tore up all of the downtown streets for about a year, adding to the restaurant's struggle.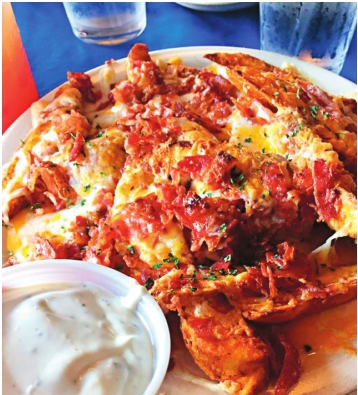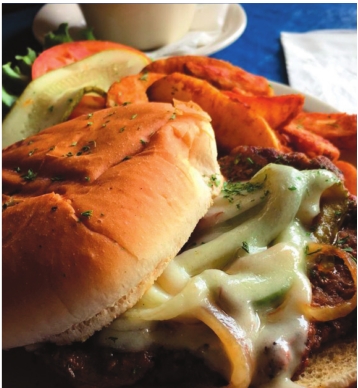 Brannon remembers a moment in their earlier days when chaos seemed to be reigning one night, at least in the back of the restaurant, and the future looked grim.
One of their servers helped him see the bigger picture. "(She) stopped me and made me look at the crowd who was having such a great time and said, 'You did this'," he said.
"Sometimes you have to stop and reassess," he added. "If the customer is happy, then we're doing a good job."
Brannon had his start in the restaurant business when he was 14, making salads in a back room of an upscale restaurant because he wasn't technically old enough to work, he said. By 15, he was learning to tend bar. While he was in college, he worked at Chelsea's, located where the Blind Tiger is now.
Through the years, Brannon worked his way up in the industry, moving from the back room, to up front to bus and wait tables, then to manage. Eventually, he became a general manager and spent two years in California managing restaurants before coming back to Shreveport.
Sloan cut his teeth at Podnuh's BBQ and also worked at Cambridge Club, as did Brannon. The two worked together at Faces and the Olive Street Bistro. Their individual talents have helped them to divide the work at the Blind Tiger neatly.
"My favorite thing is being able to see how happy we make people," said Brannon, who describes himself as an extrovert and a front-of-the-house guy. "Making other people happy is the joy of my life."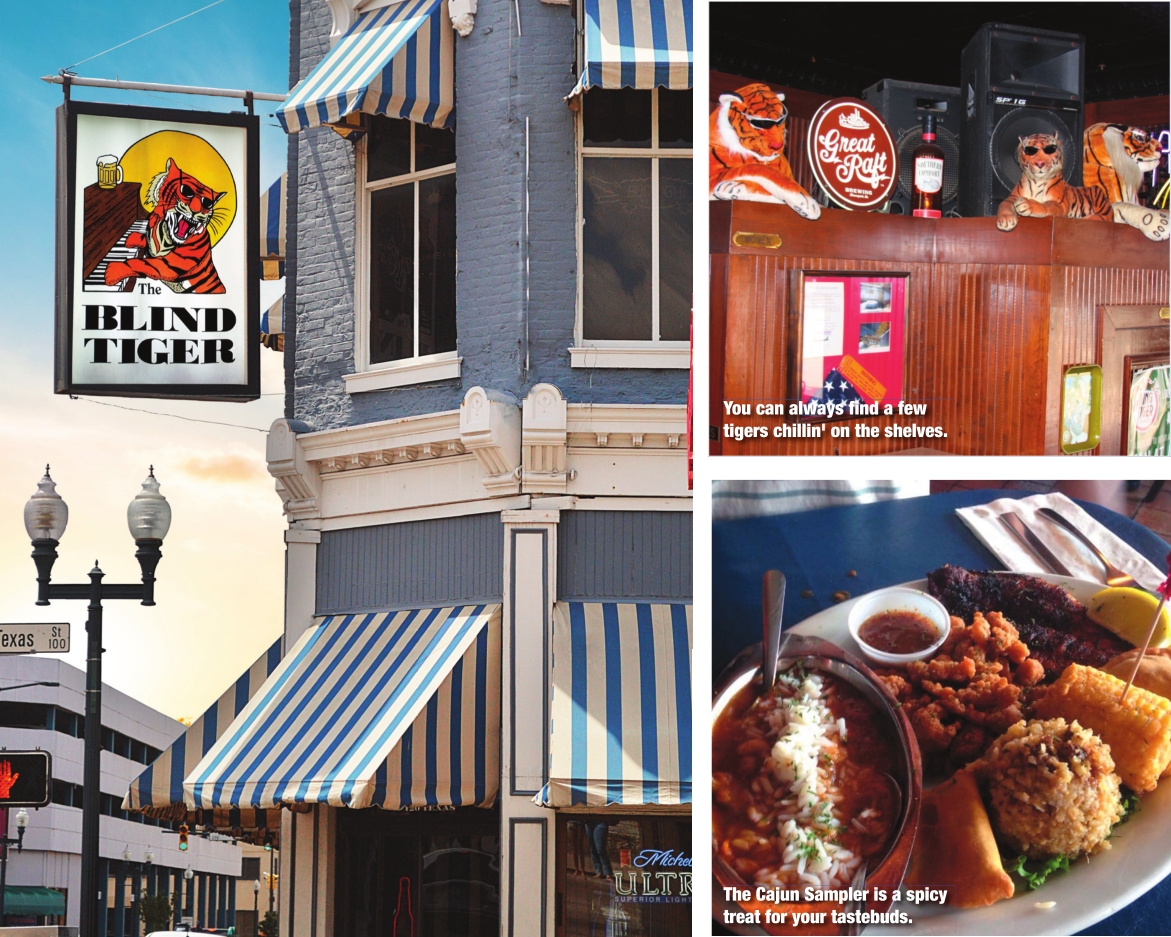 "Rick is the guy who likes to get his hands into everything," said Brannon. "He can fix anything in the kitchen and mechanically," which comes in handy when your building was erected in the 1850s. "If he can't fix it, it ain't broke."
And though Sloan had never had a job as a cook or chef, it is his recipes upon which the Blind Tiger bases its success. "He just likes doing it. It's passion," said Brannon. "The plan from the start was to use his recipes. He invented them and then perfected them."
Sloan is self-taught and enjoys experimenting in the kitchen, as evidenced by one of their most popular entrees, the Cajun Sampler, featured in Southern Living magazine. The dish starts with a cup of gumbo, followed by a platter of blackened catfish, shrimp etouffee, fried crawfish tails, meat pies from Natchitoches, jambalaya and fried corn.

The combination platter came about when a former roommate who had moved away came in town, only had time to eat once, but wanted to sample a little of everything.
"So we put it together on a platter and decided to make it an entree," said Brannon.
Cajun food staples such as etouffee, jambalaya, red beans and rice, gumbo, and dirty rice populate the menu, and all are made daily from Sloan's recipes. Brannon's personal favorite is the pecancrusted catfish, covered with a Creole mustard cream sauce.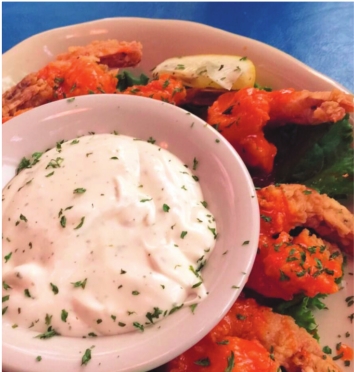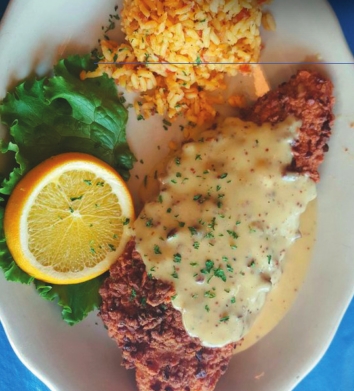 Aside from the food, the Blind Tiger serves local and regional beers, including all of the products of Abita Brewing Company. The Blind Tiger is also known for its 16-ounce and 32-ounce Mason jar specialty drinks. Their signature drink, the Blind Tiger, is made with rum, sloe gin, amaretto and a mixture of juices. They're big, they're strong, and they're fun," said Brannon.
Also, the Blind Tiger serves from the breweries in Shreveport, the Great Raft, and the Red River Brewery.
The Blind Tiger, with its location near prominent hotels, has attracted all kinds of celebrities, from the Navy's Blue Angels just recently, to Kevin Costner, Ray Liotta, Jimmy Fallon and Hayden Christensen in the 2000's when Shreveport was the set for several movies.
But Brannon and Sloan aren't starryeyed about their success. They know that everyone, even celebrities, just likes having a good time.