Downtown Shreveport's latest tenant
A nursing duo turned small business owners realized their dream of operating in downtown Shreveport after setting up shop on Lake Street.
That business is Definition Industries, a screen-printing company that prides itself on doing work for other local businesses. What started as something to do in their spare time and make extra income for owners Aubrianne and Charlie Veuleman has evolved into a successful venture that prints T-shirts for many popular brands, including Sweet Tees, Well+Fed, Shreveportant and Flying Heart Brewery.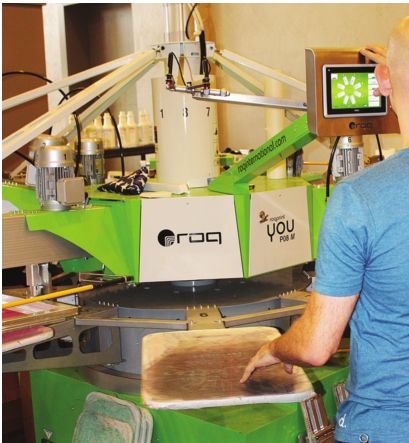 Both registered nurses, Aubrianne and Charlie, started the company in half of their garage, where Aubrianne says it stayed for almost two years. As the company grew, employees and a larger space were required. The business then moved and spent the next three years on Hawn Avenue near Farmer's Seafood.
"We wanted to be part of our really, really cool downtown Shreveport … but we had a hard time finding anywhere," said Aubrianne. "Then we got the opportunity through Liz Swaine and the DDA (Shreveport Downtown Development Authority) to get one of their grants to come downtown." Definition Industries did some screenprint work on bandanas for the DDA. They got on the executive director of the DDA – Swaine's – radar after someone commented about their interest in being part of the growth in downtown Shreveport.
"Never, ever say that to me if you aren't serious. I remembered it and tucked it into the back of my brain," said Swaine. As the property on Lake Street was being developed, she remembered Definition Industries and felt it would be a perfect addition to the location.
Swaine says the city had a grant available at that time, called the Do Business Downtown Grant. It was a way to welcome businesses downtown and help them pay some of the expenses associated with moving or opening a business.
"Whenever you open a new business, or you move a business, you have expenses. You've got to turn on your Internet, your phone, pay your certificate of occupancy, all those little things that just add up," said Swaine. "I contacted (Definition Industries) and said, 'We have this grant, and it's good until the end of the year. And this would be a perfect time because your lease is also ending.'" Jeff Spikes, principal architect and owner of iARCHiTECTURE, co-owns the historic Lake Street property and shares office space with architect Jason Cram, owner of Vintage Design Group. He said Swaine knows what spaces are available downtown and connects businesses with available locations.
"Whenever people start looking, she always knows in the back of her brain 'this guy's looking for 1,000 square feet. Jeff told me last year he was outfitting 1,000 square feet,'" said Spikes. "She connects the dots." Spikes and Cram use their office as a showroom to sell the available spaces and see them as an extension of their "office vibe." While developing the property, they contracted some of the work out, but put in some sweat equity grinding the floors and painting. "There are not that many people in town doing the look we have here, so we … do it ourselves," said Spikes.
Each space has a distinct, signature color chosen by the occupants. (iARCHiTECTURE's accent color is orange and may also be found on a slide that leads downstairs from a mezzanine.)
"They wanted everybody to pick a bright color for their stairs to make that the theme for the street," said Aubrianne. "The equipment we use to print our T-shirts – the main color for that is green. So that was an obvious choice for us."
Aubrianne says Definition Industries' previous location was larger but lacked foot traffic. She is excited to be in a new home that can claim the opposite. The business is nestled between a tattoo school and a Web-design firm, just around the corner from the food truck pavilion, and up the road from Red River Brewing Company. She says they pride themselves on being local.
Swaine calls the businesses in the 400 block of Lake Street the Lake Street Arts District because she says every business is art or art-related. "You've got the Agora Borealis; the architecture company, iARCHiTECTURE – they're very much a combination of art and science. Then Nicole Spikes Photography and Definition Industries, and they're all about making beautiful designs for clothing. Even the tattoo school – it's art that adorns your body," she said. "I think the synergy with the Agora, with (iARCHiTECTURE) … it's going to be a really fun, high-profile place for (Definition Industries)."
Definition Industries also teaches a screen-printing class once a month in partnership with Ryonet, a national screenprinting supply company. Aubrianne says students are taught how to screen-print and make T-shirts during the two-day course. She says it is a great course for hobbyists and those looking to start their own business.
"It feels great to make something, and feels great seeing something you've made on somebody else," she said.
–Melissa Airhart