THE FIRST SHREVEPORT JESUITS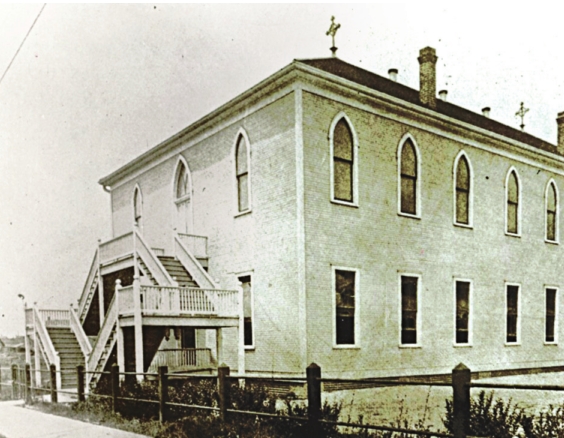 Cathedral of St. John Berchmans explores original site from 1902
It all started with a book. The staff and parishioners of the Cathedral of St. John Berchmans in Shreveport thought they had finished a thorough historical perspective chronicling the people and events that made their church a community over the years.
The Very Rev. Peter Mangum, Rector of the Cathedral of St. John Berchmans (CSJB), smiled and said, "What started as a nice little interesting project to conclude our book and locate the original foundation of our church has us not only looking back to the past, but looking towards the future."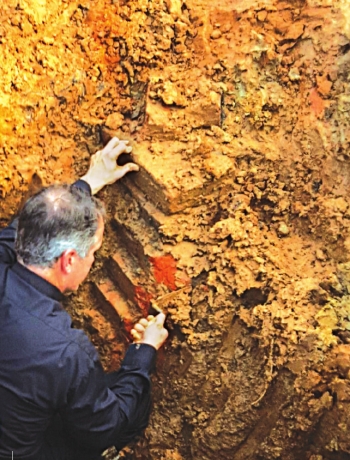 The goal was to have a state historical marker placed at the site of the original small, wooden church built on Texas Avenue in 1902. That quickly turned into excavation and a full-blown archeological dig.
Fr. Peter gets delightfully animated whenever he discusses the dig site. In fact, his videos on Facebook have been viewed by over 40,000 people who are following the journey at their phones and computers from all over the world. "Miraculously, providentially, on our first day out there, we were very fortunate to have uncovered what we now know was one of the foundation walls," he said.
The growth of CSJB paralleled the growth of 20th century Shreveport. The great oil and lumber boom of the beginning of the century brought people from all over the nation and abroad. It also brought the Jesuit Order in 1902, which built a church and a school called St. John's College.
"We have the original hand-written journals from the earliest priests," Fr. Peter said. "One entry from May 28, 1902, says, 'Today, I hope, with the grace of God, the Society of Jesus begins its ministry to the people of Shreveport.' We can read about the decisions that they made. They made it clear that the first structures were to be temporary."
They built the temporary structures in 1902 and 1903, and in the mid-1920s, parishioners donated the land where the current Cathedral of St. John Berchmans resides. Construction of that cathedral began in 1928, and it was dedicated in January of 1929.
"We've interviewed a 90-year-old parishioner who remembers the day that he moved from the old church to the new church," Fr. Peter said, beaming. "He said, 'Of course, it was an extremely exciting day to move from an old, small, wooden structure to this big, marvelous, brick structure off of Jordan, surrounded by pecan groves and houses.'" CSJB has assembled an excavation team with historians to document and write about it, including Carol Gates, pastoral associate, and Dr. Cheryl White, director of adult faith formation. White is also an associate professor of history at LSU Shreveport. "Carol and Cheryl are the two main people who are diving into the archives," said Fr. Peter. "They went down to Loyola University in New Orleans, where they keep all the Jesuit archives, and have devoured them and taken plenty of pictures. We didn't realize the extent of the information that Loyola University and their archives have in regard to all the activities of the Jesuits here in Shreveport. Now we have the journal of the items contributed to the church."
"A number of those items are in our church right now," Fr. Peter said, "so we're beginning to realize, this holy water font and this door were actually original to the church – or the paintings that we have in the sanctuary of the church were painted and brought here from Rome in 1908 and that they were a gift from a family. We're uncovering a lot of history in that way as well."
"We also have an archeologist, Jason Brown, who is a part of our team along with the curator of the Spring Street Museum, Marty Loschen. These guys can read the maps, and they know about construction of the early 1900s."
The team has been able to take a map from 1909, the Sanborn Fire Insurance Map from Shreveport and Caddo Parish, and superimpose a current map over it. "That allows us to have the actual footprint of the church within inches," Fr. Peter said. "That's why we were able to find it so quickly."
Another huge asset that has moved things along very quickly is parishioner John Michael Giglio and the use of his specialized construction equipment. "He is using his own equipment to help us peel away layers of history on that site," Fr. Peter said. "One of the first things the land was used for after the buildings were demolished was a car dealership. It was asphalted over, so it sealed everything in. Nothing could wiggle its way up to the surface, so everything is still down there, which is great. But the asphalt was an inch and a half thick. The clay underneath is thick and difficult to shovel away. Thanks to John, we were able to get to the old sandstone rock that's in there."
Fr. Peter said that when the team first started, they had no idea of what they would actually find. "We were thrilled to find the foundation," he said, "the base of a pillar that really looks kind of like a step pyramid from Egypt or Mayan culture. It was a thrilling moment when we discovered it. We are still trying to figure out what will happen with it because it's on private property that does not belong to the church. We want there to somehow be some visible reminder. Hopefully, we can preserve it."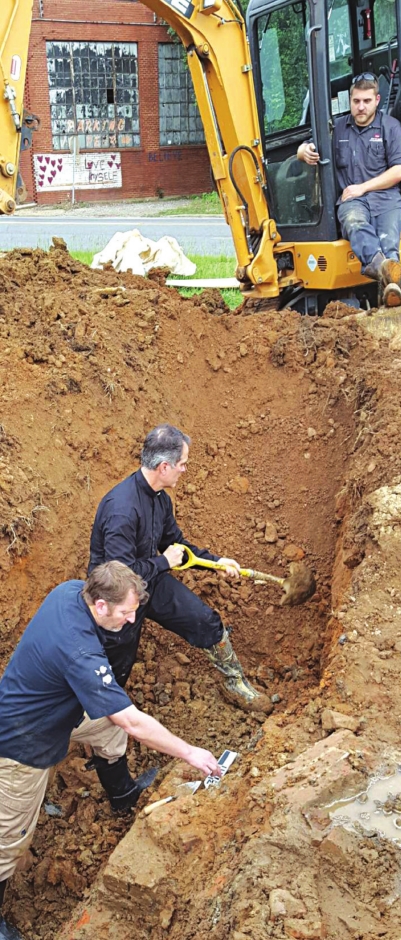 Fr. Peter is asking the community not to visit or walk through the site, which could be dangerous or could cause damage. "It's private property, and we do have security cameras posted there," he said. "Right now, it is still very much an active working site with plenty of holes. It's not a safe area for people to go."
Fr. Peter said the project has been unbelievably well-received by the parishioners of the cathedral and Shreveport. "I think part of it is that everyone has an interest in history," he said. "People have been very kind. Maybe there's something about the juxtaposition of a priest wearing his clerics, with a shovel getting dirty. I've even run into people who've said, 'Wait a minute, you're that priest who has been at that archeological dig.'" "We're also trying to make this a connection of uncovering our history and our past, with regards to adult faith formation," Fr. Peter said. "We're going to do this Catholic retrospective, the first 1,500 years of the church right before the Protestant Reformation. We're going to look at the things we did right and the things we did wrong. I want people to understand the history and the faith."
"We are looking to all the things that are similar that remained constant and that will continue to remain constant," Fr. Peter said. "One of the interesting things that we're once again reminding ourselves of is that even in the process of reformation, not a single doctrine or single dogma changed. There's the whole notion of uncovering our past literally, physically removing the dirt and seeing the past, but imagining our ancestors and those who have passed the faith down to us, and now our responsibility to do the same."
It's true, the more things change, the more they stay the same. "Here at the cathedral, we offer the traditional Latin mass. If one of the servers from 1902 were here today and we were serving that mass, he would be able to do the entire mass. He would know every word, every prayer. A lot of the liturgy today, when we chant some of the Gregorian chant, or chant different parts of the mass … he would be able to join us in full voice without missing a beat."
"We would be joining generations," Fr. Peter said, "just as an hour of St. John Berchmans today is very reflective of the church earlier because so many of the Catholics here were immigrants. They came from European countries where they may not be able to talk to each other except at mass, where they could worship together. And we can still do that today. We have a high number of people from Asia, and Central and South America. I believe that the Cathedral of St. John Berchmans' community is the most ethnically diverse community of any community in the city of Shreveport. I hope I can help instill a sense of pride here in the people of our parish in that we're very much a part and parcel of the history of Shreveport in a very beautiful way."
The Cathedral of St. John Berchmans is located at 947 Jordan St. in Shreveport.
– By Susan Reeks
MORE INFORMATION:
You can follow the footsteps of the archeological team at www. facebook.com/Cathedral-of-St-John- Berchmans-85169250372.