Louisiana's past unearthed again
Twenty-one men, 10 hours of labor, a large number of vehicles, almost one helicopter and 30 hamburgers and fries. That's what it took to help excavate what is believed to be the biggest intact Indian dugout in North America found by Jeanna Bradley and Robert Cornett of Hosston on the bank of Red River near Belcher.
Bradley announced the find on Facebook, but not the location, until the day the archeologists came out to assist others with loading the 34-foot-long canoe onto a truck to Texas A&M, where it will be in storage and preserved when funds become available.
Bradley, a stay-at-home mom, said she and her boyfriend, Cornett, enjoy searching for arrowheads and saw part of the canoe on the banks on June 7. They called the proper authorities the next day after he spent the night in a tent next to it.
On hand for the June 21 excavation were Dr. Chip McGimsey, state archeologist, Louisiana Division of Archeology; retired archeologist Jeff Girard; and Jameel Damlouji of the Northwest Louisiana Archeology Society. Girard believes it washed in to the location from upstream.
The canoe is just two miles down from one found in 1983 and constructed the same way (with an adz and burning), but is three feet smaller. It is in the Louisiana State Exhibit Museum and was determined to be 1,000 years old. John Paul Hobbs, who noticed the nose of that canoe, was on hand for the excavation of this one, as was this reporter – the only two who got to witness both excavations. (The coverage of the first one is this reporter's all-time favorite story after 38 years in journalism.)
Bradley and Cornett dug quite a ways to get to the end of the canoe and kept it wet with dirt. Cornett said he got a few blisters.
Paul Dickson supervised the "professional craftsmen" who crated the canoe in place and hauled it up a steep bank for loading in a Morris and Dickson truck for transportation. Dickson said a lot of pre-engineering was involved as well as spur of the moment decisions.
A National Guard helicopter was going to attempt to lift the canoe until it was needed for Tropical Storm Cindy.
The canoe was cradled and wrapped carefully for its trip to Texas A&M, where it could remain for two years. It appeared drier than the other find, which was preserved in a supervised backyard tank to prevent deterioration. The current canoe has fortunately been isolated from bacteria that eat wood, archeologists said, and did not need to be sliced into three segments because of its size and weight like the other one.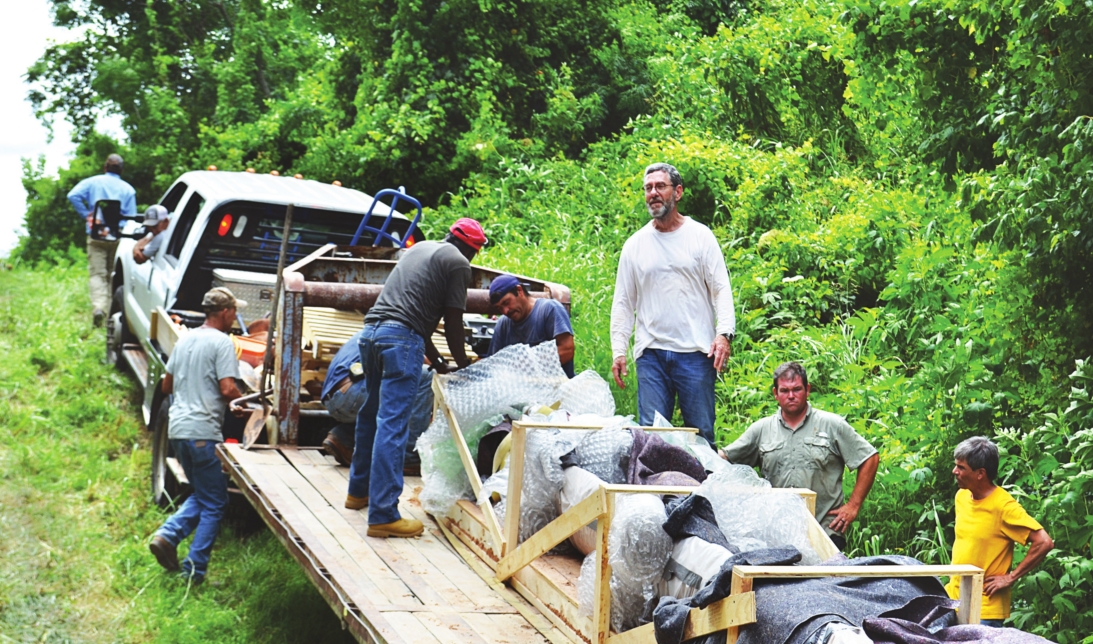 Cost of preservation and age of the cypress canoe have not yet been determined, but radiocarbon testing gives a range of when the tree was cut down, somewhere between 1300-1420 AD.
No other cultural artifacts were found; however, a wild eagle flew over twice that workers thought might be sending a message.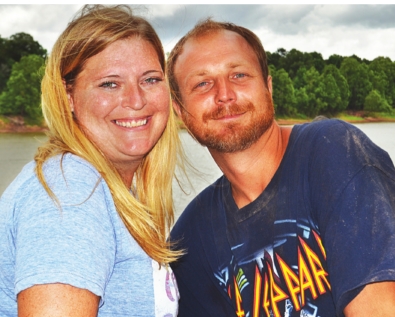 The landowner signed the canoe over to the state. A possible location when preservation is completed is the Red River Wildlife Refuge, Dickson said.
Hobbs said he still gets calls from children who want to do reports on the canoe found in 1983. "Young kids still call, and I welcome it." He said his brother carved out a smaller replica of that canoe, which could carry 15 to 16 Indians comfortably.
Bradley has already received speaking engagement opportunities. Her initial post was liked 4,400 times and shared 3,000 times all over the country. It received 1,500 comments.
"Forget an arrowhead; we found a whole boat," Bradley said in excitement upon the find.
She said there are many people to thank, including Tommy Stinson, who provided the lunch for workers.
LPB is doing a documentary for a later date.
Sen. Barrow Peacock was called when Bradley wanted assurance the canoe would come back to Louisiana so she could show her grandchildren one day. He said it is an example of the historic importance of our area of the country. "It is a rich cultural heritage to be proud of."
–Mary Ann Van Osdell